Concert: Neal Morse – Life & Times Tour
Venue: The Duckroom at Blueberry Hill, St. Louis, MO, April 13th, 2018
Images and Words by: Jon Fiala
The Neal Morse Band spent much of last year performing The Similitude of a Dream album around the world. While on that tour, Neal was writing more music, as he has been known to do. This writing excursion would yield a new non-prog singer-songwriter CD released in early 2018, Life and Times. This collection of songs is a good follow up to his 2014 singer-songwriter CD, Songs From November. Neal has embarked on a tour in support of this CD, but has also been a great journey through other portions of his career. He brought this impressive, intimate show to The Duckroom at Blueberry Hill in St. Louis on Friday, April 13.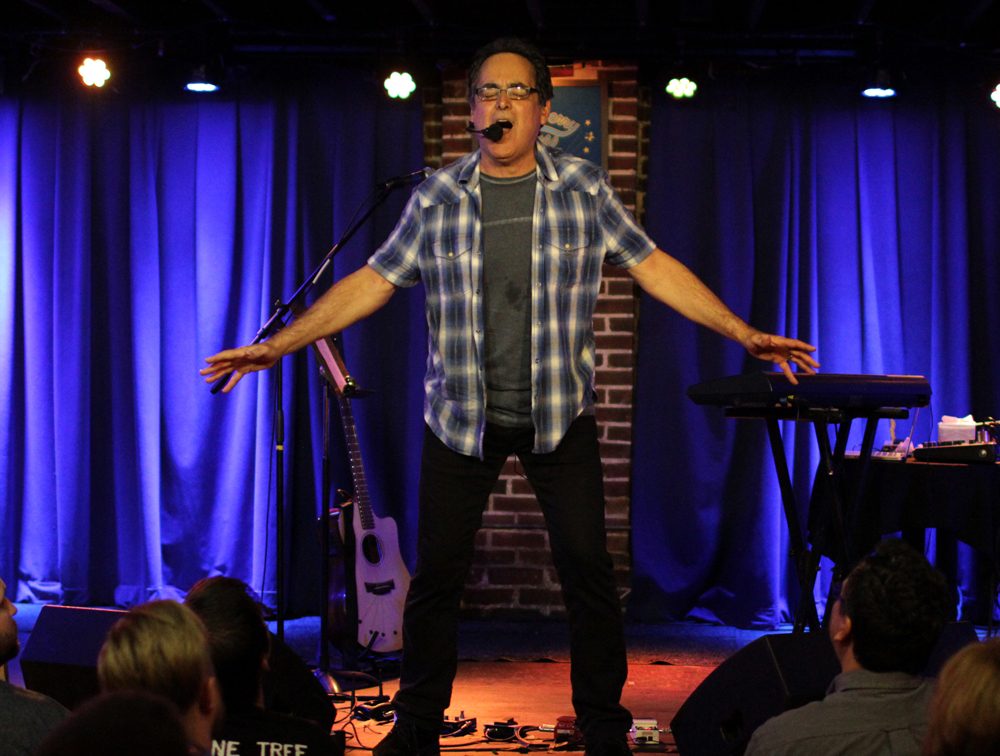 Maestro Neal's prog music has been described by my wife as the least annoying of the music that I listen to, which actually was used in his introduction to the stage. But on this tour, the prog took a backseat to his softer side. This would be the tour to bring your non-prog spouse to see. Many of his stops on this tour have had guest spots by his fellow musicians for a few songs, which have been special treats for audiences in various stops such as Cleveland, San Francisco, Los Angeles, New York, Denver and more. The St. Louis show was truly a one man band, with Neal playing the keyboard, acoustic guitar (as a percussion instrument as well), and even a short solo on a melodica, a small keyboard played with the mouth. Taking influence from his good friend and guitar virtuoso, Phil Kaeggy, Neal made great use of the looper effect on his guitar, keyboard and even vocals as he layered multiple repeated sounds. It was quite a show of his technical and musical prowess.
It was such a dramatic difference from the very proggy, highly technical Similitude tour, but still totally appreciated on a somewhat different level. Neal kept the small crowd of maybe only 100 in the intimate basement venue totally encapsulated and mesmerized by his skill, talent and ingenuity. He started out with an unreleased song, Songs of Freedom, made especially for the opening of these concerts. It's an autobiographical song all about his musical influences and life as a songwriter. Another fun aspect of these shows is his spontaneity. Neal has a setlist. However, it was abandoned early and whatever songs he felt like took over. It was a let's-see-where-things-go attitude, very loose and carefree. Looking at the setlists from earlier shows, he has some songs that are constant, but the other songs vary greatly from show to show. He takes a few requests and one of his earliest songs that he wrote, Emma, was suggested and accepted. The concert also had a Storytellers feel to it, as he would introduce some songs with some of their history, telling of his faithwalk on his Christian journey and other behind the scenes views of some of his songs.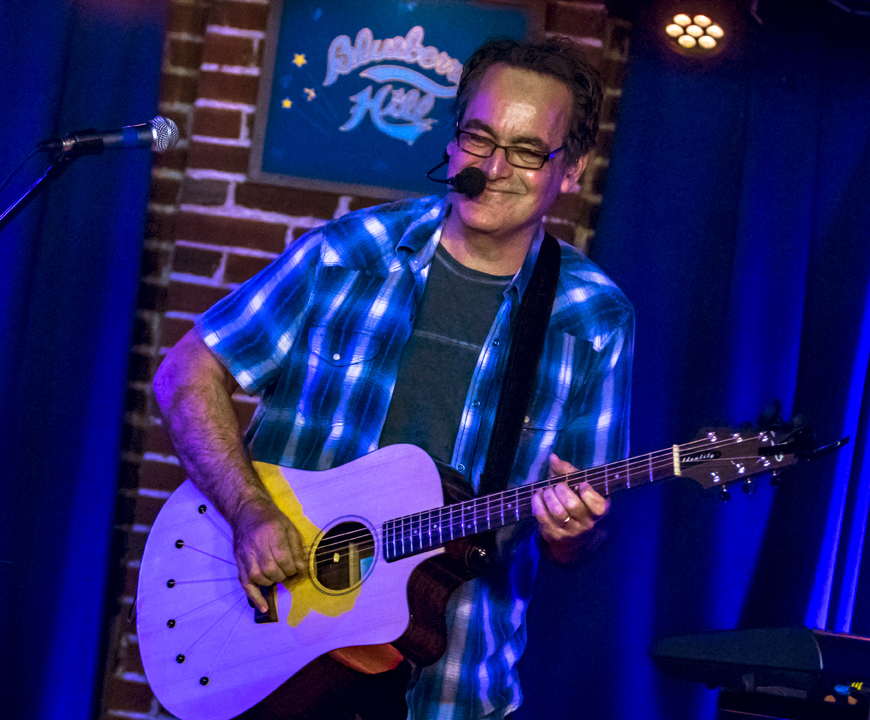 Life and Times was represented well with about half of its songs played and enjoyed by the crowd. "Manchester" has gotten to be a good story on his potential ineptness, but salvaged by his friend Geoff from the UK. The sing-along part is very catchy, and you might have a challenge to get it out of your mind. However, most excitement was expressed on songs from his prog background. He played a portion of "Stranger In Your Soul" into part of "Bridge Across Forever" from his Transatlantic days. Digging deep into his Spock's Beard catalog, he showed off his inspiration from the classic prog band Gentle Giant and how layered the vocals are of "Thoughts" (Beware of Darkness) and "Thoughts Pt 2" (V). He looped at least four different vocal parts and brought those classic songs to life single handedly. Personal highlights were two more Spock's Beard songs, "The Doorway" (Beware of Darkness) and "Open Wide the Floodgates" (Snow).
More spontaneity in the evening came at one point as, a mysterious note or sound was hanging on from something. Neal deemed it to be a B natural, and the only song he could come up in B was Bargain by The Who, which led to a goodly amount of that song. He took a request in the form of Emma, one of his earliest songs he has written. During "Selfie in the Square" (Life and Times), he sang the word "yellow" very Britishly, sending him into a tangent of different songs with "yellow" in them. His set concluded with a slow, mashup medley of some of his popular prog songs, "So Far Gone" (Similitude of a Dream), "It's All I Can Do" (Testimony), "Broken Sky" (Similitude of a Dream)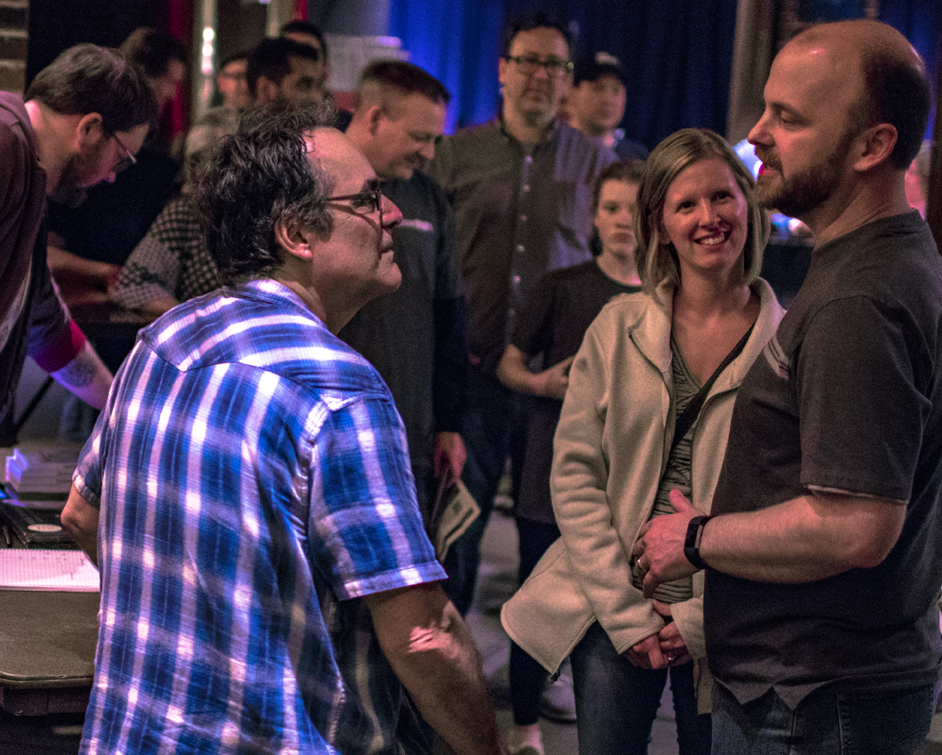 His first encore was "He Died at Home" (Life and Times), which he had left out of the set, and wanted to be sure it was included in the evening's performance. It's a very moving and important story about a soldier's fight with PTSD and eventual suicide. The evening concluded with the more upbeat crowd favorite "Sing It High" (Testimony), in which everyone in the crowd was stomping, clapping and singing along. A great conclusion to a very memorable evening. Something that he doesn't get to do on the larger tours was an unofficial meet and greet. After the show, Neal came out and was able to talk with anyone able wanting to bring things to sign, or just share some quick thank you's or testimonies. His warm personality and willingness to talk with everyone brings even more admiration to his already impressive resume of character traits.
Neal's tour will be coming to Canada this week, and then over to Europe in June. For those able to catch this show, you will definitely be able to see what this brilliant musician is able to do, and appreciate his talent even more. Thank you, Neal, for quite the memorable evening!
Setlist: https://www.setlist.fm/setlist/neal-morse/2018/duck-room-at-blueberry-hill-st-louis-mo-3bece8e4.html