As YES gear up for their North American summer tour celebrating the band's landmark Golden Anniversary, the prog rock pioneers have started to reveal exciting plans in store for the year, including special tour guests, five-album vinyl set and a U.S. fan convention. Their 50th Anniversary not only celebrates the musical contributions of YES but also embraces their intellectual and sophisticated fan base who have been an integral part of the band's journey.
To start, it has been announced that founding member/Grammy winner/Rock & Roll Hall of Fame inductee Tony Kaye (keyboards; 1968-1971 and 1983-1995) will be joining Steve Howe (guitar since 1970), Alan White (drums since 1972), Geoff Downes (keyboards; first joined in 1980), Jon Davison (vocals since 2011) and Billy Sherwood (guitar/keyboards in the 1990s and the late Chris Squire's choice to take over bass/vocals in 2015) as a special guest for this summer's entire 35-date tour, billed as #YES50: Celebrating 50 Years of YES.
The #YES50 cross-country "Evening with YES" trek kicks off June 5 and 6 with a two-night engagement at the Arcada Theatre in St. Charles, IL and will take the 2017 Rock & Roll Hall of Fame inductees to Kansas City, Denver, Los Angeles (June 19 at the Ford Theater), San Jose, Detroit, Cincinnati, Pittsburgh, Boston, Staten Island, Philadelphia, Washington, DC and Orlando, among many other cities, before wrapping July 28 in Atlanta. See below for full list of tour dates and go to www.yesworld.com for ticketing information, including VIP and meet & greet package options.
In addition, famed artist Roger Dean, who has designed countless album covers and logos licensed exclusively for YES, will be appearing at select dates throughout the tour, showcasing special tour prints at the merch table. Among the prints on sale during the tour will be the remaining few of a special limited edition of "Relayer," plus other classic YES designs and logos.
While the band is in Philadelphia for back-to-back shows at The Fillmore, the YesFanFest – 50 True Summers U.S. fan convention is set to take place Saturday, July 21 at The Foundry. Various YES alumni, including Patrick Moraz and Tom Brislin, will be performing at the event, which will also include a Q&A with YES, among other activities.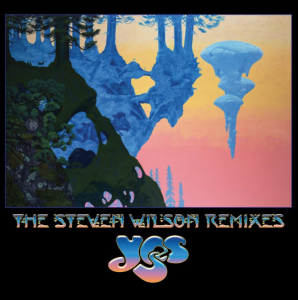 On June 29, Warner Music will release YES: The Steven Wilson Remixes, a five-album vinyl set featuring Steven Wilson's remixes of five classic YES studio albums: The Yes Album (1971), Fragile (1971), Close To The Edge (1972), the double album Tales From Topographic Oceans (1973) and Relayer (1974). Each album features remixed audio by Steven Wilson, released on vinyl for the first time, and artwork created specifically for the set by Roger Dean, with new cover art for Close To The Edge and Tales From Topographic Oceans and reworked art by Dean for the remaining three covers.
Additionally, YES recently issued Fly From Here – Return Trip, a new version of their 2011 album Fly From Here featuring the Drama lineup and new lead vocals by Trevor Horn. Released March 25, Fly From Here – Return Trip–available from Pledge Music (here)–contains a previously unreleased song, "Don't Take No For An Answer," recorded in 2011 featuring Steve Howe on lead vocals, and the full-length version of "Hour of Need," previously only available as a Japanese bonus track. Fly From Here – Return Trip is a long-awaited treat for all YES fans and, following Chris Squire's passing in 2015, represents the last chance for fans to hear a follow-up to the classic YES release Drama.
Catch the #YES50 summer tour in the following markets:
DATE CITY VENUE
Tue 6/5 St. Charles, IL Arcada Theatre
Wed 6/6 St. Charles, IL Arcada Theatre
Fri 6/8 New Buffalo, MI Four Winds Casino Ballroom
Sun 6/10 Kansas City, MO Midland Theatre
Mon 6/11 Denver, CO Paramount Theatre
Wed 6/13 Boise, ID Century Link Arena
Thu 6/14 Woodinville, WA Chateau Ste. Michelle Winery
Sat 6/16 Bakersfield, CA Spectrum Amphitheater
Sun 6/17 Anaheim, CA City National Grove of Anaheim
Tue 6/19 Los Angeles, CA Ford Theatre
Wed 6/20 San Jose, CA City National Civic
Fri 6/22 Wendover, NV Peppermill Casino Hall
Sat 6/23 Laughlin, NV Edgewater Hotel & Casino
Sun 6/24 Temecula, CA Pechanga Resort & Casino
Thu 6/28 Interlochen, MI Kresge Auditorium
Fri 6/29 Grand Rapids, MI 20 Monroe Live
Sat 6/30 Detroit, MI Fox Theatre
Mon 7/2 Cincinnati, OH PNC Pavilion at Riverbend Music Center
Thu 7/5 Pittsburgh, PA Carnegie of Homestead Music Hall
Fri 7/6 Jim Thorpe, PA Penn's Peak
Sat 7/7 Montclair, NJ The Wellmont Theater
Tue 7/10 Boston, MA The Wilbur Theatre
Wed 7/11 Hampton Beach, NH Hampton Beach Casino Ballroom
Fri 7/13 Mashantucket, CT Foxwoods Casino
Sat 7/14 Atlantic City, NJ Tropicana Casino
Sun 7/15 Staten Island, NY St. George Theatre
Tue 7/17 Peekskill, NY Paramount Hudson Valley
Wed 7/18 Westbury, NY Theatre at Westbury
Fri 7/20 Philadelphia, PA The Fillmore
Sat 7/21 Philadelphia, PA The Fillmore
Mon 7/23 Washington, DC Warner Theatre
Tue 7/24 Richmond, VA Classic Amphitheatre
Thu 7/26 Clearwater, FL Capitol Theatre
Fri 7/27 Orlando, FL The Plaza Live
Sat 7/28 Atlanta, GA Atlanta Symphony Hall