by contributor Prog Nick
header photo by Jaak Geebelen
I've wanted to go to Loreley's Night of the Prog for decades (actually since I saw the VHS video of Marillion's legendary 1988 performance at the venue), but the date stars never aligned, until this year. So I looked into coming, but found myself a little disappointed by the line-up, which seemed largely obscure to me, with a few exceptions. That was until, some weeks later, I learned that Spock's Beard and Neal Morse with Nick d'Virgilio were booked to reprise their Morsefest performance of Snow for the final time, on the Friday night. Upon hearing this, I made a few calls and booked my flight. Here's a blow by blow account.
Day 1
Arriving at Loreley is an experience in itself. Set in an ancient German amphitheatre in the Rheinlands, Loreley is located in breathtaking hillside territory around the Rhein River – actually the kind of place you would expect elves and goblins to emerge from the green foliage. It is utterly gorgeous and the perfect setting for a Prog festival.
Young fans and old, typically German, attended the concert, which boasted excellent sound and a comfortable castle amphitheatre seating with good facilities.
Looking around (at least on day one), there were lots of Spock's Beard t-shirts, but in fairness quite a few of everything else too, including Steven Wilson, Yes, Genesis, Haken and other usual suspects. In surreal fashion, Junker Ju aircraft would fly overhead every so often (presumably due to the nearby location of a military or other airfield). This lent a suitably German context, and the festival itself ran with typically Teutonic precision, timing and technical excellence (which is nice for a change.)
The vibe was serene and peaceful. Hippies were blowing bubbles, people were loving the music, and most people in the crowd were smiling, happy and chilled out. Remarkably, too, the rain held off for the entire weekend, despite heavy clouds at times, and contrary forecasts for the Sunday.
I was forced to miss Friday's first two bands Due to Deutsche Bahne issues, but I'm told this didn't really matter. But when I did arrive, Mostly Autumn were busy delivering the usual soaring vocals and strong instrumentation for which they are known, in this gorgeous setting.
Anekdoten were up next. Many friends have been hyping this band to me recently, and I have to agree that they are worth seeing. Clinical and precise, they deliver good live renditions of the Prog epics for which they are known. Their stage presence could do with some development, in all honesty, but they are a great live band nonetheless. The Norwegian flag was literally flying high during their set.
Lucifer's Friend, a band unknown to me, started very shakily, and things did not improve much for them as the set progressed. The vocalist kept on making jokes about how old they were, and this very apparent truth wore very thin as the set went on. The guitarist had a horrible sound, and the songs were straight derivations from bands like Foreigner and Scorpions. The second song literally could have been Foreigner on a bad day. Extremely loose, they showed an understandable look of relief every time they finished a song. Staggering through their set, one could only feel a little sorry for them, and aware that weeks more rehearsal is in order. Until that happens, it's a case of Loose-ifer's Friend, I am afraid.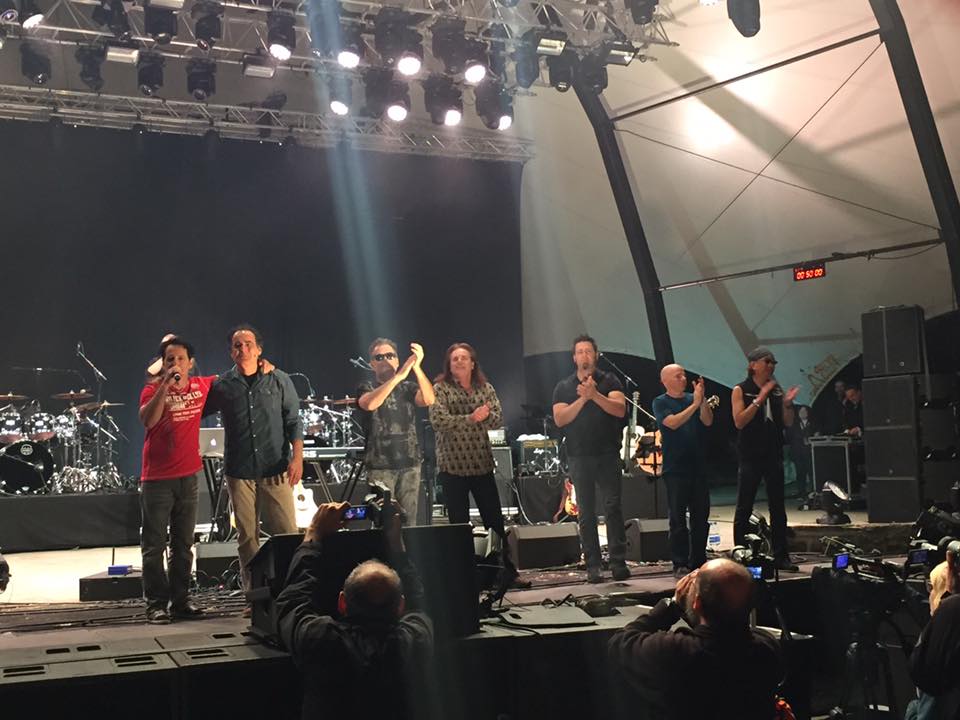 Then, although day was turning into night diurnally, night turned into day musically, with things taking a dramatic turn for the better as the highlight of the weekend approached. As the sun set, what can accurately be described as 'the second coming of Prog' began, with the second and final performance of 'Snow' by Spock's Beard, Nick d'Virgilio and Neal Morse. It was a Tour de force, such that many German people around me remarked that they had never seen anything like it.
The mighty Spock's Beard, with erstwhile leaders Neal Morse and Nick d' Virgilio, delivered a monster performance, better than anyone could have dreamed. Rich Mouser's mix was as always, impeccable, despite the less than preferred mixing console provided. But the band just took it to another level, such that I don't think Loreley has seen before, and may not ever again. It was perfect. It was musically and lyrically sublime. It was emotional, it was technical, it was triumphant. And, of course, it was a historic reunion. These fine musicians brought their gift, and to say it was well-received would be like calling Krakatoa a firecracker. And then some. Emotion, technical instrumental skill, dazzling musicianship, varied delivery of vocals, humour, spotlight numbers, epics, even a double drum solo, and above all, the fact that it was a rare but sublime performance of one of the greatest concept compositions ever written – it had it all. Have I seen a better gig? Maybe only the same line-up doing largely the same show at Morsefest. Other than that, nothing can compare to what was witnessed by fans on this cool German Friday night. They don't call them 'The Mighty Spock's Beard' for nothing. But with Morse and D' Virgilio? The are simply unstoppable. The crowd were treated to a tour de force of power, melody, emotion, impeccable musicianship, double drum solos, musical excellence, passion second to no-one, tears, joy, camaraderie, drama, humour, sadness, and, quite frankly that rarest of all things: a historic live performance that will most probably never be repeated. The 'I was there' factor was strong indeed. The crowd cheered for several minutes and mobbed the band after the gig, and rightly so. They were incomparable in every way. Live long and prosper, Spock's Beard, Neal and Nick – you deserve it. Bravo.
Day2
A projection screen appeared on Saturday, and it occurred to me that it was a pity that they didn't have it there the previous night for Snow. (There were LED screens at Morsefest with stunning images, but no video projection here on the Friday, and it is a pity. Having seen the Morsefest video production, I can attest that this would have worked nicely at Loreley.)
Saturday was a colder and more overcast day, and the crowd was a bit sparser than Friday's (one believes that perhaps this actually had more to do with the day's line-up than a cool breeze).
I missed Seven Steps to the Green Door, but Radio Darmstadt DJ Raphael Beckers told me that it was good classic prog with hiphop elements, including male and female singers. This band is apparently getting very popular in Germany. (Debt plug – listen to radio Darmstadt on the third Friday of every month.)
As I arrived, Frequency drift were on stage. They sound much like like Mostly Autumn. The young vocalist's voice needs developing, but in fairness it was not helped by a very hard mix. The band has a beautiful harpist (yes, harpist), which is interesting, but the lead singer looked almost apologetic – like she didn't belong there.
French group Gens de la Lune's face-painted keyboard player looks like he belongs in Arthur Brown's band, only with a theremin. Double the age of his band mates he is also the most visible, with face-paint, silver shoes, cape and all. The band got the crowd clapping during sound check, which was a good sign. Dark and heavy and with the (I may be mistaken) odd latin phrase thrown into the french lyrics. The bass drum was too heavy in mix, especially compared to the toms and snare, and this did them no favors. 'J'e taime' appearing in Prog lyrics? Why not. A great Spanish guitar interlude surprised, and the vocalist played some nice percussion. Loreley' took place soon after the Nice massacre in France, so obvious references were made to peace and love. It was very French, even including accordion sounds and then the appearance of a real accordion. Imagine French cabaret with a Prog rock twist. They were very well received, and the crowd loved them. I was reasonably non-plussed.
I have always wanted to see next band RPWL, and indeed, they turned out to be the new find of the weekend for me. They bear the reputation of being a Pink Floyd tribute band. But they are much, much more. Yes, the Floyd influence is very much there, but no-one cared. The results were extremely pleasing. The band sounded a bit like early Queensryche to begin with, (which was surprising – perhaps they were trying to repel the Floyd associations.) The sound man always makes a huge difference, and this band sounded immaculate, but in particular, this is the fattest live bass guitar sound I've heard in years. A bit Floyd, a bit Riverside, a bit Wilson, it was all there and it didn't matter. They were more than a bit great. At one point RPWL did a jaw-dropping Prog medley of connected one-bar excerpts from dozens of famous rock and prog songs from just about every band you've ever cared about, from Yes to Led Zep,including that famous Foreigner song "I wanna know what Prog is?" A stupendous and amazing use of covers by a band proving that they are not a covers band. They finally gave in to the Pink Floyd pressure and ended their set by playing 'Implode' (appropriately never recorded by by Floyd in studio) with passion and verve. Very well received, and rightly so – RPWL treated the crowd to a unique experience. Just perfect. A huge success, for me, RPWL were the band that took the Saturday.
Focus had to follow RPWL (a hard thing to do ) and did so with respectable aplomb, although they seemed to be in jam mode for a lot of the set. The mix was too bass-heavy with not enough respect for Thijs van Leer's keyboards. The performance itself was s little uninspiring, if workmanlike, other than drummer Pierre van der Linde's solo, which was good, but not like Carl Palmer's or the Keegan/d' Virgilio work-out. Generally, Focus played quite loosely – more so than should have been expected from such veterans.
Jane had the second last spot of the day. Never having heard of them, I listened with some interest. They were a cross between Uriah Heep, Scorpions and ACDC. They were very generic and somewhat out of place at a Prog festival. At least the Motley Crue fans were happy.
Hawkwind started their set with a video introduction that allowed them to come in with a thump immediately thereafter. Then it was back to business as usual for Dave Brock and his band of renowned space rockers. "The Machine" was the theme, and "All Hail The Machine" was the clarion call. Well, their performance could also be described as machine-like, with lots of aimless twiddling of knobs, a drum kit and Brock's voice. A soulless machine it was and many headed for their hotel rooms and camp-beds during the set. The new album took up most of the set, and it was good, but not good enough to headline the Saturday, bearing in mind what had been witnessed the night before. You have to be seriously dedicated to space rock and Hawkwind for your attention to have been held for any serious amount of time, due to the repetitive nature of the music. The mix was good and the band were good. But good enough to impress as Saturday night headliners? Only marginally. Again, the new album title pretty much described their performance. No soul, and no connection with the crowd.
So day two was no great shakes to be honest, except for RPWL.
Day 3
The projection screen was now gone (it's a mystery…) But the weather threatened. It was overcast and promising rain, and perhaps this explains the paucity of the crowd.
I managed to just catch the end of Knifeworld's set. They were received by a smallish crowd but this didn't curb their enthusiasm. All the mayhem, brass and instrumental lunacy you would expect was there. But truly, this band should have been booked for later in the day. Their music is not Sunday lunchtime blues. Kavus Torabi is not only a great guy but a fabulous musician, whose music is complex and needs the right setting. They deserved a better slot in my opinion.
A small crowd vociferously greeted Cuba's Anima Mundi at about 1.30. Playing the chords to Starship Trooper as a warm-up during sound check wasn't a bad move. It all started a bit chaotically and then moved quickly to the doom-laden, bass-heavy constructions that first garnered attention for the band. Lots of Pink Floyd influence there, and you shouldn't expect a anything too Latin-sounding. It's hard and heavy and it's Prog. There were no ethnic instruments in sight (except a sax, which doesn't count). Yet a disappointingly sparse crowd for them too. Their set was thoughtful and well-executed, but without much crowd repartee until main man Michel Bermudez introduced the band-members to remarkably enthusiastic applause. The simulated locomotive sound at the start of "Train" Would have have impressed any BBT fan. There was lots of distorted guitar but little in the way of composition. The words 'So What?' came to mind with regularity. In any event, this gig was the final date in their tour and they celebrated accordingly.
Then rising stars Lifesigns took the stage. The weather was looming, and crowd had definitely thinned out for this reason. This was a great pity because Lifesigns delivered a perfect, if laid-back and introspective set. That was, of course, until Jon Poole started his now expected front-man antics, whereupon things got somewhat heavier. Great songs, great performance, that's what it should be about and John Young's men delivered exactly that. Steve Rispin's mix was, as always, immaculate and warm. Lifesigns put a smile on the crowd's face, made many new fans, and gave the set of the day, increasing the crowd's attention with every song. It was stellar, but ironically there was not enough time for fan-favourite "Fridge Full of Stars". One feels that Lifesigns should have been higher on the bill, with more stage time. They were superb.
Norwegians Magic Pie were the surprise of the day for me. Bearing in mind the disappointment of some of the other 'filler' acts over the three days, I expected the same here. Boy, was I wrong. In their first German gig ever, they delivered a melodic, powerful, graceful and structured set. they did very well indeed and won over at least one new fan in me. A great band that drew more to the front of the stage than expected and got the crowd going with infectious good vibes and audience participation. They made their cut off time by one minute.
The crowd started to get quite rowdy in the build-up to Carl Palmer, singing lots of "ole" songs to set the mood. Palmer was certainly more animated and motivated than the last time I saw him (ELP's last gig at High Voltage). It took a while for him to warm up, dropping a stick at least three times (perhaps from enthusiasm). The band is, of course, instrumental, which took some getting used to. For example they did "Welcome Back My Friends" with no vocal, and it was all a little strange. In my opinion, the vigour of Palmer's performance could not make up for the lack of vocals and keyboard, bearing in mind it was a tribute to ELP and, in particular, to Keith Emerson. Nothing could replace Emerson – even Paul Bielatowic's guitar-with-keyboard sound theatrics and tone changes, nor the use of a Chapman Stick. Good as it was, it just wasn't the same. Palmer told lots of ELP anecdotes , including a story about how ELP came to Play King Crimson's 21st Century Schizoid Man, which worked nicely. He also said that Emerson had been planning on joining him for some of these gigs – very sad. Things started improving with a brilliant bass solo by Simon Fitzpatrick of Queen song Bohemian Rhapsody that had the crowd singing along and clapping en masse. It's amazing what a familiar song can do. The band was now rocking, and "Pictures at an Exhibition" was dedicated to Emerson. Palmer proceeded to perform the tricksiest drum solo I've ever seen him play. The man is still in absolute top form as a drummer. Deservedly, the crowd gave the Carl Palmer Band an ovation second only to Spock's Beard.
Musical Box ended off the weekend with a perfect rendition of Foxtrot and a couple of other numbers. They are the complete Genesis tribute band, and one understands why Gabriel has given them his personal endorsement. It could gave been Genesis circa Foxtrot, the only exception being that the drummer plays right-handed, unlike Collins. Great job, but a tribute is a tribute.
The relatively sparse crowd during the weekend (with the exception of Spock's Beard, Lifesigns, RPWL, Carl Palmer and Musical Box) was testament to the otherwise average line-up choices made by the promoters. NOTP has previously offered way better line-ups in general, but the inspired choice to include Spock's Beard and Snow made that pale into insignificance.
Conveniently placed vendors of beer wandered through the crowd but weirdly, when you wanted a wine, beer, and soft drink you had to go to three different bars. Drinks were expensive (Eur 3.50 for water – really?)
Many of the faces in the crowd changed every day, indicating that most people chose their band/day discerningly rather than choosing the three-day pass, but I do not believe there were more than 2500 people at any given time (maybe 3000 for Spock's Beard.) These were a averaged-priced tickets for Germany, so it is disappointing that there werent more people. It was well-organized, so I blame this on the line-up. And it is all about the line-up, let's be frank – there were some 'dodgy' bands, but the event was saved by Spock's Beard, Palmer, Lifesigns and RPWL. All in all, it was a good event made great by Spock's Beard, Morse and D' Virgilio. Booking the latter was a bit of a masterstroke by the organizers really because, without them, it would not have been enough.
Thank heavens for messieurs Morse and Co., Loreley was saved by the Beard.
For Photos visit https://www.facebook.com/NightOfTheProg/posts/1219031504815633