In support of their forthcoming new album, British music legends Soft Machine will embark on their first North American tour since 1974 in October 2018, followed by the second North-American leg of the tour in January/February 2019. In concert, their set list will include material from all parts of the band's repertoire from 1970 onwards, but this is emphatically not a nostalgia act resting on its laurels. Last weekend Soft Machine played their first two shows in North America since 1974 (it was in 1974 they toured USA and Canada during the Bundles/Allan Holdsworth era). Both shows, at the Montreal Jazz Festival and Quebec City, were exceptionally well received by the enthusiastic audience and local press.
Hidden Details is a new studio album of Soft Machine, recorded at the late great Jon Hiseman's Temple Studio in Surrey, England, last December 2017, and it will be released in September 2018 on MoonJune Records (North America; on CD and HD Download), on John Etheridge's Dyan Records (UK/Europe on CD, and iTunes), and on Vivid Records (Japan), exactly 50 years since the release of the band's 1968 debut album The Soft Machine. Limited and highly collectible vinyl edition of only 200 coloured vinyl (orange, blue and tour edition orange & blue marbled) will be released on the Dutch label Tonefloat, on September 8, 2018.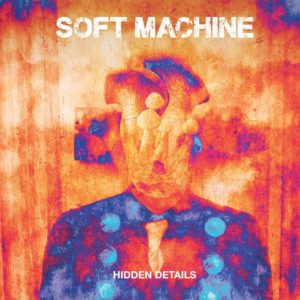 "'Hidden Details' is very much the product of an active, contemporary sounding outfit striking out with its own agenda. Though informed by the past, the music here is neither weighed down nor beholden to it. Animated with the same ineffable and inquisitive spirit that has always made this group throughout its fifty years such a compelling experience, it'' good to have a new Soft Machine with us in 2018. The yearning tenderness of 'Heart Off Guard' and the come-down reveries of 'Broken Hill' and 'Drifting White' showcase the more intimate aspects of Soft Machine's personality while in contrast, 'One Glove' gives the more pugilistic side of John Etheridge's playing an outing. The terse angularities of the title track and 'Life on Bridges' highlight a fearless disposition, as does the buzzsaw interplay heard during 'Ground Lift' and 'Flight of the Jett,' both featuring Roy Babbington's decisive interventions. The surging lyricism of 'Fourteen Hour Dream' flirts with an almost popish sensibility, underscoring the sense that this is a quartet that is fundamentally at ease with itself. The return of what some older fans of the band have called 'cosmic tinkles''– the appearance of layers of cyclical electric piano motifs – is especially welcome. Their brief manifestation on 'The Man Who Waved at Trains' and Third-era, 'Out-Bloody-Rageous,' both stone-cold Mike Ratledge-composed classics, adds an extra spacey dimension to the overall sound. Travis' use of looping technology with his flutes creates its own beguiling world and can be heard to powerful effect on the beautiful and enigmatic 'Breathe,' where his hovering notes are underpinned by Marshall's oblique yet atmospheric percussion." – Sid Smith
Soft Machine:
JOHN ETHERIDGE – guitar
THEO TRAVIS – sax, flute, Fender Rhodes
ROY BABBINGTON – bass guitar
JOHN MARSHALL – drums
with special guest GARY HUSBAND drums on selected dates
2018 North American Tour Dates:
October 6 – Orion Studios – Baltimore, MD, USA [John Marshall on drums]
October 7 – Theater Of Living Arts – Philadelphia, PA, USA
October 9 – Roxy's & Duke – Dunellen, NJ, USA
October 10 – Darryl's House – Pawling, NY, USA
October 12 – The Iridium – NYC, NY, USA
October 13 – The Iridium – NYC, NY, USA
October 14 – The Iridium – NYC, NY, USA
October 16 – Mod's Club – Toronto, ON, Canada [Gary Husband on drums]
October 17 – The Tralf – Buffalo, NY, USA [Gary Husband on drums]
October 18 – Beachland Music Hall – Cleveland, OH, USA [Gary Husband on drums]
October 19 – The Irving Theater – Indianapolis, IN, USA [Gary Husband on drums]
October 21 – Progtober Festival – Reggie's – Chicago, IL, USA [Gary Husband on drums]
October 22 – Shank Hall – Milwaukee, WI, USA [Gary Husband on drums]
2019 North American Tour Dates:
January 24 – Freight & Salvage – Berkeley, CA, USA
January 25 – Flynn's – Santa Cruz, CA, USA
January 27 – Alberta Rose Theater – Portland, OR, USA
January 28 – Triple Door – Seattle, WA, USA
January 29 – Triple Door – Seattle, WA, USA
January 31 – The Baked Potato (2 shows) – Los Angeles, CA, USA
February 1 – The Baked Potato (2 shows) – Los Angeles, CA, USA
February 2 – Scottsdale Performing Arts Center – Scottsdale, AZ, USA
February 4-9 – Cruise To The Edge – Key West, FL / Cozumel, Mexico
2018 confirmed shows in Japan & Europe:
July 7 – Montreal Jazz Festival – Monument National – Ludger Duvernay – Montreal, Quebec, Canada
July 8 – Salle Jean-Paul Tardif – Quebec City, Quebec, Canada
July 28 – Billboard Live Tokyo – Tokyo, Japan (2 shows) [special guest Gary Husband, keyboards]
July 29 – Billboard Live Tokyo – Tokyo, Japan (2 shows) [special guest Gary Husband, keyboards]
July 30 – Billboard Live Osaka – Osaka, Japan (2 shows) [special guest Gary Husband, keyboards]
September 6 – Cosmopolite – Oslo, Norway
September 8 – De Boerderij – Zoetemeer, The Netherlands
September 9 – Musikbunker – Aachen, Germany
September 10 – Franzis – Wetzlar, Germany
September 12 – Muhle Hunziken – Rubigen, Switzerland
September 13 – La Casa Di Alex – Milano, Italy
September 14 – Club Il Giardino – Verona, Italy
September 16 – Porgy & Bess – Vienna, Austria
September 17 – Museum – Bratislava, Slovakia
September 18 – Akropolis – Prague, Czech Republic
September 19 – Kulturbanhof – Jena, Germany
November 3 – Marlow Theater – Canterbury, UK
November 6 – Sage – Gateshead, UK
November 8 – Green Hotel – Kinross, Scotland, UK
November 9 – Hebden Bridge Townhall – Hebden, UK
November 10 – The Trade's Club – Howden, UK
November 16 – Borderline – London, UK
November 17 – West End Center – Aldershot, UK
November 18 – Lews Con Club – Lewes, UK
November 20 – Epic Studios – Norwich, UK
November 22 – Trading Boundaries – Fletching, UK
November 25 – Talking Heads – Southampton, UK
December 15 – Peppel – Zeist, The Netherlands
December 16 – Harmonie – Bonn, Germany
Soft Machine is a legend and an institution of British music, a band who included Robert Wyatt, Daevid Allen, Mike Ratledge, Kevin Ayers, Andy Summers (later of The Police), Hugh Hopper, Elton Dean, Roy Babbington, John Marshall, Karl Jenkins, Allan Holdsworth, John Etheridge, Percy Jones, Rick Sanders, Dave McRae and Jack Bruce among others (Jimi Hendrix briefly jammed with the band in 1968!). Since its creation in 1966, this band pioneered Psychedelic and Progressive Rock, led the 'Canterbury' trend, pioneered jazz-rock, and then guitar-led fusion (launching the guitar god Allan Holdsworth in 1974), influenced generations of musicians. Disbanded in 1978, recreated in few occasions in 1981 and 1984, the band resurfaces in 1999 under the name of Soft Ware. Much was said about this band with a very complex intriguing history of constant personal changes during the 1966-1978 period. The band resurrected in 1999 under the name of Soft Ware, then as Soft Works 2002-2004 and Soft Machine Legacy 2004-2015. In December 2015, it was confirmed that the band had dropped the "Legacy" tag from their name, as the band featured three of the group's 1970s era members – guitarist John Etheridge, drummer John Marshall and bassist Roy Babbington (from the seminal 1976's album Softs), in addition to flute and sax player Theo Travis – returning to the original name from 2015, and performing numerous concerts all around Europe, South America and Japan.
To pre-order Soft Machine's Hidden Details CD and HD 24bit Download:
https://softmachine-moonjune.bandcamp.com/album/hidden-details-hd ;
All CD orders come with HD 24bit downloads.
Pre-ordered CDs will be shipped in the end of August 2018.
Pre-ordered Downloads will be released the first week of September.
Those who purchased either the CD or HD Download, will receive instant download of one tune before the official release date. Downloads of two more tunes will be released on August 4 2018, and the full album download will be released on September 7 2018.
$15 for the CD + shipping (from USA) and $10 for HD 24bit Download.