By Nick Tate
It's been a tough year for music fans and artists alike, with COVID-19 cancelling concert tours and studio recording for much of 2020. But one silver lining has been the bumper crop of unplugged albums progressive artists have produced during the coronavirus lockdown.
Call it Pandemic Prog. Devin Townsend, Anneke van Giersbergen and Steve Hackett have all set down their electric guitars and released acoustic albums this year. Now, Saga is joining the crowd.
The Canadian hard-prog band's brilliant new release, Symmetry, features re-recorded tracks spanning the group's 43-year history – with acoustic instruments replacing the stacked electric guitars and synthesizers that have defined Saga's signature sound. But Symmetry is not merely "Saga unplugged." This album crackles with energy, intensity and inventiveness, with the band reworking vintage Saga classics with acoustic six- and 12-string guitars, banjo, fiddle, cello, clarinet and even accordion.
"It's not really an acoustic record per se, but rather a re-imagining of these tunes in a more organic format," notes Welsh-born singer and frontman Michael Sadler. "We've always liked a challenge and so we thought, 'let's apply our kind of collective creative thinking and see if we can't come up with much more than just your average run-of-the-mill acoustic album.' "
The result is the best Saga album in a decade, arriving 7 years after the band's last studio release, Sagacity, and 3 years after So Good, So Far: Live at Rock of Ages. The band's core members carry most of the freight here: Sadler (vocals), Ian Crichton (acoustic guitars, banjo), Jim Gilmour (piano, clarinet, accordion, vocals), Jim Crichton (bass) and Mike Thorne (percussion). But to round out the sound, Saga has brought in four guesting musicians: Shane Cook on fiddle, Seren Sadler on vocals and Stephany Seki and Beth Silver on cello. From start to finish, Symmetry is loaded with unexpected goodies and surprises, with an overall sound that is unlike anything Saga has ever attempted.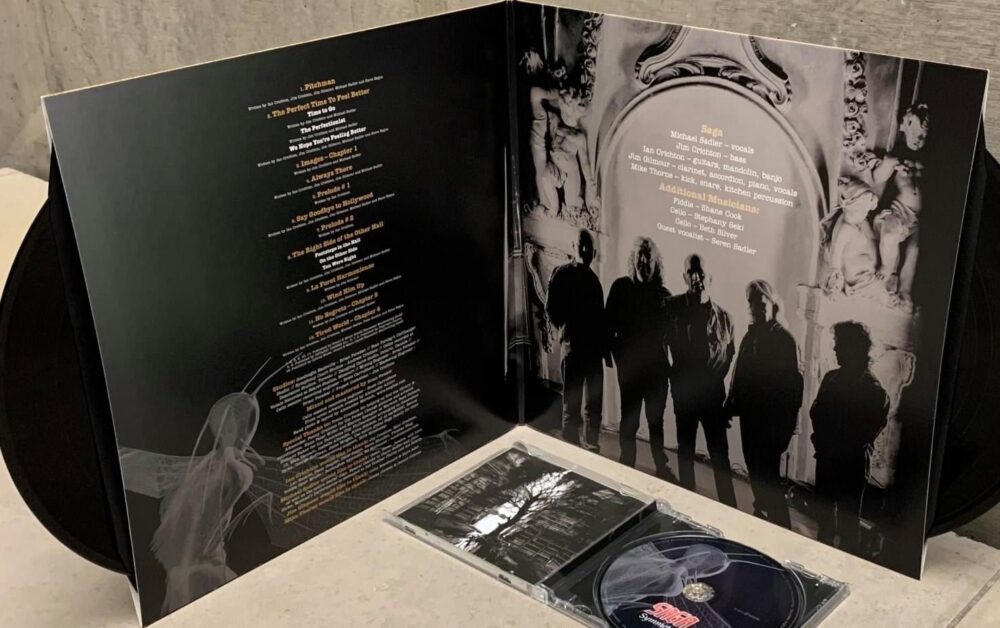 "Pitchman" kicks the album off – and up – with Sadler introducing the power-prog rocker from Saga's 1983 album, Heads or Tales, with an acapella vocal. Then the band falls in behind him, with acoustic guitar, piano, clarinet, banjo and gypsy violin replacing the jumpy electric guitars and synths that propelled the original. It's a fantastic makeover of this Saga classic, showcasing Sadler's commanding vocals and the band's tight-as-a-drum rapport.
Next up is the first of two extended medleys – the real showstoppers on the album. "The Perfect Time to Feel Better" masterfully combines three songs spanning nearly two decades of Saga's early history. It opens with a quirky violin-guitar-piano variation on the theme of "Time to Go," the regal symphonic-rocker from 1979's Silent Night. From here, a rich instrumental bridge leads to the signature lines of "The Perfectionist," from the band's self-titled 1978 debut. Finally, the rousing chorus of "We Hope You're Feeling Better," from 1995's Generation 13), closes out the opus in grand fashion.
This musical triptych is reworked so well, it sounds as if all three songs – from three different albums – were conceived as a single piece from the beginning.
The second medley, "The Right Side of the Other Hall," assembles three tracks from Saga's 2006 masterwork, Trust. "Footsteps in the Hall" jumpstarts the piece, with the twin attack of piano and acoustic guitar standing in for the grinding electric-guitar-and-synth foundation of the original. Next, the band chops up sections of "You Were Right" and "On the Other Side" – like a musical Cuisinart – and reorders them in surprising ways. Here and there, we're treated to Gentle Giant-like baroque-and-roll passages, Irish folk breaks and majestic chamber-rock sections.
Like "The Perfect Time To Feel Better," this medley sounds as if all three tracks were meant to be presented all-of-a-piece, coming together in a way that sounds more natural than forced.
Symmetry also features three tracks from a 16-chapter song cycle Saga produced across several albums, based on the life of Albert Einstein:
• "Images – Chapter 1." The remake of this piano-driven ballad from 1979's Images at Twilight sticks close to the original script, but with Sadler's poignant vocals framed by cello, acoustic guitar, clarinet and banjo.
• "No Regrets – Chapter 5." From Saga's 1981 breakout album, Worlds Apart, this pretty orchestral-prog song is remade as an acoustic guitar-driven madrigal with an Elizabethan-rock sound.
• "Tired World – Chapter 6." This standout from Saga's 1978 debut is completely reengineered here, with the high drama of the track's keyboard-fretwork lines supplanted with spare piano, violin and acoustic guitar. Tasty banjo and jazzy acoustic guitar breaks replace the wild guitar solo in the original version – a bold and daring move that somehow retains the propulsive locomotion of the song.
Elsewhere on Symmetry, Saga takes on – and in some cases takes apart – a handful of fan favorites.
"Always There," a splendid earworm from 2001's album House Of Cards, is recast here as a guitar-banjo ballad, but maintains the romantic feel of the original.
"Say Goodbye to Hollywood," a radio-friendly track from 1994's Steel Umbrellas, finds Saga broaching smooth-pop-prog territory with brass instruments, cello and accordion taking this one to a new level.
"Wind Him Up," the minor hit from Worlds Apart about a compulsive gambler that introduced Saga to a wider audience, opens with a new string section anchored by 12-string guitar lines. Despite the acoustic framing, the song's power-prog punch still comes through – echoing the protagonist's "wound like a clock" nature – with guitar twinning with fiddle for a funky toe-tapping rhythm section.
Symmetry also showcases three new short instrumentals – two acoustic guitar preludes from Ian Crichton ("Prelude #1" and "Prelude #2") and a semi-classical piano etude from Jim Gilmour ("La Foret Harmonieuse") that finds Sadler ladling in a few choice vocal lines from "Book of Lies."
On the whole, Symmetry strikes a balance between a retrospective album and a new studio recording. Most tracks are loyal enough to the originals to satisfy longtime fans, while also sparkling with fresh musical ideas. Nearly all of these pieces have been available in official live recordings before, but they have never sounded quite like this.
The fact that each member recorded his parts independently for Symmetry – then all music-file shares were spliced together in the studio – makes this aptly-titled album all the more remarkable.
Also worth noting: Sadler's theatrical voice hasn't lost a thing over the years. His distinctive tonality is the thread linking the old and new versions of these tracks — reflecting an ageless power that makes you wonder: What manner of sorcery is this?
In short, this album is a pure delight for Saga fans. But it's also essential listening for anyone who loves complex-yet-accessible progressive music that is superbly crafted and delivered by musos at the very top of their game.
Released on March 12, 2021 on earMusic.
Key Tracks: Always There, No Regrets, Tired World
Songs/Tracks Listing
1. Pitchman
2. The Perfect Time to Feel Better
3. Images – Chapter One
4. Always There
5. Prelude #1
6. Say Goodbye to Hollywood
7. Prelude #2
8. The Right Side of the Other Hall
9. La Foret Harmonieuse
10. Wind Him Up
11. No Regrets – Chapter 5
12. Tired World – Chapter 6
Saga:
Michael Sadler: vocals
Jim Gilmour: piano, clarinet, accordion, vocals.
Ian Crichton: acoustic guitars, banjo
Jim Crichton: acoustic and fretless bass.
Mike Thorne: percussion.
Additional musicians:
Shane Cook: Fiddle
Stephany Seki and Beth Silver: Cello
Seren Sadler: Guest vocals
Order here: https://saga-symmetry.com/