Concert: Mike Portnoy's Shattered Fortress
Venue: Irving Plaza, New York City, Sept. 24th, 2017
Review by: Kyle Fagala
Photos by" Cesar Mendiburu
I. Once in a Lifetime
A week ago today, I boarded a plane for a quick, 24-hour jaunt to the Big Apple. This is something I've never done before – to board a plane by myself, with no luggage, to see a single concert. Only crazy fanboys do this sort of thing, right? I'm not saying that I'm not a huge fan of Mike Portnoy and Prog. I've been on two music cruises, attended all four MorseFests, and seen 9 of Mike's different bands in concert. But, for me to get me on a plane to see a single concert (and more importantly, for my wife to give me the permission), it needed to be something special, something once in a lifetime. This concert, without a doubt, was just that sort of event.
On Sunday, September 24th, Mike Portnoy's Shattered Fortress played a sold out show at the Irving Plaza in New York City, performing Dream Theater's Twelve-step Suite along with songs from Awake and Scenes From a Memory. It was the only headlining stop in the United Stat‍es, and it was one of the best shows I've ever seen.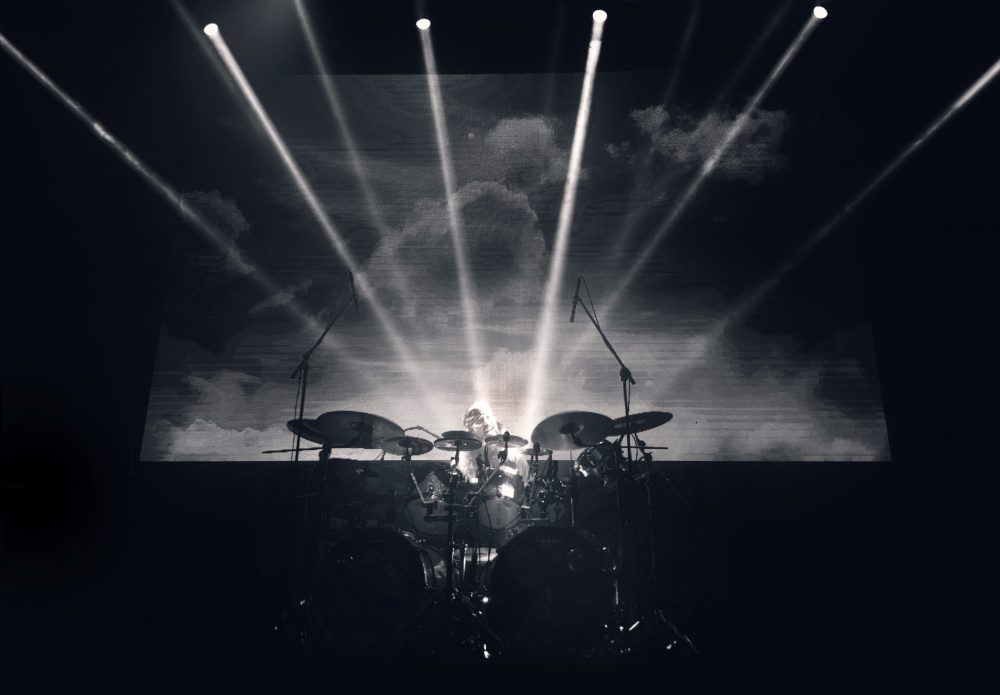 II. Looking in the Mirror
Before I go into the details of the night, I want to first consider together the bigger picture in all of this. When I analyze the Shattered Fortress set, the image that keeps going through my head is that of a mirror. There are multiple allusions to mirrors and glass throughout the night, all of which reflect the general themes of addiction, duality, and recovery. Much like oranges in Coppola's The Godfather trilogy, mirrors and shattered glass carry significance that is deeper than you first suspect.
Mike chose to open his set with the original film score from "Psycho", which is no surprise considering how big of a film buff he is. But, I think it goes deeper than that. I believe Mike included the theme from "Psycho" because of the way that Hitchcock uses mirrors and shadows in his film to represent the duality of man – the idea that we all have good and evil inside of us. Marion and Norman, the main characters in Psycho, both possess a dual nature. Marion stole $40,000 while Norman did something much, much worse. They both appear innocent on the outside, but when faced with a mirror, the characters, and we as the viewers, get a glimpse into their true selves.
It's no coincidence that Mike chose to place "The Mirror", the unofficial prologue to the Twelve-Step Suite, immediately before "The Glass Prison." Further, his inclusion of "Strange Déjà Vu" and "Home" make sense because of their related subject matter. In "Strange Déjà Vu" Nicholas, under hypnotherapy, first sees himself as Victoria in a mirror, and even mentions later that "the mirror's shattered the girl."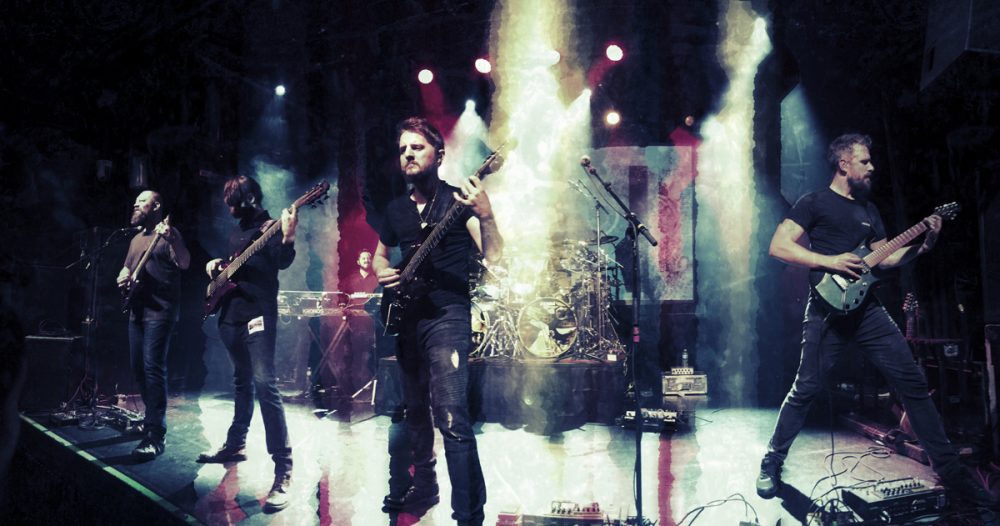 "Home", the next song in the set from Scenes From a Memory is all about The Sleeper Julian's struggles with his inner demons and addictions. His evil side and poor decisions drive Victoria into the arms of his twin brother Edward, but only temporarily. Jealous and hurt, Edward breaks a window before killing Julian and his former lover Victoria.
The glass metaphors become more obvious throughout the 56 minutes of The Twelve-step Suite, with the most conspicuous references being found throughout the opening song "The Glass Prison." A more interesting connection can be found in "This Dying Soul" and again in "Repentance" when we get the lyric "Hello, Mirror – so glad to see you my friend" which lines up perfectly with "Hello, Victoria – so glad to see you my friend" from "Regression." These two lyrics effectively connect "The Mirror", Scenes From a Memory, and the Twelve-Step Suite, especially if you interpret the lyrics of "The Mirror" as references to alcoholism and the idea of seeing one's dark side reflected in a mirror. The final song in the suite "The Shattered Fortress" combines all these metaphors with "Look in the mirror, What do you see? The Shattered Fortress, That once bound me."
III. The Shattered Fortress
I initially didn't buy tickets to see the full Shattered Fortress show because I was fortunate enough to see its debut on Cruise to the Edge, where the band members and The Twelve-step Suite were revealed for the first time. That #MP50 concert also featured an incredible performance of three Liquid Tension Experiment songs with Eric Gillette tackling sole duties on the guitar. The most common criticism I've heard of Shattered Fortress is that it ostensibly takes three guitarists to do what one John Petrucci can do. Petrucci is undoubtedly a guitar god, and he deserves full credit for writing these parts, but the point of Shattered Fortress is not to replace John, but rather to pay homage to him and his music. I can't imagine anyone doing a better job of honoring and nailing the original guitar solos than Eric Gillette, the most talented and humble guitarist I know. Let's be clear though – Eric could nail these guitar parts by himself if he needed to, but having three guitars on stage means that nothing from the original recordings gets left out. When a solo comes in, the rhythm guitars stay put. The effect is a wall of sound that literally surrounds you, giving this particular Prog performance something extra that I've never experienced before.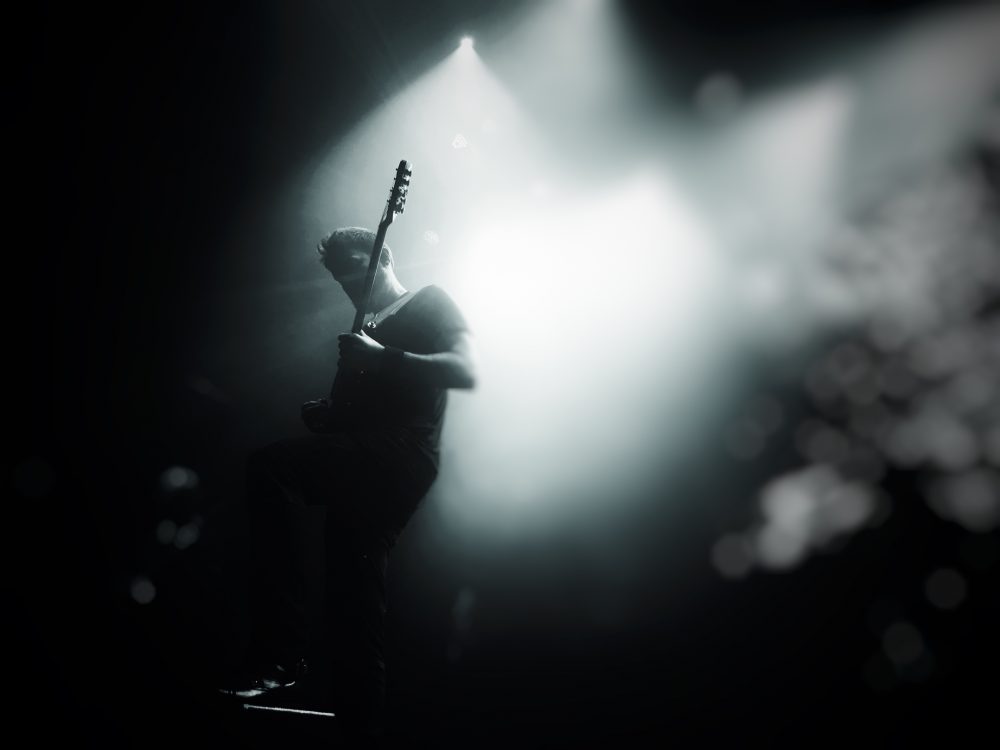 There's also nothing I can say about the gents from Haken that hasn't already been said before. Suffice it to say that there isn't a group of musicians better suited to perform this music. Ross Jennings takes on the unenviable task of replicating James LaBrie's vocals and Mike's phonebook of lyrics, and does so with gusto. Charlie Griffiths, Richard Henshall, Conner Green, and Diego Tejeida are clearly professionals at the top of their game, but most importantly, they are fans of this music. I caught them singing along to the songs throughout the entire concert. Charlie was even at Dream Theater's first ever performance in London back in 1993! The only thing that separated these musicians from the fans in the crowd was a few feet, and of course, countless hours of practice on their respective instruments.
The concert was also a family reunion of sorts. The bulk of Mike's family was in attendance. Marlene, Melody, Max, his sister Samantha and her husband Peter – even John Petrucci's wife and daughter were there. And that doesn't include all the friends and fans who have come to see Mike perform over the past 30 years. Obviously, John, James, John, and Jordan weren't there, and how great it might have been had they been able to, but there was no regret in the air that night, only excitement.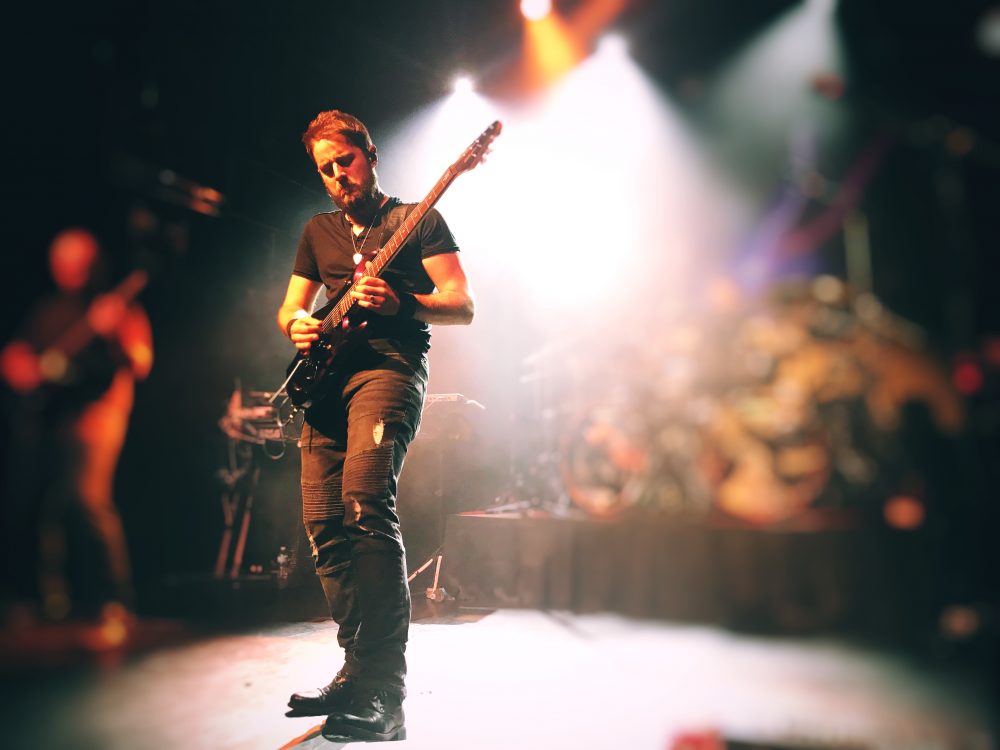 The night began with Next To None. In classic Prog form, they made 5 songs last 45 minutes, displaying musical talent that is well beyond their limited years. Max, or should I say Mike's reincarnated self from 30 years ago, is an extremely gifted and entertaining drummer. He's a sweet, funny, and gentle soul offstage and a dynamic, hard-hitting, drum hero onstage. Lead guitarist Derrick Schneider is also one to watch. He sings, looks great on stage, and plays extremely well for his age, or any age for that matter.
One unexpected detail was the house music that played in between sets. Mike is a renowned archivist and bootleg collector of the music he has recorded and was thoughtful enough to share some of the demos and alternate mixes from Dream Theater's catalog with us. If only that music could be released officially someday!
Once the crowd was properly amped, a recording of "Regression", mixed in with snippets from other famous Dream Theater songs, kicked in along with a masterful video screen designed and edited by Christian Rios. "Regression" was the first Dream Theater song I ever listened to. I was 16, sitting in the back of a school bus, and headed to a basketball game at some crappy gym in rural Arkansas. I remember my friend Kyle Dickerson handing me a black disc with "Dream Theater", "Produced by Mike Portnoy and John Petrucci", and a dagger printed in yellow. By the end of the album's 77 minutes, I had a new favorite band. 17 years later, to hear that same tick tock intro again, this time live and in person, was nothing short of miraculous.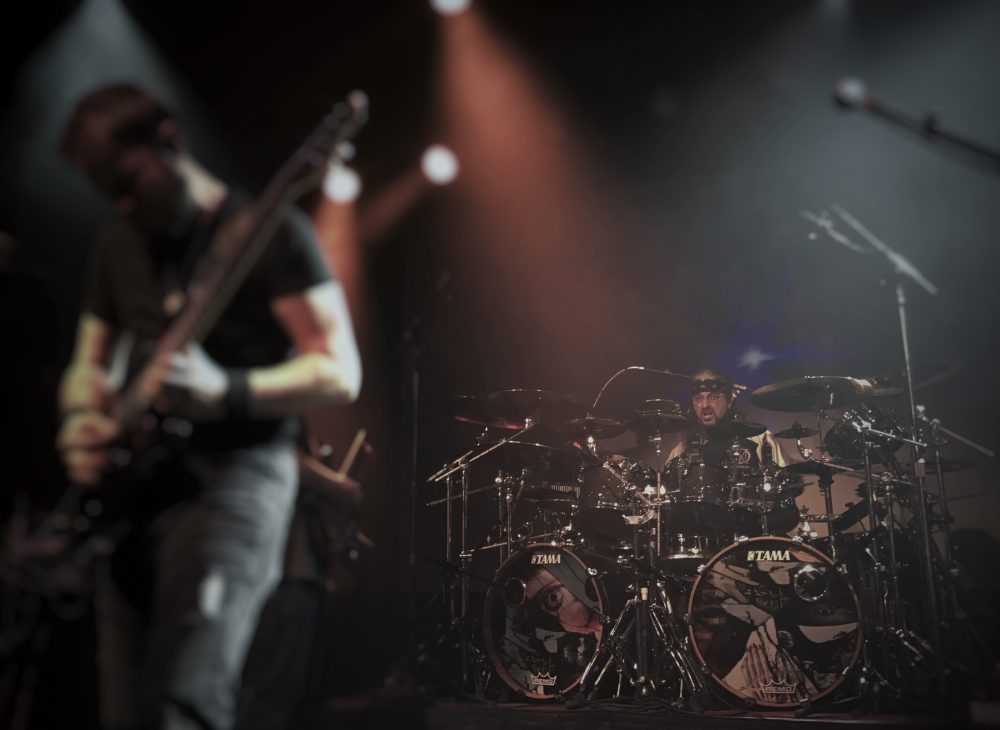 A highlight of the show followed "The Mirror" when Mike took 5 minutes to step out from behind the drums, and address the crowd. Clearly, this was an emotional and nostalgic night for him. He recounted his first Dream Theater concert in New York City, a showcase for Mechanic Records at U.S. Blues in 1988, that he admitted no one else attended except for the guys from Fates Warning. He then listed off the 7 other times Dream Theater performed in New York City, with increasing response from fans in the crowd who had been at each show. Mike has definitely played some landmark shows in New York City: 2000 at the Roseland Ballroom for "Live Scenes From New York", the 2002 "Master of Puppets" show, 2006 at Radio City Music Hall for "Score" (wearing the same custom Knicks jersey he wore on this night), and 2010 at the Madison Square Garden, opening for Iron Maiden.
Perhaps the craziest thing about all of this is how Mike, a drummer, is able to tour the world and sell out venues on his name and reputation alone. How many other drummers could do that? The answer is "not many", but then there aren't many drummers like him. Mike is an exceptional drummer and plays the drums with a "beat these drums into submission" style that few other drummers possess. Names like Keith Moon, John Bonham, Carmine Appice, Neil Peart, and Dave Grohl come to mind, but Mike still has his own thing and has blazed his own trail musically. Mike is also always connected to his fans, and according to the people who know him best, his greatest concern on tour is with giving his fans the best possible show, because he feels they deserve it. Mike is a workaholic and one of the most prolific musicians working today, releasing 16 studio albums since leaving Dream Theater in 2010. So, what better way to end a set headlined by a drummer than with the drum solo from "Finally Free"?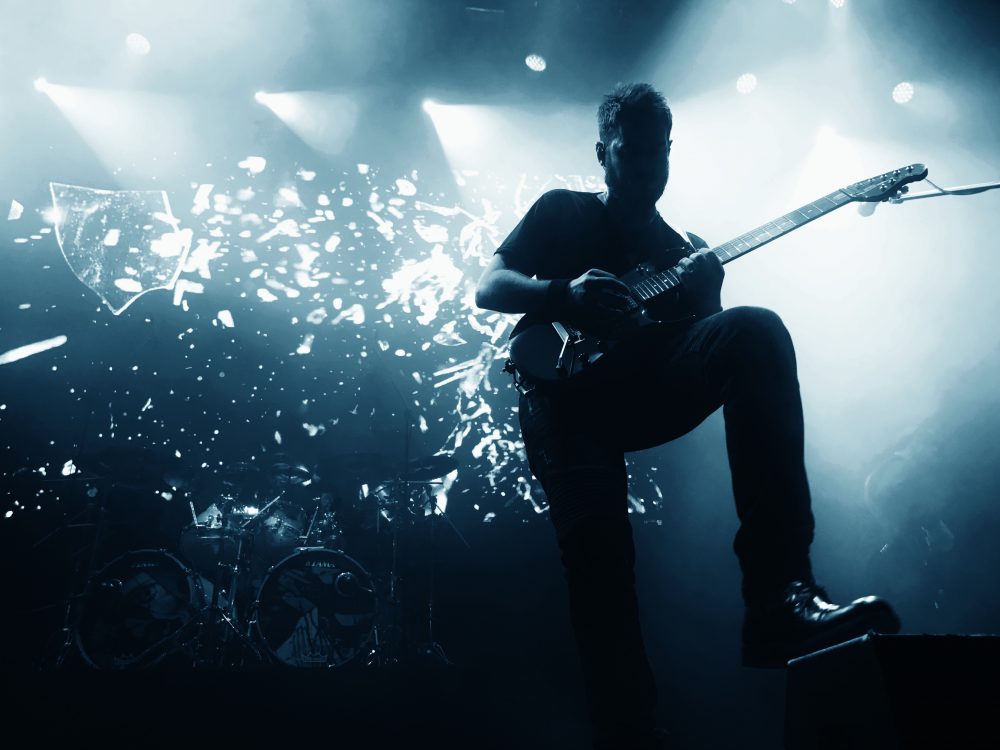 IV. One Last Time
When Mike Portnoy wrote The Twelve-step suite as a member of Dream Theater, I'm sure that the image he had in his mind of eventually performing that suite of 5 songs, released over 7 years, on 5 different albums, was far different from what was pieced together on stage in 2017.
Things are different because the grand image that was Mike Portnoy in Dream Theater – a mirror, if you will, that had largely remained intact for over 25 years, suddenly shattered apart, only to have its pieces swept up, dropped into a bag, and tossed in the trash.
Most progressive rock fans, myself included, have hoped to see that broken glass pieced back together, so we could enjoy the memory of Dream Theater just one more time. But, that hasn't happened. At least not yet, and after Sunday's performance, I'm at peace with the idea that it may never happen. Why? Because, on September 24th, Mike Portnoy's fans got a good, 2-hour look at one remarkably beautiful image of the music of Dream Theater. Was it the same mirror we grew to admire over 25 years? No, but it was beautiful in its own way.
The good news is that the mirror is no longer broken. It's actually been replaced with a new mirror, and the image this mirror reflects is just as beautiful as the one you remember. Some might say, it's even more beautiful than before.