Show: Haken w/ Mammoth and Sithu Aye
Venue: Delmar Hall, St. Louis, MO, Sept 22, 2017
Review: Jason Turner
Pics: Jon Fiala
I have been a fan of Haken, the progressive metal band hailing from London, England, for just over three years. I initially came across their music through Amazon's suggestion bar, of all places, a coincidence which I have a hard time labeling chance or fate–it could go either way. Being that I am a dedicated listener and consumer of band's such as Opeth, Fates Warning, The Mars Volta, Steven Wilson, The Dear Hunter, and Dream Theater, the algorithmic wizardry of the dot-com behemoth placed Haken's third album, The Mountain, in the 'you might like this' scroll, and on a whim I purchased it, something I had never done before, or since. I immediately became a fan, and have over the past few years delved into the rest of their catalog with fervor and abandon, two attributes which are certainly needed to gain a full appreciation of this intense, complex, mystical music.
On Friday night, September 22, I saw Haken live for the first time in my hometown of St. Louis, MO, at the relatively new and decidedly top-notch Delmar Hall, a venue that seemed the perfect fit for Haken. Situated in The Loop neighborhood of St. Louis, a bustling strip of bars, restaurants, movie theaters, music stores, book stores, and smoke shops, Delmar Hall is a pristine venue which holds 750 people comfortably. It's as if the creators of Delmar Hall wanted to streamline the concert going experience; there is not a bad spot to watch from in the building, the sound system is state of the art, and the acoustics are spectacular. When I heard Haken would be playing there I thought, "Yeah, that'll do just fine."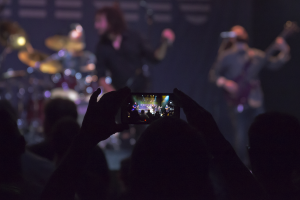 The atmosphere upon arrival was relaxed and convivial. While the crowd was sparse early on, the room eventually filled to (roughly) three quarters capacity. In between sets I struck up conversation with several of my fellow concert goers, bantering about the usual prog show topics; favorite DT album, favorite DT song, is DT still good without Portnoy (yes it is, damn it!), etc. One guy had driven in from Columbus, OH, to catch the gig with a friend, while another, a student at Washington University, attended the show by himself. "I don't know anybody else who likes Haken," he told me somewhat shyly. "Don't feel bad," I responded. "Neither do I."
The two opening bands, Mammoth and Sithu Aye, were intriguing in similar ways. Both were instrumental acts, both were progressively experimental, and both were enormously talented. I had never heard of either of them before arriving to the show, but made a note to check out their respective catalogs' over the next couple of days.
As Haken took the stage at ten o'clock, the crowd transitioned from the polite appreciation it had shown the openers into displaying an outright enthusiastic devotion, coming to life with hoots and hollers and ear-piercing finger-whistles. The excitement was tangible, and I personally experienced a sense of relief; the previous week in St. Louis had been filled with protests and civil unrest over the acquittal of a white police officer who had killed an African-American man after a car chase, and several concerts had been canceled at Delmar Hall and its neighboring venue, The Pageant. Had the protest returned to The Loop, I have no doubt the concert would have been called off.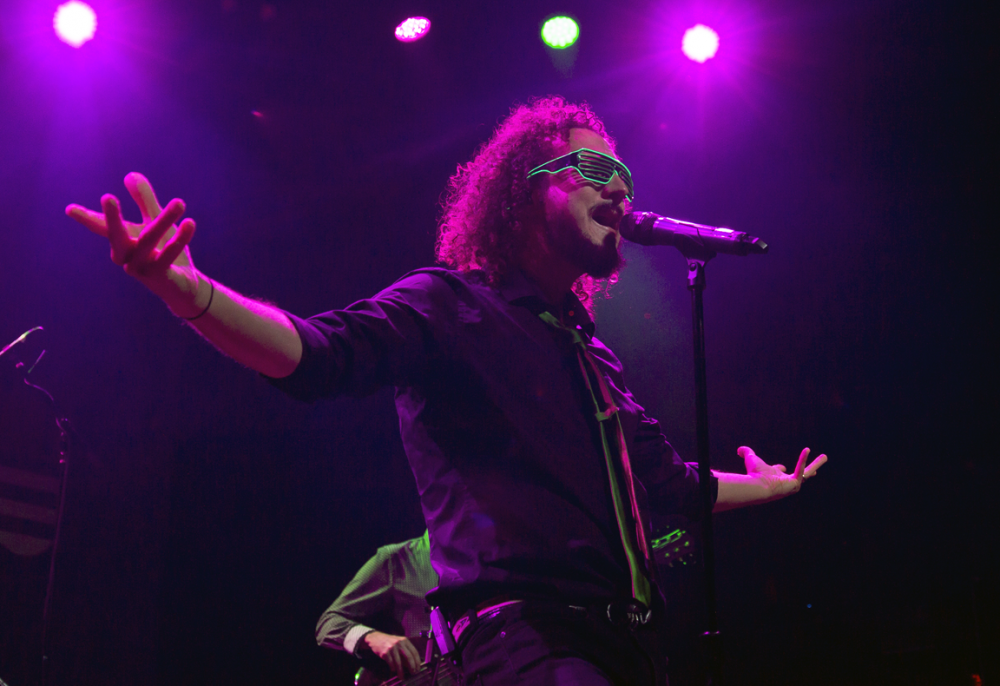 My first impression of Haken was one of confidence and concentration. The six band members, dressed mostly in black (the notable exception being Ross Jennings, the band's singer, sporting a neon green necktie over his black ensemble), took their places on stage with an air of focus and control. With the opening notes of Affinity.exe/Initiate I knew that we were in for a special night, were in fact going to witness a band at the peak of prowess and passion, a perfect representation of a group of staggeringly talented musicians celebrating ten years of making music together.
It is one thing to hear top-shelf progressive music on an album, but something completely different to behold in person, particularly when you are familiar with the music being performed. It has been my experience that there is always an aspect or quality of the band/music that you don't fully appreciate until you see and hear it live. In the case of Haken, the in-person surprise happened to be their drummer, Raymond Hearne.
Dude was a revelation.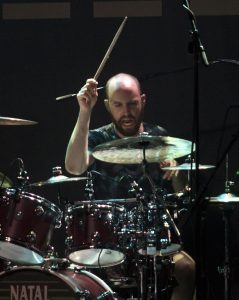 Towards the beginning of the show, through the songs In Memoriam and 1985 (two of my personal favorites ), I was marveling at how amazing the band sounded, but my attention kept drifting back to the drum kit. "He sounds really good back there," I found myself saying, over and over again. As the show progressed I found my attention zeroed-in on Hearne, trying to categorize the qualities of mastery I was beholding. There was a fullness and power to his playing and presence, like Matt Cameron on Soundgarden's Badmotorfinger, matched with the precision of, say, Danny Carey's work on Tool's Aenima. But even those comparisons fell short of Hearne's stick and foot work, as there was a unique quality to his playing; to say he sounded like such-and-such doesn't do him justice.
Seeing Raymond Hearne play drums on September 22nd, 2017, was like peeking through a window into the higher potentials of Form and Idea. Not to be melodramatic about it, but it was like bearing witness to the manifestation of the human soul. Plato would have been proud. There was not only no flaws in his playing, but his playing was imbued with a sense of rarified personality, a rhythm and pulse that was undoubtedly the backbone of the band, yet nonetheless completely individuated from it. It was the definition of magnificent.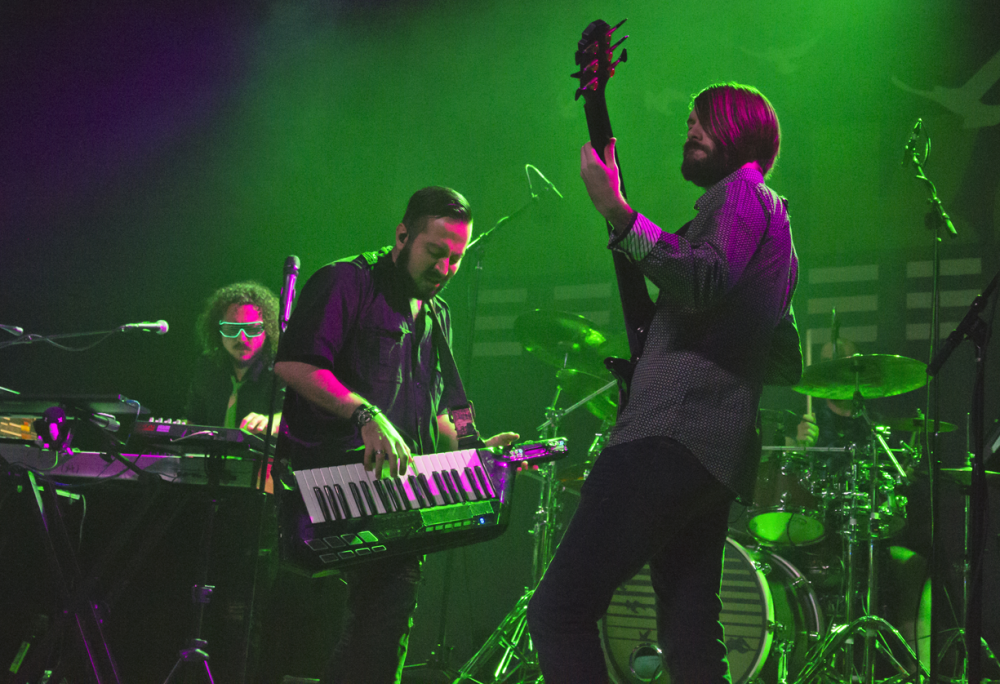 This is not to take anything away from the rest of the band. Each and every member was in top form, technically and sonically. And each band member had their moment to shine–Ross Jennings' singing of the somber As Death Embraces comes to mind, as well as Diego Tejeida's epic keyboard solo during the joyride that is 1985. As for the guitarists, Richard Henshall and Charlie Griffiths, well, their stoic demeanor belies the fire in their bellies and fingers; their synchronized and juxtapositional playing sent my mind cascading through realms of futuristic supercomputers and tryptamine-esque hallucinatory landscapes.
Simply jaw-dropping.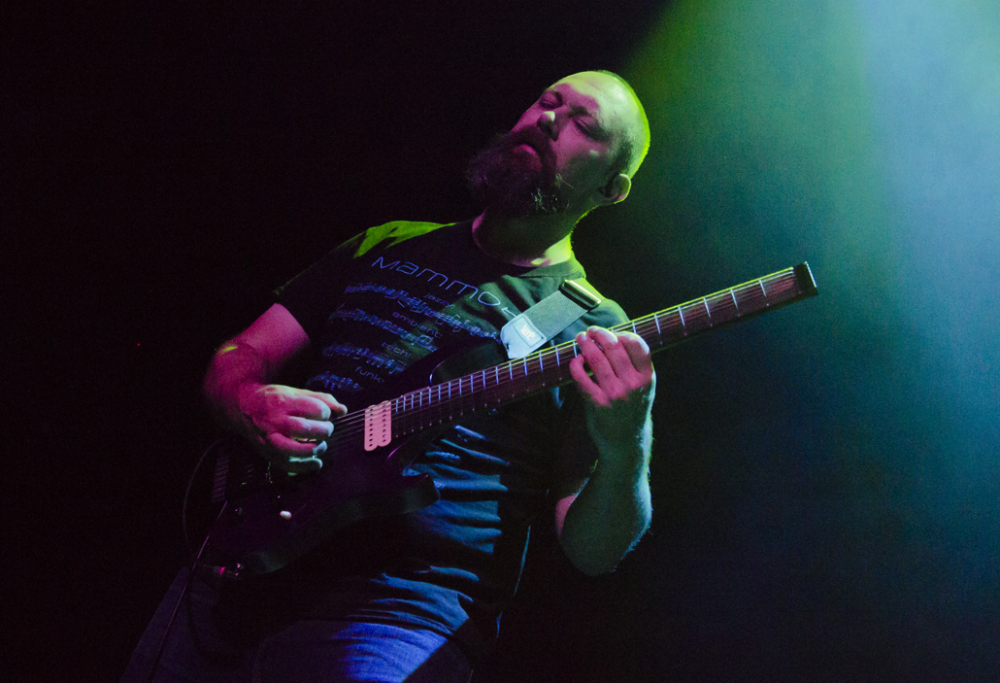 Also, I would be remiss if I didn't mention the bass work and impressive backing vocals of Haken's lone American member, Conner Green. In fact, now that I think about it, the entire band's backing vocals were deeply impressive. Their live recreation of complex harmonies embedded forever digitally on CD and MP3 left me shaking my head in delight, especially on my favorite song of the evening: Cockroach King.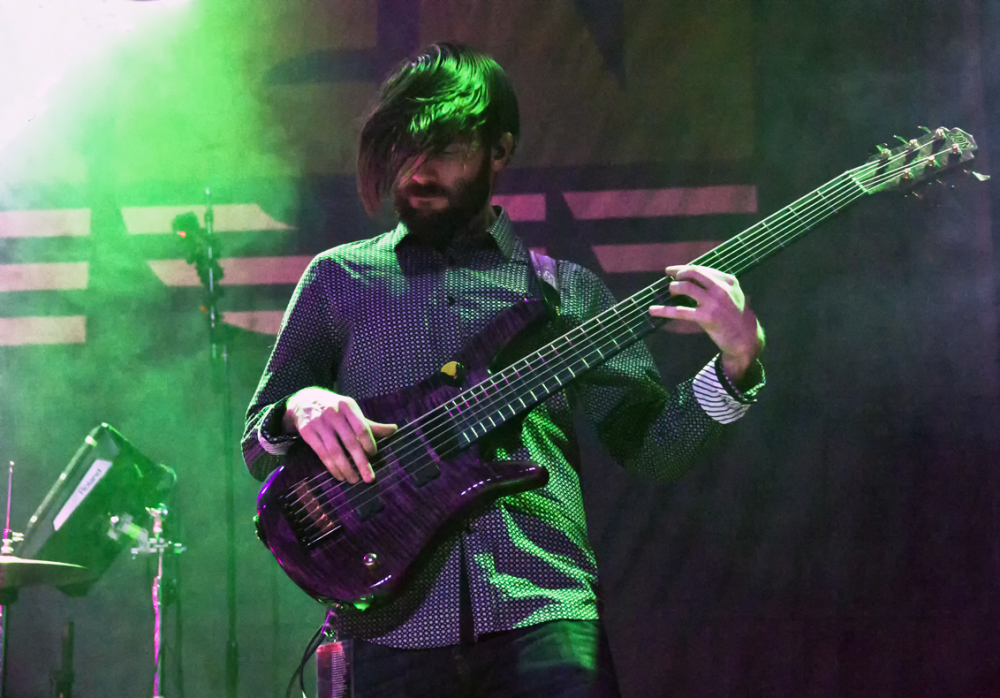 In reality, though, to actually pick a "favorite" song of the night would be silly. Every song was stirring in its own way. Which was better? The Architect or Cockroach King? The Aquarius Medley or Visions? Really, it's a matter of opinion and disposition, a relativity prone to change with moment and mood.
In any event, there was a prevailing spirit gliding above and diving through each and every song. You could not only feel the joy the music induced in the crowd, but in the band itself. Haken likes their music, too. A lot. In fact, I would go so far as to say they love it, not in a narcissistic, self absorbed way, but in an ecstatic, spontaneous, joyous way.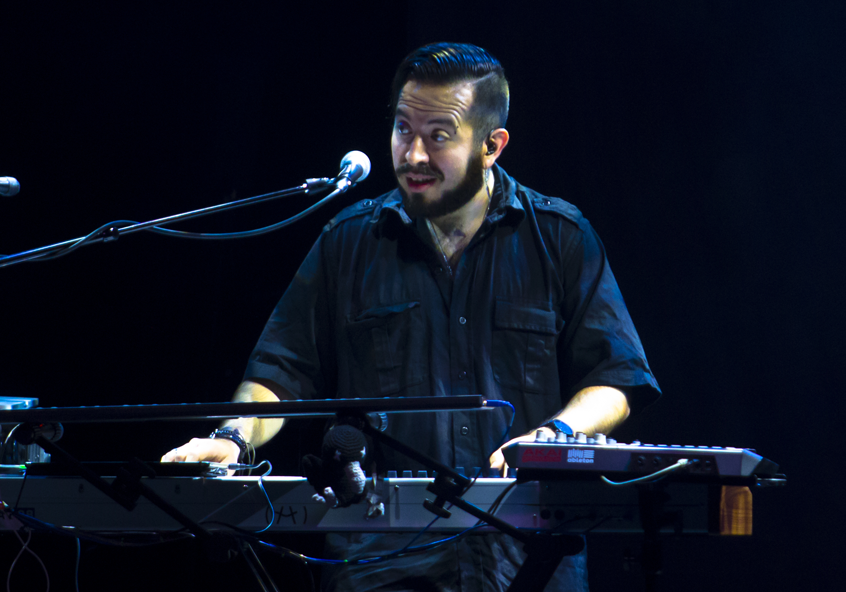 I keep thinking back to the smile on Diego Tejeida's face, standing behind his keyboard rig. All night he was smiling, happy to be sharing his occult compositions, forged in dedication and tribulation with his brothers in sound, with strangers in St. Louis, MO, a city ravaged by problems all-too earthbound. It makes me think of a single word: affinity. There is an affinity found in the sounds of progressive music, a natural liking of and attraction to minds that meet on the edge of discovery. And it doesn't matter if you are on this side of the musical instrument or that. We are all sharing in the same field of experience, the same field of understanding.
It just so happens that Haken are bloody good at being on that side of the instrument.