Melbourne's eclectic duo known as TOEHIDER are pleased to announce their latest album 'I LIKE IT' will be released as a 2LP/CD SET on April 2nd, 2021.
The collaborative project between singer/multi-instrumentalist MIKE MILLS & graphic designer ANDREW SALTMARSH is the 4th full length studio album and 20th overall release (after a series of 12 EPs in 12 months kickstarted the project a decade ago, along with a few more along the way).
The collection of tracks on 'I Like it' showcases Toehider's diverse influences, blending 80s pop/rock & metal, with Mike Mills' trademark vocal gymnastics, modern prog guitar wizardry, and more.
"I LIKE IT is now officially coming to North America! The songs on this album were handpicked by the most hardcore Toehider fans, 12 songs which were the absolute magic, the cat's pajamas, the certified BEST of the lot we put together on our Patreon over the last couple of years. This release will be a first for Toehider as it will also be available as a double 180gram gatefold sleeve vinyl, as well as gatefold CD. Brilliant!" – Mike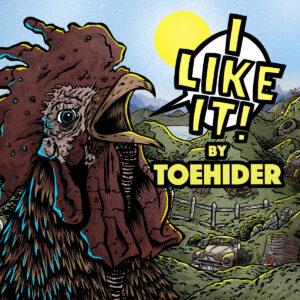 TRACK LISTING –
01. Go Full Bore!
02. wellgivit
03. Rancorous Heart
04. Moon and Moron
05. Concerning Lix & Fairs
06. The Ultimate Exalter
07. Died of Dancing
08. Bats Aren't Birds
09. The Guy That No-One Really Knows
10. He's There… and Then He Does THAT
11. How Much For That Dragon Tooth?
12. I Like It!
Order here:
www.toehider.bandcamp.com
Watch the video's for "Go Full Bore" here:
https://youtu.be/fx3rYwCuB98