Concert: Marillion
Venue: Variety Playhouse, Atlanta, Georgia, 2-10-18
Review: Craig Ellis Bacon
Pics: Thomas Hatton
Pretty much anything Marillion does sets off a flurry of excitement amongst their dedicated fan base; that said, expectations and spirits were especially elevated on the night of Saturday, February 10 as the band were set to play their first show in Atlanta since 1990. By the time that doors opened at the Variety Playhouse in the über-hip Little Five Points neighbourhood, the line to enter was several hundred people deep and snaking around the parking lot behind the venue. Unsurprisingly, but wonderfully gratifyingly, Marillion met their audience's enthusiasm and raised them a nigh-perfect, transcendent performance.
The venue filled quickly with eager, chattering fans—nearly one in three of whom were clad in Marillion shirts spanning the band's career. The affection and anticipation were palpable even before the opening notes of "El Dorado," but the emotional performance and tight integration of lighting and projection films garnered the band their first standing ovation a mere 15 minutes into the concert. Indeed, after Pete Trewavas' particularly ambidextrous, funky bass workout on "You're Gone," the audience was excited to the point of being a bit noisy and calling out song requests, prompting a huge smile and loving admonishment to "shut up and listen for fuck's sake" from lead singer Steve Hogarth as the band played "White Paper," another extended moody piece from 2016's FEAR album.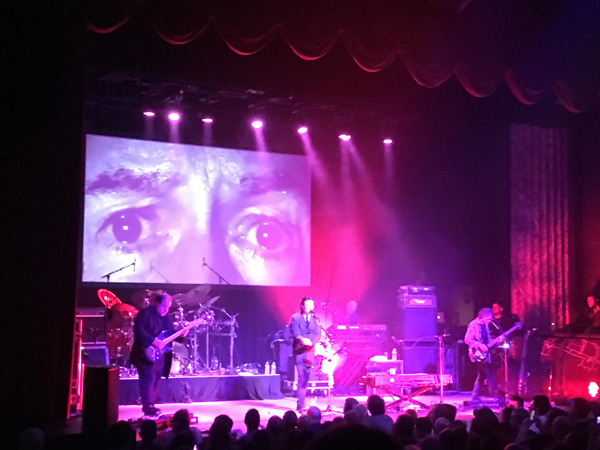 Throughout the concert, the sound was superb, with every instrument clear in the mix across all frequencies and no distortion (apart from the occasional slight bit of overdrive on Hogarth's mic). Steve Rothery's many guitar solos took full advantage of this crystalline mix as he demonstrated absolute mastery of soaring emotional leads and rarely-matched nuance on the higher end of the fretboard. This was especially apparent on "Season's End" and the encore performance of "Sugar Mice," yet another instigator of extended outpourings of audience appreciation. Perhaps the apex of this enthusiasm came in the middle of the first set, as fan-favorite and early single "Kayleigh" segued seamlessly into the keyboard intro of "The Leavers." While some amongst the band's hardcore fanbase debate the merits of FEAR as an album, those gathered in Atlanta were thoroughly in the palm of Marillion's hand throughout the epic performance, and the band received their second and most energetic standing ovation for this piece. Hogarth seemed genuinely taken aback at the forcefulness of the crowd's affectionate reception.
Anyone who has seen Marillion before will be well-acquainted with their accomplished musicianship and impeccable showmanship; anyone who hasn't should check out some videos online then immediately buy a ticket to the nearest show (there won't be a better time to break out those frequent flyer miles!). From Ian Mosley's powerhouse drumming on "King" and Mark Kelly's incredible proggy synth solo on "This Strange Engine," to the aforementioned ubiquitous Rothery guitar leads and Trewavas' indefatigable rocking out on the bass (as well as his under-lauded backing vocal contributions), to Hogarth's incomparable vocal control flowing from whispered intensities through mumbled proverbs and into explosive howlings on "The Great Escape" and "The Invisible Man"—every member of Marillion is a virtuoso who knows how to serve the song with subtlety when appropriate and take a moment in the spotlight to wow their audience. Furthermore, the whole band seemed to be genuinely enjoying themselves, and their emotional rapport with their fans was apparent. Hogarth was especially playful, as shown in this exchange at the end of the first set:
Hogarth: "We're going to leave you with this song…"
Crowd, emphatically: "No! No! No!"
Hogarth, coyly: "…possibly…"
Musically, emotionally, and technically, the concert was a singularly impressive experience, worthy of all the superlatives this reviewer can throw its way. Still, with such an accomplished and extensive repertoire, Marillion will never be a band who can just trot out an obvious and universally agreed upon greatest hits/legacy set, so there will always be opportunity for some to wish that this or that favorite song had been played. Even so, Saturday night in Atlanta featured a nicely curated selection of tracks from across the band's eras, and h noted that they would be changing things up from night to night for the fans attending multiple shows. The live experience dispels any mysteries surrounding the obsessive love that fans have for the band, and Marillion gives back that love in spades. Get in on the love during the few remaining shows on this US tour, and look into the special fan weekend coming up in Montreal in 2019.
Setlist:
El Dorado
You're Gone
White Paper
Season's End
Kayleigh
The Leavers
The Great Escape
King
Encore 1:
The Invisible Man
Encore 2:
Sugar Mice
This Strange Engine
https://www.setlist.fm/setlist/marillion/2018/variety-playhouse-atlanta-ga-3beed88c.html