Today, Norwegian Rock outfit LEPROUS are launching the first single, "Below", off their sixth and most ambitious studio album 'Pitfalls', which is to be released on October 25th, 2019 worldwide via InsideOutMusic.
Check out "Below" in an intense video directed by Dariusz Szermanowicz / Grupa13 (Behemoth, Kreator, Amon Amarth) and filmed in Wroclaw, Poland here:
LEPROUS vocalist and keyboardist Einar Solberg checked in with the following comment about "Below":
""Below" was the first song written for the "Pitfalls" album and it was composed in a period of denial of what was to come. It was a very spontaneous song, made first with only piano and vocals. "Below" is a very emotional and melancholic track, and it means a lot to me personally – both musically and lyrically. Large cinematic string arrangements, electronic elements, very acoustic and organic parts – all combined. Very epic but at the same time very fragile!"
Described as their most ambitious to date, "Pitfalls" was once again recorded with David Castillo at Ghostward Studios (Opeth, Katatonia), but this time mixed by Adam Noble (Placebo, Biffy Clyro, Nothing But Thieves, Deaf Havana). The cover artwork is a painting by Indonesian artist Elicia Edijanto.
The album will be available as limited Mediabook CD with two bonus tracks, as Standard Jewelcase CD and as Gatefold 2LP on 180gr. vinyl (On black vinyl and various limited coloured editions) with the album on CD as bonus and an Etching on the D-Side.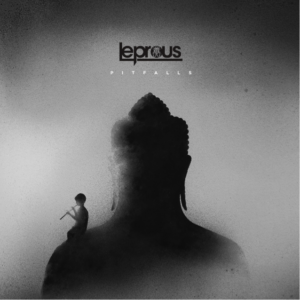 The album's regular track-listing reads as follows:
LEPROUS – "Pitfalls"
Track-listing:
1. Below
2. I Lose Hope
3. Observe The Train
4. By My Throne
5. Alleviate
6. At The Bottom
7. Distant Bells
8. Foreigner
9. The Sky Is Red