Voyager have announced their brand new album, 'Colours in the Sun', set for a November 1st 2019 release via Season of Mist. The band have also released the new music video for the title influenced track, "Colours" which you can view here:
If there is one word to describe Voyager's most current form, it is colorful. After years of evolution and amassing worldwide influences that mould the Perth quintet's unique sound, Voyager have truly come into their own in recent years, crafting a path of success both on and off stage. The genre-transfiguring act blend new-romantic and 80's infused vocals, keytar solos, technical yet melodic fretwork, groovy bass and bombastic drumming efforts. All of which make Voyager the pop/prog/power/rock/metal force that they are renowned as today.
Danny comments on the music video, saying "We wished to continue having Australian landscapes as a feature point in our music videos following on from the epic music video for 'Brightstar'. So, to incorporate more of a cityscape vibe for this dark, yet uplifting synth number inspired by Steve Winwood, 'Colours' was intended to demonstrate that we are all colours in the sun, and that we as a band are progressing on our onward journey to the next release".
Frontman Danny Estrin says this about the album:
"Colours in the Sun is the most transcendent, layered, and effervescent album we have written and recorded. It's poppy, but still holds weight with crunchy, powerful riffs. It's a true reflection of Voyager – five individuals from different roots coming together and creating a unique sound under the Australian sun."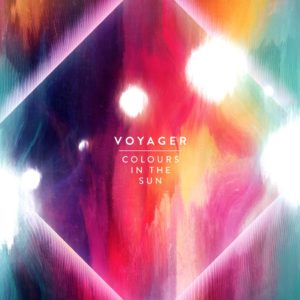 Tracklist:
1. Colours (4:05)
2. Severomance (4:23)
3. Brightstar (4:32)
4. Saccharine Dream (5:27)
5. Entropy – Featuring Einar Solberg (4:43)
6. Reconnected (4:48)
7. Now or Never (1:39)
8. Sign of the Times (3:47)
9. Water Over the Bridge (4:42)
10. Runaway (4:38)
Total: 42:44
'Colours in the Sun' will be available to pre-order here: https://smarturl.it/Voyagerinthesun