Review by Joel Barrios
Cosmosquad is not a name that will ring a bell for many, being one of the reasons for the 10 year gap between their previous discographic effort "Acid Test" and their new album "The Morbid Tango". If you are familiar with the band's catalog, then do yourself a favor and buy the album right now. On the other hand, if you are hearing about them for the first time by reading this review, don't be shy and keep on.
The L.A. based musical collective led by veteran guitarist Jeff Kollman (Bombastic Meatbats, Glenn Hughes, Mogg/Way) on guitar, Shane Gaalaas (B'z, Diesel Machine, MSG) on drums, and Kevin Chown (Tarja, Bombastic Meatbats, Paul Gilbert) on bass have been around for quite some time, specifically since 1997 when Jeff, Shane and Barry Sparks formed the band after some serious jams at a rehearsal studio in Phoenix, Arizona. With three studio albums and a live record under their belt, Cosmosquad have been one of L.A.'s best kept secrets, yet with a dedicated following spanning all four corners of the globe. To define what genre their music moves into, I'd say "jazz rock", however tagging them like that will let you wonder whether their stock in trade is a total jazz take on rock songs like Alex Skolnick Trio, a smooth laid back combination of jazz grooves with a generous serving of blues like Endangered Species, or a guitar soloing over a metal chug riff like Derek Sherinian's solo albums.
Fortunately, the Cosmosquad's sound veers away from the common clichés of an overpopulated genre, and manages to melt together a vast amalgam of sounds and eclectic melodies, serving them in an organic and smoking tight package. After a horrible wait of 10 years (yes, I keep ranting about it!) "The Morbid Tango" arrives to my collection and doing so it reveals one simple fact: time has done nothing but add a slightly more metallic edge to the same killer combination they are known for: equal parts of fusion, funk, infectious and melodic riffs, intense bass lines, and impossible drumming patterns; all of them generously sprinkled with heavy footed chops and over the top musicianship; resulting in energetic, complex and melodic instrumental music, impeccably executed.
If you have never heard of Jeff Kollman, you might want to pay attention at his playing on this record. From early Van Halen-ish riffing to Hendrix fueled bends, Kollman finds a way to just own each track, the Moroccan Tango licks paired with the Flamenco guitar in the title track are pure elegance, and his guitar tone is amazingly diverse throughout the 11 songs. However, his partners in crime are all for it, playing their asses off musically. Shane Gaalaas is a true drumming machine, following his drum fill could leave you jaw-dropped; and the uber-talented Kevin Chown lays down powerful and bonding bass chords wrapping the band's sound effortlessly.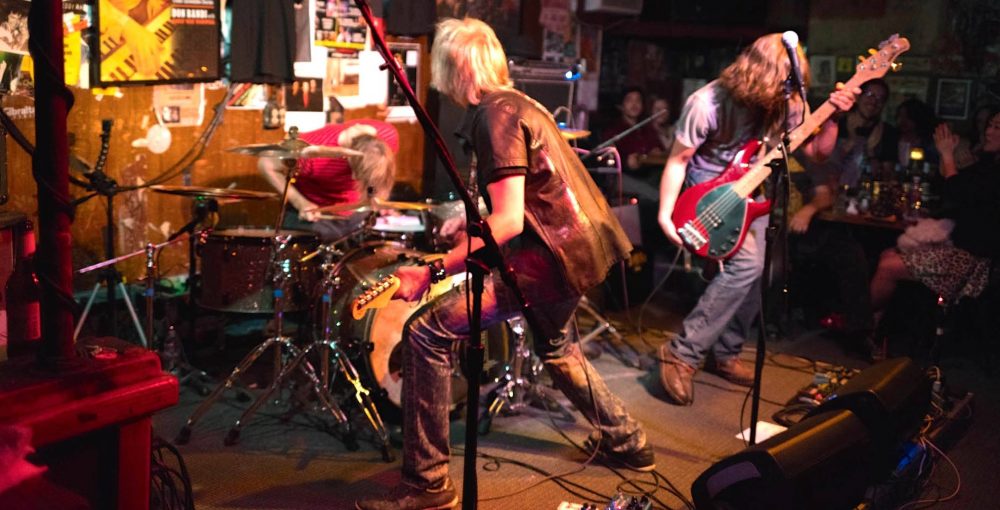 "The Morbid Tango" is a musical concept, the story of the circle and meaning of life itself, from birth through the journeys of youth, love and loss, wisdom and how we all ascend through death's door. It was conceived and recorded at Crumb West Studios in Simi Valley, CA, produced by the tandem of Shane Gaalaas and Jeff Kollman, and mixed by Gaalaas, with guest contributions coming from top L.A. session musicians Jeff Babko on keyboards, David Collier on percussion, and Jono Brown providing strings.
A well-balanced combination between old-school, raw, organic, and modern production electronica, this record demonstrates these guys have found a great recipe to keep the listener interested and curious as to what will happen next. 'The Morbid Tango' is a true team effort more than the spotlight being on any player; a musical and visual adventure, told in vivid sonic colors, viciously visceral one moment, fragile and intimate the next. A defiant statement against the laws of virtuosic musicianship, songwriting and all other sorts of tomfoolery; and a true example of how gorgeous melodic composition can meet farfetched playing.
Highly recommended for any metal fusion or progressive metal fan, as well as for jazz-fusion lovers (who aren't afraid of some heavy moments in music) this is a tremendous record from head to toe and a candidate for one of the best metal fusion albums of the year. Simply put: Cosmosquad rules, and if their music doesn't move you, I certainly don't know what will.
Released on Jan 14, 2017
Cosmosquad are:
Jeff Kollman / guitars
Shane Gaalaas / drums
Kevin Chown / bass
With:
Jeff Babko / keyboards
David Collier / percussion
Jono Brown / strings
Track Listing:
1. Morbid Tango
2. Cyclops
3. The Ballad of Rick James
4. Anatomy of A Beatdown
5. Recollection Epilogue
6. Always Remember the Love
7. The Crosses
8. Still Life
9. Sangfroid
10. Beyond Death's Door
11. Beyond Death's Door Reprise