Riverside – ID.Entity Tour
Orlando, FL Feb 18th. 2023
Images and Words by Mike Giordano
Polish prog rock band Riverside made their Orlando debut on Saturday at the Abbey, located on the edge of Downtown, as the second stop on their North American ID.Entity tour. The band was welcomed on stage by the extremely vocal crowd, many of whom were getting to see the band in a live setting for the first time.
The band certainly embraced the welcoming cheers by launching into nearly 2 hours of straight music. Starting off with "#Addicted" (from 2015's Love, Fear and the Time Machine), the band then moved to fan favorite "02 Panic Room", with the crowd singing along to the chorus that gives their fan club its name before moving on to several tracks from their new album. For those who haven't had the pleasure of seeing the band live before, one thing to always look out for is the band tweaking and expanding their songs in a live setting. "Landmine Blast" received an extended outro, and "Conceiving You", the closing number, also received a much darker, heavier extended closing section. The upbeat "Friend or Foe?" was also a fun highlight of the night, showcasing a poppier side of the band. While a great song, I think my choice for highlight of the night was the bitingly bitter (and often darkly humorous) "The Place Where I Belong".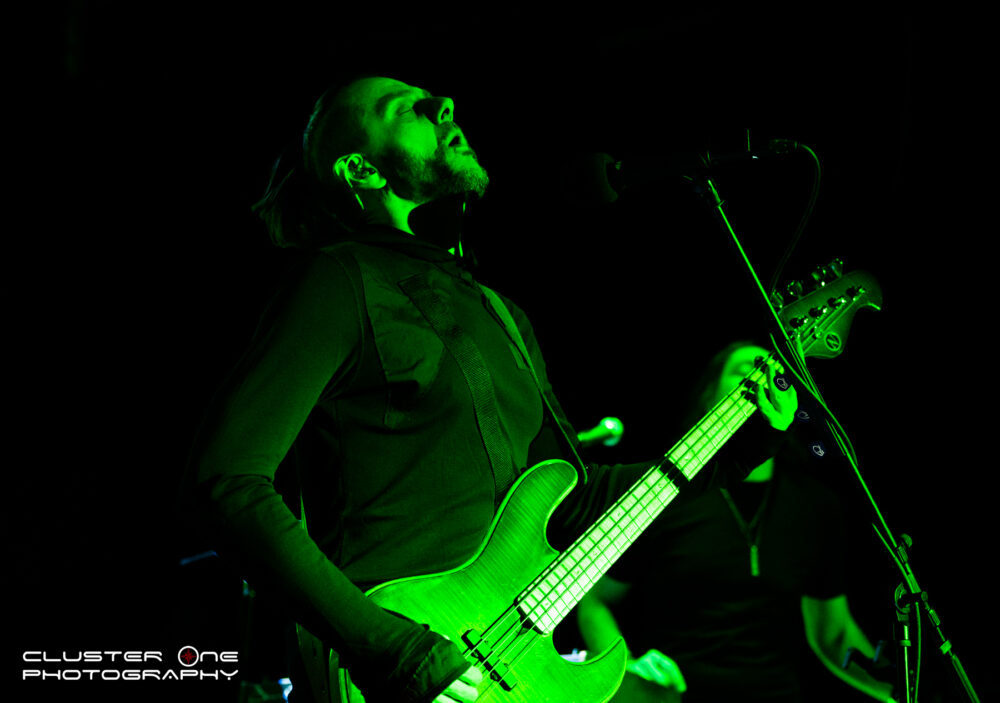 Setlists are often a controversial topic, especially in the prog community, and with bands that have as rabid a following as Riverside does. As a tour that is based on promoting their newest album, it was expected to showcase new tracks, but the band made the bold choice to play the standard version of the new album in its (out of order) entirety. Perhaps a bolder choice though, was to omit any song from their previous, massively popular album Wasteland. Initially I was disappointed, for obvious reasons. However, the more I reflected on it after the show, the more I realized that it was actually a bit of a brilliant idea. Much of the lyrical and thematic ideas from the non-ID.Entity tracks echoed the concepts of the new album. For instance, the show's lead off song, "#Addicted" could easily have been a track straight off the new album. Similarly, the lyrical content of such songs as "Egoist Hedonist" could have also been ripped straight out of the new album's world of anxiety and unease over social media and technology. Rather than a standard headlining "Best of" set, Riverside has created a curated, loosely tied together thematic 2 hour playlist, a sort of expanded version of their latest album.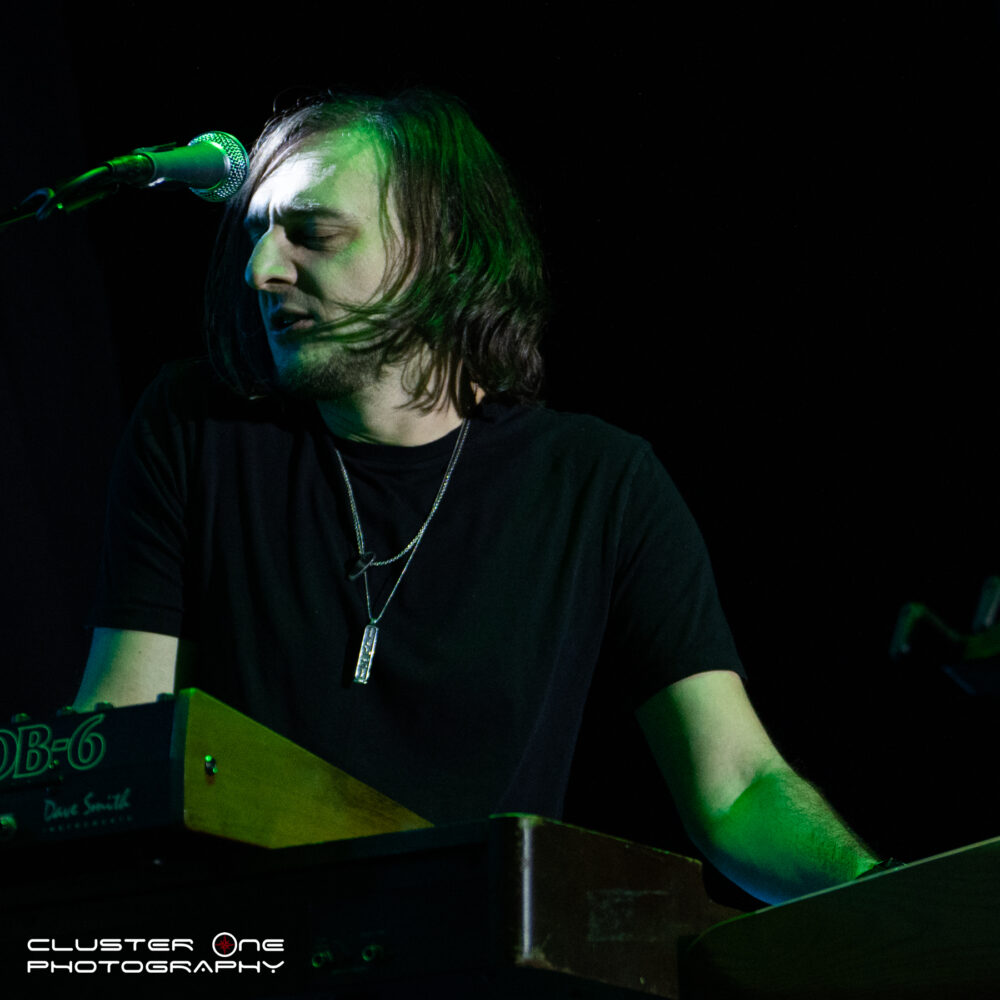 The members of Riverside were in top form for the evening. This was the first tour where guitarist Maciej Meller was able to showcase his studio album contributions as an official member, and he was absolutely fantastic. From super heavy riffs, to delicate acoustic sections, he fit in perfectly as a new official member. Drummer Piotor Kozieradzki maintained a delicate balance of intensity and subtlety with his drum parts, which would have been extremely easy to overpower his band mates in the small venue. Frontman Mariusz Duda expertly carried out his dual role as vocalist and bassist. While his distinctive voice was on point the entire night, I found myself much more impressed with his skills as a bassist. In a live setting, his parts felt much more up front, and separated from the guitars, which allowed me (and many in the audience) to appreciate his instrumental contributions to a greater degree. And lastly, keyboardist Michal Lapaj wore several hats (which he certainly wasn't frightened of), providing various keyboard sequencing and synth sounds that provided an astounding amount of depth to Riverside's soundscapes. The quiet, solo outro to "Post-Truth" was an exquisitely emotional moment. Also, props to him for touring with a real Leslie speaker.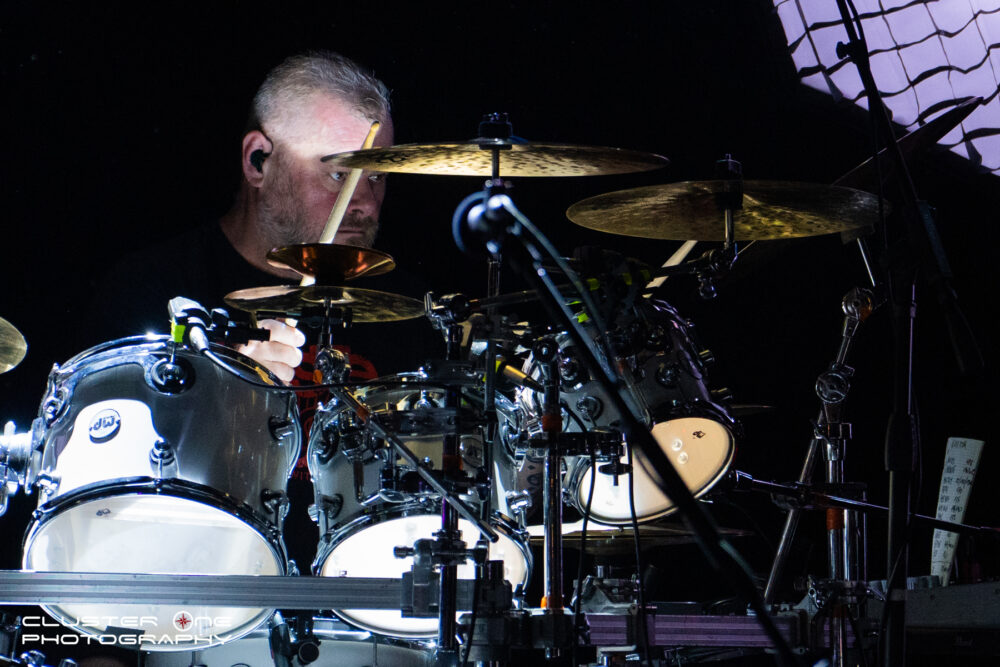 It should go without saying that behind every great live band is an equally great live crew, and that is no different than what was on display with Riverside. The show ran (at least to the audience perspective) very smoothly, with no real issues. Aside from a few initial issues with Mariusz's vocals in the mix, the sound quality was absolutely phenomenally done. The Abbey is a relatively small and intimate venue, and every note performed by the band was heard with equal importance and perfectly mixed. From my spots (which varied from the rail, to the back of the venue), I could hear Maciej's guitar piezo effects clearly and every synth part and layer from Michal. Piotr's drums never overpowered the band, but were always forcefully heard. And of course, Mariusz's voice and bass helped marry everything together.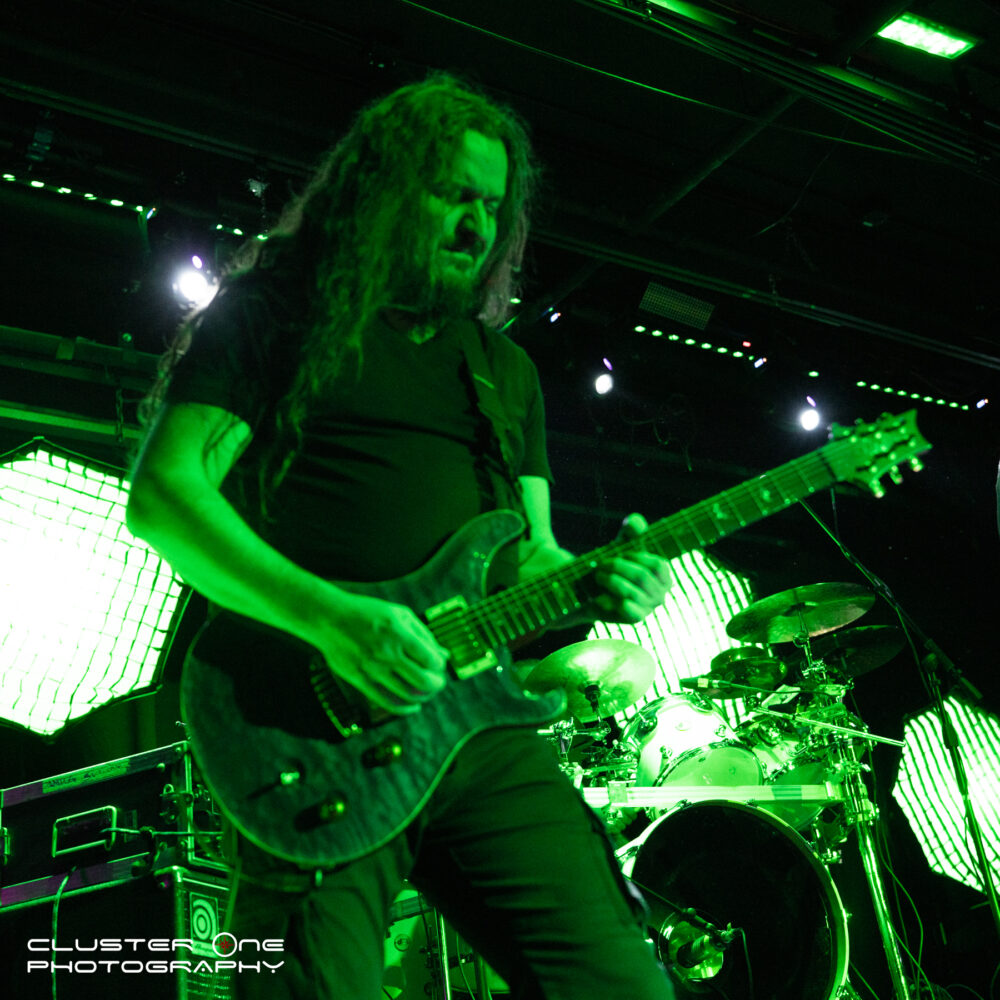 From a stage production perspective, I very much enjoyed Riverside's stage design aesthetic. I've been to too many shows in recent years where the bands have either been doused in laser lights, or strobe effects (to the point where I feel like I might have to start worrying about having a seizure), or have hidden behind enough fog machine smoke to replicate a Cheech and Chong movie. Riverside very simply had several light diffusers in the background to give some light effects during the night, but the subtlety of the effects never distracted (or hid from me) from what I (and everyone else present) paid to see: a fantastic rock band performing their instruments and their heart out. Sure it sounds cheesy to say, but the 2 hour live performance that Riverside put on went by extremely quickly and left me wanting for more. If the biggest complaint one can come up with is a band not doing a marathon session of all their albums, then I think you've got a pretty good show.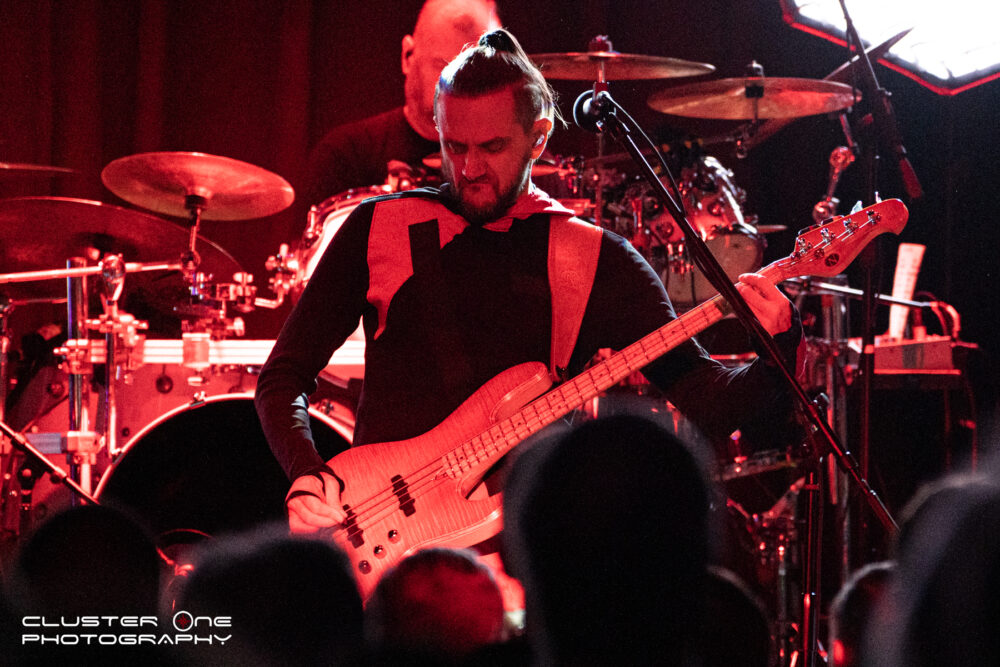 Riverside has put out some of the best prog albums over the course of their 20 year history, and their live performance shows that it's not just studio magic and tricks. And the best part? Watching the band and their interactions with each other made it obvious that they are absolutely enjoying what they were doing, especially the laughs and banter that was flying back and forth between all of them. They weren't just there to collect merch booth money from the cheering crowd. There is a synergy between all four members and the crowd that can't be denied. Their live performances prove that they're one of the tightest, finest bands out there at the moment, and affirms their status as one of the torchbearers of modern prog rock.
Order "ID.Entity" in its various formats here:
https://riverside.lnk.to/IDEntity
2/17 THE ORPHEUM, TAMPA, FL
2/18 THE ABBEY, ORLANDO, FL
2/19 HELL AT THE MASQUERADE, ATLANTA, GA
2/21 AMPLIFIED LIVE, DALLAS, TX
2/22 COME AND TAKE IT LIVE, AUSTIN, TX
2/24 THE NILE THEATER, MESA, AZ
2/25 THE GLASS HOUSE, POMONA, CA
2/26 CORNERSTONE, BERKELEY, CA
2/28 THE RICKSHAW THEATRE, VANCOUVER, BC
3/1 NEUMOS, SEATTLE, WA
3/3 THE STATE ROOM, SALT LAKE CITY, UT
3/4 FOX THEATRE, BOULDER, CO
3/7 AMSTERDAM BAR AND HALL, ST. PAUL, MN
3/8 BOTTOM LOUNGE, CHICAGO, IL
3/10 LEE'S PALACE, TORONTO, ON
3/11 CORONA THEATRE, MONTREAL, QC
3/12 IMPERIAL BELL, QUEBEC CITY, QC
3/14 BRIGHTON MUSIC HALL, BOSTON, MA
3/16 SONY HALL, NEW YORK, NY
3/17 UNDERGROUND ARTS, PHILADELPHIA, PA
3/18 THUNDERBIRD MUSIC HALL, PITTSBURGH, PA
3/19 BLACK CAT, WASHINGTON, DC
3/21 CAT'S CRADLE, CARRBORO, NC
European Tour – Spring Edition:
16.04.2023 Eindhoven (The Netherlands) – Effenaar / Prognosis Festival
18.04.2023 Dublin (Ireland) – Button Factory
20.04.2023 Glasgow (UK) – Garage
21.04.2023 Birmingham (UK) – O2 Institute 2
22.04.2023 Manchester (UK) – Academy 2
23.04.2023 London (UK) – Indigo O2 / Prognosis Festival
25.04.2023 Copenhagen (Denmark) – Amager Bio
26.04.2023 Gothenburg (Sweden) – Pustervik
27.04.2023 Oslo (Norway) – Cosmopolite
28.04.2023 Stockholm (Sweden) – Lilla Cirkus
30.04.2023 Tampere (Finland) – Olympia
01.05.2023 Helsinki (Finland) – Tavastia