The New Release Spotlight is a roundup of new and recently released albums.
---
Leprous – Aphelion (Tour Edition)  (Feb 3rd, 2023)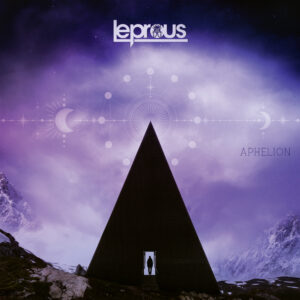 Leprous have released a new version of their most recent album 'Aphelion'. Titled "Aphelion (Tour Edition)" contains the original album along with a separate, brand-new live bonus disc of 6 tracks/40 min. recorded this year during the first leg of the "Aphelion" touring campaign at Motocultor Festival in France and in Berlin, Germany. The 6 track live disc is also due out as a vinyl later in May. The 6 live tracks find the band at their powerful best. While it is only a sliver of what they band typically does, it is a nice collector's item for fans in anticipation for the band current tour and future shows.
Order here: https://leprousband.lnk.to/Aphelion-TourEditionID
Tracklisting:
CD1 – Album & Bonus Tracks (68:15):
1. Running Low (06:30)
2. Out Of Here (04:15)
3. Silhouette (03:44)
4. All The Moments (06:52)
5. Have You Ever? (04:41)
6. The Silent Revelation (05:45)
7. The Shadow Side (04:28)
8. On Hold (07:47)
9. Castaway Angels (04:53)
10. Nighttime Disguise (07:04)
11. A Prophecy To Trust (02:59)
12. Acquired Taste (Live 2021) (09:09)
CD2 – Live Tracks (40:04):
1. Out of Here (Live at Motocultor 2022) (04:22)
2. From the Flame (Live at Motocultor 2022) (04:01)
3. Below (Live at Motocultor 2022) (06:04)
4. The Price (Live at Motocultor 2022) (05:36)
5. Nighttime Disguise (Live in Berlin 2022) (07:39)
6. The Sky is Red (Live in Berlin 2022) (12:22)
Einar Solberg / lead vocals, synth
Tor Oddmund Suhrke / guitar
Robin Ognedal / guitar
Simen Daniel Børven / bass
Baard Kolstad / drums
---
The Tangent – Pyramids, Stars & Other Stories (Jan 27th, 2023)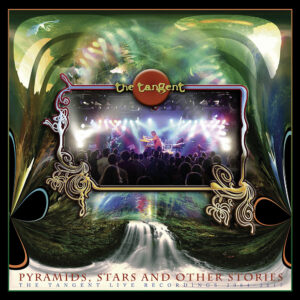 Long running prog outfit The Tangent, led by the enigmatic Andy Tillison, have released a love collection titled 'Pyramids, Stars & Other Stories: The Tangent Live Recordings 2004-2017'. The 2cd/3lp set compiles tracks from 3 line-ups of The Tangent, and show recordings from 2004, 2011 & 2017. This is what Tillison has called "A Triple Live LP is the stuff of Bucket Lists, dreamed of doing one of these since I was a kid". What makes this collection interesting is the rawness of the recordings. These are not polished live versions with fixes and overdubs, but rather they are just as they were experienced live and they are all the better for it. The performances by the supremely talented musicians are just outstanding. There is also a wonderful version of ELP's classic "Lucky Man"". Fans and newcomers alike should enjoy this collection. The tracks are long and absolutely indulgent but then again, what is more prog than that?
Order here: https://thetangent.lnk.to/PyramidsStarsOtherStories_TheTangentLiveRecordings2004-2017ID
CD1 – Live in Germany, 2004
1. The World We Drive Through 14:11
2. The Canterbury Sequence 9:14
3. The Winning Game 12:11
4. In Darkest Dreams 20:08
5. The Music That Died Alone 13:01
6. Lucky Man 5:10
CD2
1. A Spark In The Aether Live in USA, 2017 4:18
2. A Sale Of Two Souls Live in UK, 2012 6:04
3. Perdu Dans Paris Live in UK, 2012 10:03
4. A Crisis In Mid Life Live in UK, 2012 7:17
5. Doctor Livingstone (I Presume) Live in USA, 2017 11:18
6. Titanic Calls Carpathia Live in UK, 2012 18:10
7. Two Rope Swings Live in USA, 2017 8:08
Andy Tillison / Keyboards & Vocals
Jonas Reingold / Bass (1-8,12)
Luke Machin / Guitars & Vox (8-14)
Steve Roberts / Drums (8,12,14)
Roine Stolt / Guitars & Vocals (1-7)
Zoltán Csörsz / Drums (1-7)
Sam Baine / Keyboards (1-7)
Tony 'Funkytoe' Latham / Drums (10,11,13)
Dan Mash / Bass (10,11,13)
---
Uriah Heep – Chaos & Colour (Jan 27th, 2023)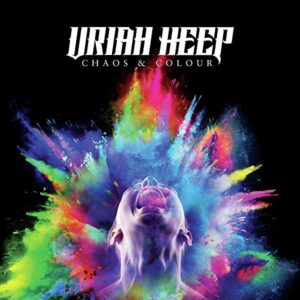 British hard rock legends Uriah Heep return with their twenty-fifth studio album Chaos & Colour. From the onset, the band are in attack mode. The opener "Save Me Tonight" is powerful and anthemic and a great way to kick things off. Meanwhile, "Hurricane" is powered by another great, hooky chorus, the hammond organ, and pounding drums. Singer Bernie Shaw does a fantastic job throughout while Mick Box proves he has yet to run out of killer riffs. Recorded during the pandemic, the band throw all their frustrations into these tracks and they are absolutely on fire here. It's a pleasant surprise of an album and one that fans of the classic band should absolutely check out.
Order here: https://lnk.to/ChaosandColour
Tracklisting:
1. Save Me Tonight (3:31)
2. Silver Sunlight (4:32)
3. Hail the Sunrise (4:24)
4*. Age of Changes (5:50)
5. Hurricane (4:50)
6. One Nation, One Sun (7:36)
7. Golden Light (5:09)
8. You'll Never Be Alone (7:58)
9. Fly Like an Eagle (3:49)
10. Freedom to Be Free (8:12)
11*. Closer to Your Dreams (3:38)
Bonus track on Deluxe CD edition:
12. Save Me Tonight (demo)
Bernie Shaw / lead vocals
Mick Box / lead guitar, vocals
Phil Lanzon / keyboards, vocals
Dave Rimmer / bass, vocals
Russel Gilbrook / drums & percussion