Animals As Leaders with opening acts Chon and Conquering Dystopia
Venue: The Culture Room, Fort Lauderdale 6-7-2014
By Prog Report contributor Victor Giol
Animals As Leaders have made it a priority to include a South Florida stop on their tour in support of their two most recent albums. This time they were touring to support their latest release, The Joy of Motion. They brought along with them two all instrumental bands, Chon and Conquering Dystopia.
Reminiscent of a scene common for very popular artists, the waiting line to enter the club dominated the parking lot. Shortly after opening their doors and letting fans in, Chon opened the night of skillful musicianship with some solid Prog in which faithful fans to the genre quickly pay attention and enjoy. Due to the long line outside the club, a significant number of patrons listened to Chon's set from the sidewalk. As they finished their set and the club started to fill to capacity. Next up, Conquering Dystopia.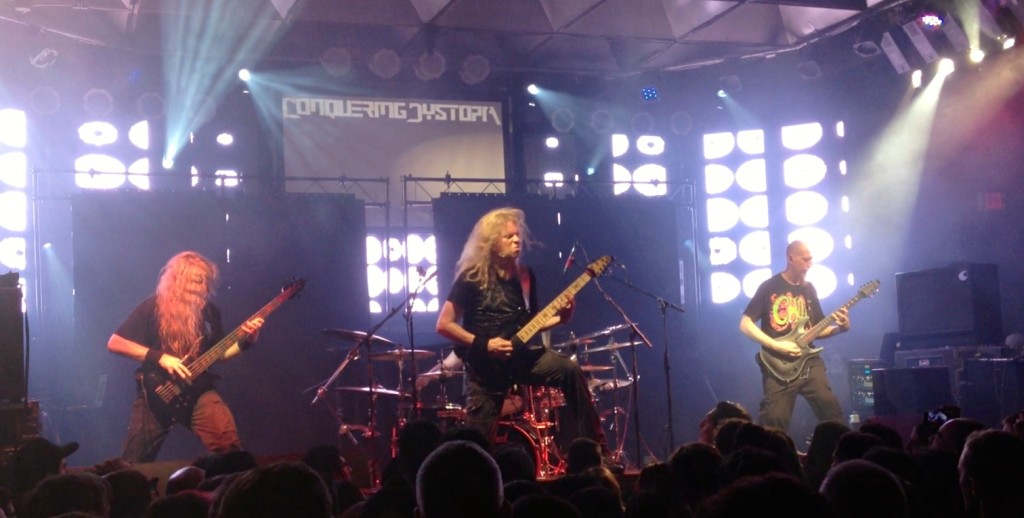 What started out as a side project for YouTube death metal guitar sensation Keith Merrow and Jeff Loomis, formerly of Nevermore, has started to build significant momentum. Conquering Dystopia released their fan funded, self produced, independent label, self-titled debut album earlier this year. Guitarists Merrow and Loomis are joined by bassist Alex Webster (Cannibal Corpse) and drummer Alex Rudinger (The Faceless). They brought a very fast, heavy, and technical set of flawlessly performed 5 songs from their album. A little Prog metal with virtuoso guitar soloing, extremely fast death metal like drumming, and tight rhythmical picking. Being an instrumental band allows the sound to be very controlled–allowing a very clear mix of all instruments which pleased all the fans. Although their set lasted for about 45 minutes, from "Prelude to Obliteration" to their closing song "Destroyer of Dreams", Conquering Dystopia played to a packed house of loud South Florida metal fans who have been waiting a long time for this kind of heart pounding metal. They perfectly prepped the audience for the main course which was Animals As Leaders.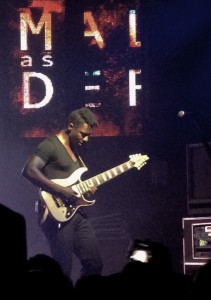 Following a virtuoso like Loomis would present a problem for most skilled guitarists–Animals As Leaders' Tosin Abasi is unlike most skilled guitarists. He is joined by fellow 8-string guitarist, Javier Reyes and drumming sensation Matt Garstka. This extremely talented trio kicked off their set with "Tooth and Claw". Those familiar with their album were quickly assured the sound would not disappoint. Bringing their usual polyrhythms and chest pounding 8-string grooves, the fans experienced the highest level of musicianship the genre can produce. First comes Abasi's flawless and seemingly effortless playing on his signature Ibanez, which includes blinding fast shredding chops, beautiful melodic lines, and jazz like grooving riffs. Garstka impressed everyone in the house with his ability to keep up with very complex rhythms, fast speed, and hard hitting style which leaves him with a heavy sweat after every song. Last but not least is Reyes, who has his beautiful signature flame maple Carvin guitar to provide the very complex foundation of the band. Working through a set list which included six songs from "Joy of Motion", three songs from their debut album, their iTunes single release "Wave of Babies", and they closed with the title track from their second album "Weightless".   Throughout the set, Animals As Leaders were tight and precise which left the audience with loud screaming and applause–which they rewarded by returning to the stage for and encore of their most popular song "CAFO". This South Florida Prog metal crowd brought their A-game for all the bands–all the bands reciprocated with excellence in their craft and an unforgettable night of music.
Conquering Dystopia setlist:
Prelude to Obliteration
Tethys
Kufra at Dusk
Autarch
Resurrection in Black
Destroyer of Dreams
Animals As Leaders setlist:
Tooth and Claw
Tempting Time
Wave of Babies
Kascade
Lippincott
Air Chrysalis
Point to Point
Price of Badly/Espera
Physical Education
The Woven Web
Weightless
CAFO (encore)