by Geoff Bailie
It's been something we've seen a lot of in prog over the last few years … artists releasing officially recordings which circulate on bootleg… Rick Wakeman has had a few goes, the Yes Union, King Crimson and Gentle Giant box sets were simply mammoth, and even the previously archive-shy Pink Floyd have just put 12 1970s lives shows up on streaming services. Those releases run from the forensically organised to the "thrown together for a quick buck" – so where does this new release from Asia fit?
Well before even playing a note, a big tick goes to the packaging, which features newly created artwork by Roger Dean, with colour variations across the five double CD sets. Next this set scores points for an excellent booklet that sets the scene for each recording, points the listener to its unique moments and highlights, as well as giving all of the relevant track and venue information. So in the physical sense, this one is off to a great start… but what about the recordings?
I have to say that I did approach this set with a degree of skepticism… bootleg recordings can vary hugely and the reformed original line up already has a chain of live albums from throughout that period. But, I'll cut to the chase, any doubts were set aside when I started with CD 1 Disc 1. The set begins at virtually the beginning – the band's debut album was released in March 1982 and this set captures them in May 1982, about 10 days into their first tour. Powerful as the debut album is, the versions of the songs played at this show take things to an even higher level, as the band feed off each other and the energy of the crowd. They play all of that first album with incredible vigour, slot in solo pieces for Howe, Downes and Palmer, and debut a version of Alpha's Midnight Sun with all of the band playing keyboards. Audio wise, it sounds like a very nicely remastered soundboard recording, on account to slightly feint audience noise, but there is great clarity, demonstrating what each musician is adding. I have to say I really enjoyed this show, and the versions of the songs minus the album's production let you hear the band in a raw state – and I mean this in the very best way!
Moving on to the 1983 show from the Alpha tour. Fans will know that the making of the album was a struggle for various reasons and cracks are starting – but whatever the issues are, it doesn't prevent the band giving another powerful performance. Seven of the new album's songs are combined with six from the debut album and once again the Alpha live versions have an energy and rawness that the muddy mix of the original album buried. My suspicions are this is an audience recording, based on a few close range whistles and band claps. Given the band were by now playing massive venues, it's actually interesting to hear the audience reaction to, for example, some of the fantastic Howe guitar solos on the Alpha songs. However … within a month of this show, the original line up scatter until a reunion in 2006!
The 2007 set recorded in Brazil comes from that early reunion period, and its set list features all of the debut album, the deep cut / b side, Ride Easy, and covers of songs from originating bands, Yes, ELP and King Crimson. I've never made my mind up fully on these version and as good as these performances are, at times Asia don't quite reach the heights that these prog classics deserve. Again my guess is this is a soundboard and it's a really well captured show.
By 2008, the band had recorded and released Phoenix, a new studio album, but unlike the early days only two songs – Never Again and An Extraordinary Life – feature in this show, whose set list retains the previous band covers. The show kicks off with b-side / bonus track Daylight, which IMO is one of the best Asia tracks, and it makes a great opener which the band perform enthusiastically. The set also features a John Wetton on guitar in solo spot on Voice of America from the Astra album. It's another vey listenable recording taken from a board source I assume, such is the evenness of the mix.
The final set brings us to a 2010 show in London and accelerates out the blocks with I Believe from the second reunion album Omega. 4 more songs from that album feature, along with two from Phoenix – so when you exclude the guitar solo, this set's 16 tracks are split 50:50 between Asia/ Alpha songs and songs from after that era. The new songs certainly deserve their place in the set and there's a "might have been" moment when Howe plays on Astra lead single Go, applying his guitar approach to that song. This is a really great two CD set, with great sonic qualities.
Having declared myself a skeptic at the outset, I have to say that this 10 disc set completely won me over and I commend it to any Asia fan – even if you've got everything that's been released so far, you will get a lot of enjoyment from these live performances and this box set. Called Volume 1, that means there is more to come and it certainly would be interesting to hear similar quality live shows from the shows Greg Lake did as bass/ vocalist, or perhaps some of the late 80s / early 90s tours with John Young and Alan Darby in the band?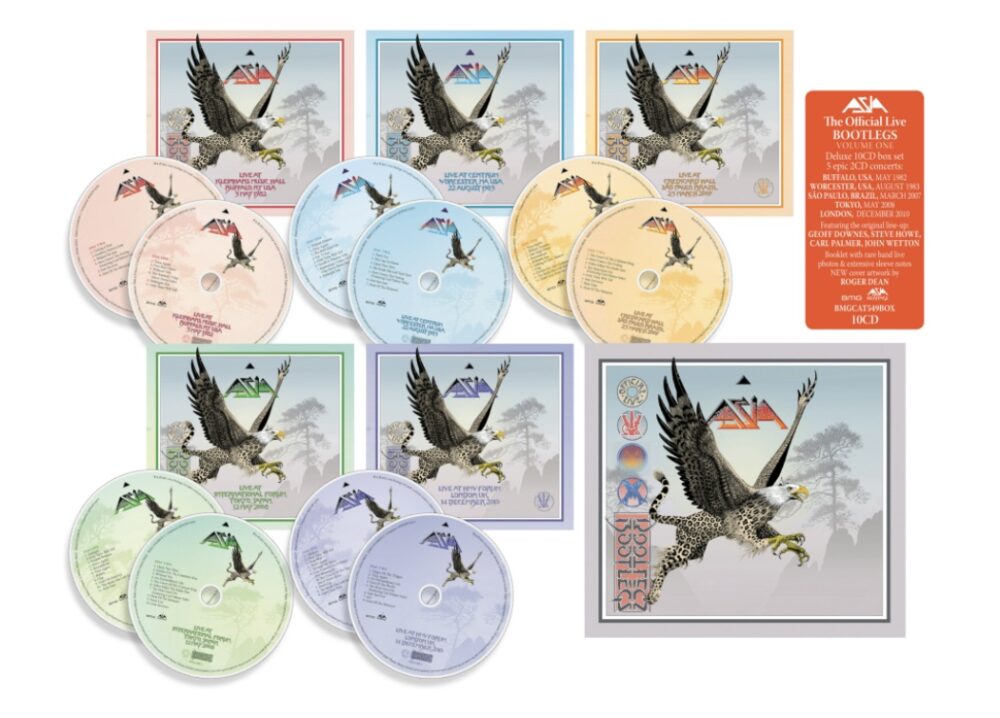 https://burningshed.com/asia_the-official-bootlegs-volume-one_boxset
Track Listing
– Disc 1 –
1 Time Again (Live at Kleinhans Music Hall)
2 One Step Closer (Live at Kleinhans Music Hall)
3 Without You (Live at Kleinhans Music Hall)
4 The Ancient / Clap[Steve Howe Solo](Live at Kleinhans Music Hall)
5 Midnight Sun (Live at Kleinhans Music Hall)
6 Only Time Will Tell (Live at Kleinhans Music Hall)
– Disc 2 –
1 Cutting It Fine (Live at Kleinhans Music Hall)
2 Geoffrey Downes Solo (Live at Kleinhans Music Hall)
3 Wildest Dreams (Live at Kleinhans Music Hall)
4 Here Comes the Feeling[Featuring Carl Palmer Solo](Live at Kleinhans Music Hall)
5 Sole Survivor (Live at Kleinhans Music Hall)
6 Heat of the Moment (Live at Kleinhans Music Hall)
– Disc 3 –
1 Wildest Dreams (Live at the Centrum)
2 Time Again (Live at the Centrum)
3 The Heat Goes on (Live at the Centrum)
4 Eye to Eye (Live at the Centrum)
5 Only Time Will Tell (Live at the Centrum)
6 Geoffrey Downes Solo (Live at the Centrum)
7 Beginnings / Valley of Rocks / Clap [Steve Howe Solo](Live at the Centrum)
8 Midnight Sun (Live at the Centrum)
– Disc 4 –
1 Don't Cry (Live at the Centrum)
2 The Last to Know (Live at the Centrum)
3 Open Your Eyes (Live at the Centrum)
4 The Smile Has Left Your Eyes (Live at the Centrum)
5 Here Comes the Feeling (Featuring Carl Palmer Solo)(Live at the Centrum)
6 Sole Survivor (Live at the Centrum)
7 Heat of the Moment (Live at the Centrum)
– Disc 5 –
1 Time Again (Live at the Credicard Hall)
2 Wildest Dreams (Live at the Credicard Hall)
3 One Step Closer (Live at the Credicard Hall)
4 Roundabout (Live at the Credicard Hall)
5 Without You (Live at the Credicard Hall)
6 Cutting It Fine / Bolero (Live at the Credicard Hall)
7 The Clap (Live at the Credicard Hall)
8 Fanfare for the Common Man (Live at the Credicard Hall)
9 The Smile Has Left Your Eyes (Live at the Credicard Hall)
10 Don't Cry [Acoustic](Live at the Credicard Hall)
– Disc 6 –
1 The Court of the Crimson King (Live at the Credicard Hall)
2 Here Comes the Feeling (Live at the Credicard Hall)
3 Video Killed the Radio Star (Live at the Credicard Hall)
4 The Heat Goes on [Featuring Carl Palmer Solo](Live at the Credicard Hall)
5 Only Time Can Tell (Live at the Credicard Hall)
6 Sole Survivor (Live at the Credicard Hall)
7 Ride Easy (Live at the Credicard Hall)
8 Heat of the Moment (Live at the Credicard Hall)
– Disc 7 –
1 Daylight (Live at the International Forum)
2 Only Time Will Tell (Live at the International Forum)
3 Wildest Dreams (Live at the International Forum)
4 Never Again (Live at the International Forum)
5 Roundabout (Live at the International Forum)
6 Time Again (Live at the International Forum)
7 Bolero (Live at the International Forum)
8 The Clap (Live at the International Forum)
9 Voice of America (Live at the International Forum)
10 The Smile Has Left Your Eyes (Live at the International Forum)
11 Ride Easy (Live at the International Forum)
– Disc 8 –
1 Open Your Eyes (Live at the International Forum)
2 Fanfare for the Common Man (Live at the International Forum)
3 Without You (Live at the International Forum)
4 An Extraordinary Life (Live at the International Forum)
5 The Court of the Crimson King (Live at the International Forum)
6 Video Killed the Radio Star (Live at the International Forum)
7 The Heat Goes on [Featuring Carl Palmer Solo](Live at the International Forum)
8 Heat of the Moment (Live at the International Forum)
9 Don't Cry (Live at the International Forum)
10 Sole Survivor (Live at the International Forum)
– Disc 9 –
1 I Believe (Live at the Forum)
2 Only Time Will Tell (Live at the Forum)
3 Holy War (Live at the Forum)
4 Never Again (Live at the Forum)
5 Through My Veins (Live at the Forum)
6 Lute Concerto in D Major, 2nd Movement / in the Course of the Day [Steve Howe Solo] (Live at the Forum)
7 Don't Cry (Live at the Forum)
8 The Smile Has Left Your Eyes (Live at the Forum)
9 Open Your Eyes (Live at the Forum)
– Disc 10 –
1 Finger on the Trigger (Live at the Forum)
2 Time Again (Live at the Forum)
3 An Extraordinary Life (Live at the Forum)
4 End of the World (Live at the Forum)
5 The Heat Goes on [Featuring Carl Palmer Solo] (Live at the Forum)
6 Sole Survivor (Live at the Forum)
7 Go (Live at the Forum)
8 Heat of the Moment (Live at the Forum)