One thing is certain following a new Transatlantic album and that is the Live CD/DVD set to follow.  This band knows its audience better than most bands and they know that those fans that are not able to see this incredible group live at one of their few shows, relish any opportunity to watch them perform, even if its on a recording.  This dedication to their fans not only comes through in the impressive packaging that each CD or DVD comes in, but also in the performances.  With most of the songs this band has ever recorded clocking in at 30 minutes, they might be left to perform only the shorter songs, or to leave some major songs out.  But instead they do a 3 hour show with all the fan favorites.  With KaLIVEoscope, Transatlantic are at their peak and no longer merely a side project. Presenting the entire new award-winning Kaleidoscope album along with a 30 minute medley of The Whirlwind and older classics, you see a band that still enjoys performing together and realize how special this group and their music is.
The show kicks off with "Into the Blue" from the latest album.  This has instantly become one of the band's classic songs and is a beautiful epic way to kick off any set.  Ted Leonard (Spock's Beard, Enchant) fills in admirably for Daniel Gildenlöw (Pain of Salvation) who was the 5th member of the group in the last tour and also is on Kaleidoscope.  He does the middle vocal section perfectly on this opening track.  The group dive right into a song off the first album "My New World" which is a bit of a forgotten classic in their catalog, but is certainly a nice surprise. 
As a Prog group, they are able to evoke emotions in their music in a way that eludes most bands in the genre.  A few of the shorter songs such as "Shine", "We All Need Some Light" and "Black as the Sky" provide a nice break from the epics and the former is a great reminder of how a simple song canwork just as nicely  even when incorporated within more complicated numbers.  "Shine" finds Neal and Roine both sounding as fresh as ever.  And Mike tears through each song as only he can.  But he adds a great element with his background vocals and become quite the good singer over the years.
But the highlights remain the longer epics, especially if you are a hardcore fan.  The medley of "The Whirlwind" compresses a 72 minute masterpiece into 30 minutes and in a highly entertaining manner.  Most of the integral sections are there and it allows the group to include the album in the show.  "Kaleidoscope" is preceded by Neal performing "Beyond the Sun" and then performed with more energy than the record.  Pete sings his lone solo performance in the middle of the song.  Watching the Bluray, you get lost in the songs and forget how long they really are.  Before you know it, you are sitting watching for 2 hours and it feels like not a minute has passed.
The encore is a medley of the original epic "All of the Above" and "Stranger in Your Soul."  Combining the two best Transatlantic songs is a great idea but you also miss hearing each song in its entirety.  Regardless, there is no greater climax in a song than the ending for "Stranger" which could be one of the greatest pieces of music ever written and live is performed with such power and emotion you might find yourself swaying your arms back and forth in your living room.  The quality of the audio and the dvd/bluray is top notch and it is also great to see this band perform in such a nice venue in front of a lrTransatlantic are not just a group of great musicians, they are an incredible band that continue to put out music meant for their fans and everything they do is no less than perfect.  This live set is no exception.
Added with the CD/DVD are some great bonus tracks from the covers the group did, behind the scenes footage from the band on tour (including the Prog Nation at Sea Cruise) and interviews.  Definitely worth checking out. 
Track listing CD 1: Live in Tilburg
1. Into The Blue 27:49
2. My New World 18:28
3. Shine 7:23
Track listing CD 2: Live in Tilburg
1. The Whirlwind Medley 30:12
2. Beyond The Sun 4:50
3. Kaleidoscope 31:30
Track listing CD 3: Live in Tilburg
1. Neal & Roine Duet 4:34
2. We All Need Some Light 6:05
3. Black As The Sky 7:22
4. Nights In White Satin 8:09
5. Sylvia 4:46
6. Hocus Pocus 7:09
7. Medley: All Of The Above/Stranger In Your Soul 24:34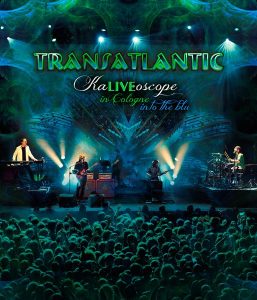 Track listing BluRay and DVD: Live in Cologne
1. Into The Blue  26:12
2. My New World  17:29
3. Shine  7:22
4. The Whirlwind Medley  29:34
5. Beyond The Sun  4:24
6. Kaleidoscope  31:30
7. Neal & Roine Duet  3:41
8. We All Need Some Light  5:56
9. Black As The Sky 8:43
Encore:
10. Medley: All Of The Above / Stranger In Your Soul 26:06
Track listing DVD: Bonus DVD
1. Into the Kaleidoscope 1:21:52
(A behind the scenes look at:
Kaleidoscope World Tour 2014)
2. Band Interviews 22:31
3. Bonus Live Performances:
3.1. Nights In White Satin (Live in Tilburg) 7:46
3.2. Sylvia (with Thijs van Leer – Live in Tilburg) 3:46
3.3. Hocus Pocus (with Thijs van Leer – Live in Tilburg) 7:53
Additional extras: Mike Portnoy vs Neal Morse in "Name That Beatles Tune"
Band:
Neal Morse – lead vocals, keyboard, guitar
Mike Portnoy – drums, lead and backing vocals
Roine Stolt – guitar, lead vocals
Pete Trewavas – bass guitar, lead and backing vocals
Ted Leonard – guitar, backing vocals, keyboards (2014 tour)