American Alt-Prog rock masters Thank You Scientist are pleased to announce their 4th studio album, Terraformer, out June 14th on Evil Ink Records. Their second studio release on the label formed by Coheed and Cambria's Claudio Sanchez is the bands most ambitious to date. The album features more than an hour and 20 minutes on a 2-disc set.
You can watch the Terraformer Preorder Infomercial Here:
Terraformer was recorded at The Barber Shop in Hopatcong NJ and engineer Mike Ferretti's studio in Ringwood, NJ. Main songwriter and guitarist Tom Monda oversaw production, along with contributions from the band.
The front cover was designed by Templar, who also designed the album art for the group's previous record Stranger Heads Prevail.
Pre-orders for Terraformer also begin today at www.thankyouscientist.merchnow.com.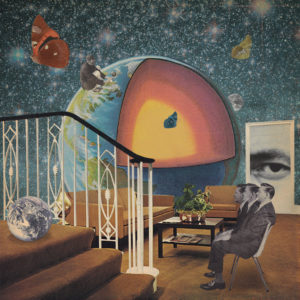 Tracklisting:
1 Wrinkle 2:32
2 FXMLDR 7:56
3 Swarm 6:25
4 Son of a Serpent 8:06
5 Birdwatching 3:41
6 Everyday Ghosts 10:03
7 Chromology 9:49
8 Geronimo 6:15
9 Life of Vermin 8:11
10 Shatner's Lament 1:13
11 Anchor 9:56
12 New Moon 2:01
13 Terraformer 8:07
Terraformer will be available 2 CD Digipak, 2 LP Vinyl, Digital, and in a Terraformer Comprehensive Adult Bundle (For Adults)
This incredibly rare offering from Thank You Scientist and CREAM CO includes:
•Limited Edition 2LP Color Vinyl
•21 Page Full Color Lyric Book (illustrated by Shamfoo)
•Full Score Songbook signed by all members of Thank You Scientist (Limited to the first 500 pre-orders)
•Full set of Thank You Scientist Father and Son Trading Cards (Limited to the first 500 pre-orders)
"We're really excited about this new album. We've put in so much work into this limited bundle to make sure it's perfect, and we hope our fans agree and help us crush our release week. We're a bunch of weirdos making music for weirdos that still care about weird music, and I think that's a beautiful thing." – Tom Monda
The album marks the first recordings of the Thank You Scientist's new lineup, which includes Joe Fadem on drums, Sam Greenfield on Sax, and Joe Gullace on trumpet.
"The new members were all guys that myself, Ben, and Cody play with in Cody's band 'We Used to Cut The Grass.' They were all a big part of the writing and arranging process for this album and I feel very lucky to be in a band with them." – Monda
Thank You Scientist will be on a US tour this summer with Reign of Kindo and In the Presence of Wolves from April 12th in New Jersey, ending May 19th in NY.
April 12th, Jersey City, NJ – White Eagle Hall
April 19th, Pittsburgh, PA – Spirit Hall
April 20th, Toronto, ON – Lee's Palace
April 22nd, Ferndale, MI – The Loving Touch
April 23rd, Columbus, OH – Skully's Music-Diner
April 24th, Chicago, IL – Sleeping Village
April 25th, Saint Paul, MN – Amsterdam Bar & Hall
April 26th, Lawrence, KS – The Bottleneck
April 27th, Denver, CO – Globe Hall
April 28th, Salt Lake City, UT – Urban Lounge
April 30th, Portland, OR – Hawthorne Theatre
May 1st, Seattle, WA – El Corazon
May 3rd, Berkeley, CA – Cornerstone
May 4th, Los Angeles, CA – Bootleg Theater
May 5th, Phoenix, AZ – The Rebel Lounge
May 7th, Austin, TX – Stubb's Downtown
May 8th, Dallas, TX – Gas Monkey Bar N' Grill
May 9th, Jefferson, LA – Southport Hall
May 10th, Nashville, TN – Exit/IN
May 11th, Atlanta, GA – Aisle 5
May 12th, Oralndo, FL – The Social
May 14th, Durham, NC – Motorco Music Hall
May 15th, Washington D.C. – Rock & Roll Hotel
May 16th, Ardmore, PA – Ardmore Music Hall
May 17th, Allston, MA – Brighton Music Hall
May 19th, Brooklyn, NY – Rough Trade NYC