Steven Wilson has announced that his upcoming album, "The Future Bites", will be delayed until Jan 2021.  He let a detailed message on his Facebook page.  The album was originally slated to be released on June 12 via Caroline International.
"As with many of my albums, The Future Bites is not just about the music, it's a high concept project which involves design, artwork, video and a tour production, all on a grander scale than anything I've attempted before. However, due to the pandemic, there are unprecedented challenges, ranging from manufacturing issues (particularly in relation to the elaborate deluxe edition) and the uncertainty facing record stores as the coronavirus forces them to close their doors, to being unable to shoot most of the video material I planned. It's therefore with a very heavy heart that I reluctantly need to postpone the release of The Future Bites until such time everything can happen as intended. This will now be January next year, with new music and video starting to be issued again around October. In the meantime the pre-order page for the various editions of the album will remain online, although I plan to take the deluxe edition off the site some time before it completely sells out, in order to give fans simply not in a position to purchase at the moment a chance to get it nearer the time. Meanwhile, myself, management, agent and promoters are monitoring the situation regarding the live shows scheduled for this autumn. Should events change we will let everyone know as soon as we do.
I understand that this may be disappointing news, and to no one more that myself, believe me. I worked on the music and background of this project for the last two years and was thrilled to finally be able to launch it. The response to the Personal Shopper track released last month has been phenomenal, and I was looking forward to unveiling more over the next few months in the build up to the release of the album. But alas due to the current circumstances it was not to be.
I sincerely send everyone reading this a message of good health, and I hope that one day in the not too distant future we can once again focus on things like music, which even if it isn't strictly essential seems to somehow make life more worthwhile."
SW
Co-produced in London by Wilson with David Kosten (Bat For Lashes, Everything Everything), THE FUTURE BITES sees Wilson exploring contemporary addiction and the lasting effect of ever-increasing technology on our daily lives. The album marks his most inventive and far-reaching musical construction to date, spanning soaring acoustics, lush electronica, relentless bass-driven grooves, murky funk, and so much more, all linked through powerfully focused songcraft and this one-of-a-kind artist's always unique creative vision.
"Personal Shopper" – which was inspired in part by acclaimed French director Olivier Assayas' 2016 film of the same name – heralds Wilson's eagerly awaited sixth solo album, THE FUTURE BITES, due to arrive everywhere on June 12, exclusively via The Future Bites Corporation. A striking trailer previewing the album's provocative themes of high concept consumerism and post-internet evolution is streaming now.
Wilson will celebrate THE FUTURE BITES with an equally ambitious live schedule, promising "a series of special events at larger venues, something on a grander and more immersive scale." "The Future Bites Tour" begins this fall with his biggest-ever headline shows in the United Kingdom and Europe; North American dates will be unveiled soon. For updates, please see stevenwilsonhq.com/sw/tour-dates.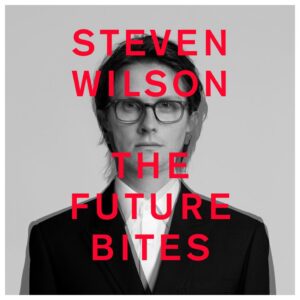 Steven Wilson: The Future Bites
1. Unself
2. Self
3. King Ghost
4. 12 Things I Forgot
5. Eminent Sleaze
6. Personal Shopper
7. Man Of The People
8. Follower
9. Anyone But Me