Former Sound of Contact singer and drummer, Simon Collins, joins the podcast to talk about his new solo album Becoming Human, which is out now. We also talk about his dad, Phil Collins', influence on his drumming, the possible future of Sound of Contact and more. 'Becoming Human", was released on September 4, 2020 on Frontiers Music.
For the full audio click the podcast link below or download the podcast on
iTunes · Google Play · Stitcher · PodBean • Spotify
Subscribe to the podcast to automatically receive future podcast episodes.
Guest musicians on the album include original Sound Of Contact guitarist Kelly Avril Nordstrom, the outstanding bass player Gaz Williams, and lastly guitarist Robin Boult. Robbie also brought his bespoke keyboard and sound design to the mix. Simon plays some keys too, along with drums and of course, all vocals. Being Phil Collins' son, Simon naturally gravitated towards the drums as a child. "It's part of my musical DNA," he says.
"Becoming Human" is Simon's fourth solo release, following his debut "All of Who You Are" (2000), sophomore effort "Time For Truth" (2005), and his third album "U-Catastrophe" (2008). In 2010, Collins co-founded the critically acclaimed band Sound of Contact. Featuring Simon on lead vocals and drums, the rest of the band included keyboardist/co-producer Dave Kerzner, guitarist/bassist Kelly Nordstrom, and bassist/guitarist Matt Dorsey. The band received the Limelight Award (essentially "Best New Band") at the Progressive Music Awards in 2013. Their debut album, "Dimensionaut" ended up being the fastest selling debut album by any band in the 20 year history of Inside Out Music.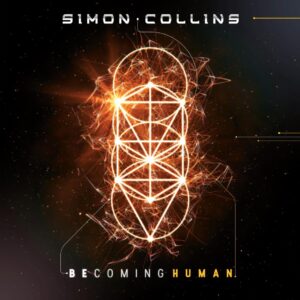 Track-listing:
1.Into The Fray
2.Becoming Human
3.The Universe Inside Of Me
4.Man Made Man
5.This Is The Time
6.Thoughts Become Matter
7.I Will Be Waiting
8.No Love
9.Living In Silence
10. 40 Years
11.So Real
12.Dead Ends
Simon Collins / Vocals, Drums, Keys
Robbie Bronnimann / Keys, Programming, Sound Design
Gaz Williams / Bass
Kelly Avril Nordstrom / Guitars
Robin Boult / Guitars