by Prog Nick
pics by Joel Barrios, Iron Mike Savoia, Joe Schaeffer, Austin Kokel, Roie Avin
As the welcome document says, you cruise on a ship, not a boat. That word 'ship' describes more than just a floating vessel, however. It embraces kinship, fellowship, and indeed, musicianship of the highest order. Without a doubt Prog's premier oceanic event, Cruise to the Edge has consistently delivered the best live Progressive Rock experience on the high seas. Now back, after a 3-year delay, 2022 would be no exception. Sailing from May 2nd to May 7th, the host vessel, Mariner of the Seas, became a haven of heavenly Prog and the type of camaraderie that only those in the world of Progressive Rock can offer. This is one passenger's account of this epic event.
The cruise got its official start at the pre-cruise party the night before at the hotel where most of the passengers and bands stayed. Piano players Tyson and Will kicked things off with a unique mix of covers, followed by a brilliant set from Alan Hewitt & One Nation, which led to an electric set of prog classics from the super group ProgJect. It was a great night to get everyone amped up for the cruise.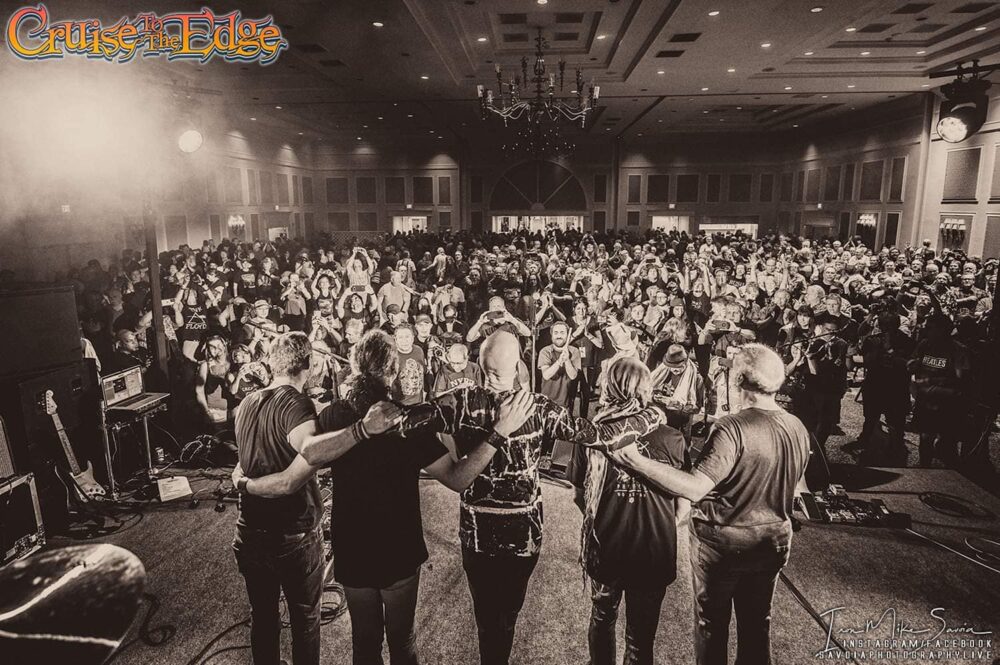 Check-in was made much easier this year, with the introduction of an online cruise app. Once safely on board, I was lucky enough to witness the festivities begin. Though scheduled to have given a 'Sail-away' performance at 4.30pm, Wishbone Ash had to be re-scheduled for later in the cruise and were replaced with Alan Hewitt & One Nation for their lone cruise performance, and they gave another stellar performance in place of the Ash.
One of the usual things to happen on the cruise is the frequent shifting of schedules. In many cases, it is a matter of some shows starting late or running long. And on the first day, this can certainly be even more so. Such was the case for the shows in the main theater where McStine and Minnemann were scheduled to kick off at 2pm in the afternoon but ended up finally playing at 6pm. So, instead I went to catch Marbin in Studio B (a converted ice rink) at 2:30. After the enthusiastic MC had kicked matters off, an hour of great instrumental jazz-rock unfolded.
Our own Roie Avin, one of the ship's MC's, later introduced McStine and Minnemann, this time featuring two of the mightiest drummers on the planet in Marco Minnemann and Nick D'Virgilio. The gig may have started several hours late, but everyone was nonetheless in good spirits. With Zappa-esque stylings and an unbelievable scat number from bassist Mohini Dey, things were by now off to a great start.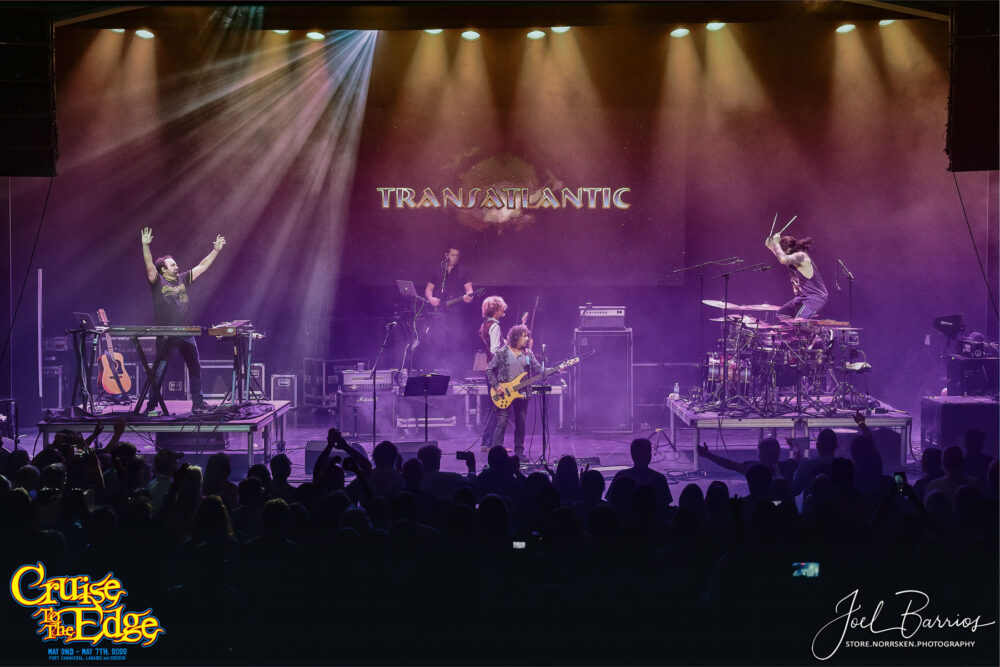 Transatlantic's first show was delayed as well, but well worth the wait. It was an energetic set of some of the most beloved catalogue in Prog. Drumsticks were thrown by Portnoy to Leonard, stage antics abounded and all the classics (at least as parts of medleys) were played. I was seated alongside several members of The Flower Kings, who were clearly proud of their compatriot's efforts. Cell-phone torches were raised by hundreds of hands during 'We All Need Some Light' and it became clear that any band wishing to better this performance by the co-headliners, would have to pull out some miracles. Just as this show was ending, French proggers Klone took the pool stage by storm and captivated a new audience to their heavy melodic sound.
In many cases, difficult decisions must be made as to which band to go see. Knowing you might have a second chance at a band, allows you at times to choose one over the other. In this case, it was on to veteran guitarist Martin Barre, whom I chose over Pain of Salvation in honor of the fact that this was the year of the 50th anniversary of 'Thick as a Brick.' Though the set was mostly from other albums, Barre did not disappoint. He delivered a pleasing selection of favorites from 'Hunting Girl' to a morsel of 'Thick as a Brick' and then, of course, the whole of Aqualung ending with 'Locomotive Breath.' Martin Barre's bassist, Allan Thomson, ended up filling in for Wishbone Ash.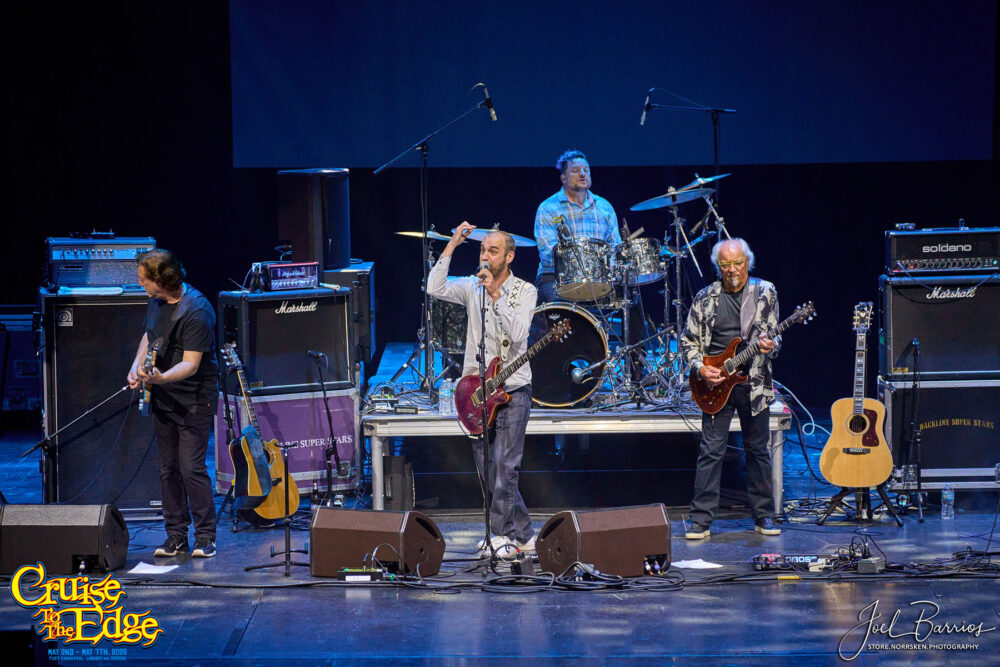 One of the largest pro-am musical adventures in the world (certainly in the world of Prog), Late Night Live is a great and long-standing addition to Cruise to the Edge, which allows cruisers from all over the world to get together and perform classic prog tunes at late nights on the ship. There is nothing quite like getting up in front of your peers (and sometimes your heroes) to perform the music you love. Later that day, I was taken by surprise by the Late Nite Live family, led famously by the always exuberant host Rob Rutz, who welcomed me back with typical warmth and love and asked me to play a Marillion song unrehearsed (as is the way at this event) that very night. With music ringing in my ears at every turn, my cabin beckoned for the first night. The accommodations on the Mariner of the Seas were excellent, and the cleanliness and service in the cabins were well above average.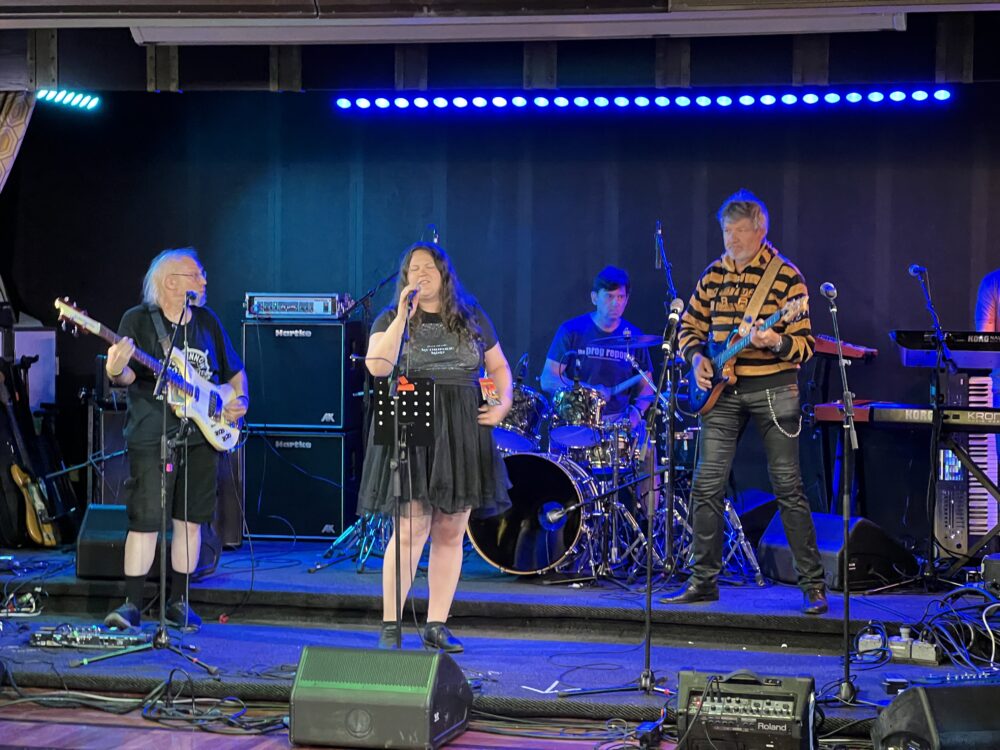 Day two did not suffer anywhere near as many logistical issues as those of day one. Playing CTTE for the first time, The Flower Kings were scheduled to play both their sets in the converted ice rink dubbed 'Studio B.' The first one, scheduled for 1pm on day two, was packed to its icy rafters. Hasse Froberg's vocals were as angelic as ever and Roine Stolt explained that his own voice had gone overboard, whereafter Froberg stepped in and took over many of Stolt's vocal parts. They closed with the final section of the glorious 'Stardust We Are.' As Stolt said to the crowd, 'At least you heard a different version of TFK tonight.' Different or not, it was excellent.
Dave Kerzner & the All Star Prog Band were beyond impressive on the pool stage. This was a fantastic moment, partially because I could watch the great Nick D'Virgilio from the upper deck, right behind his left shoulder, joined as well by the talented Billy Sherwood, Randy McStine, Matt Dorsey, and Durga McBroom. These virtuosos played some Sound of Contact numbers, much to the crowd's delight, including the brilliant 'Not Coming Down.' Continuing the theme of several artists playing in multiple bands, Kerzner would join Durga and her sister Lorelai for a couple of sets with the McBroom Sisters who equally wowed audiences with their powerhouse vocals.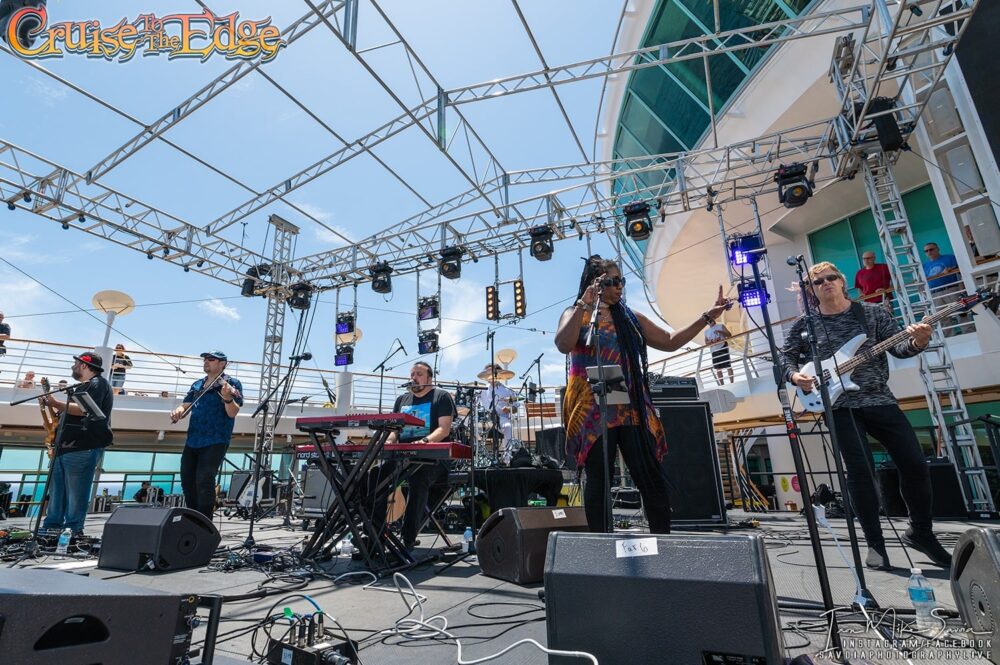 I briefly attended a Simon Phillips Q&A on the way to Pattern-Seeking Animals in the Star Lounge. This was only P-SA's second show ever, but you would not have known it. They pulled out all the long songs and dazzled the audience with much technical wizardry. There is a tradition of sharp wit and good humor in Prog, and Ted Leonard's wit is as sharp as his voice. If you came early you might have heard a nice bit of "Carry On Wayward Son" at the band's soundcheck.
I got to the Royal Theatre to see Marillion just in time for 'The Crow and the Nightingale,' my favorite song off the new album. The band had to re-start 'Sierra Leone' – the type of thing that brings their fiercely loyal crowd all that much closer. With this band, it is all about bonding and connection. 'Maintenance Drugs' from the 'Care' suite was a highlight, with Pete Trewavas providing one of the funkiest bass-lines heard on the ship.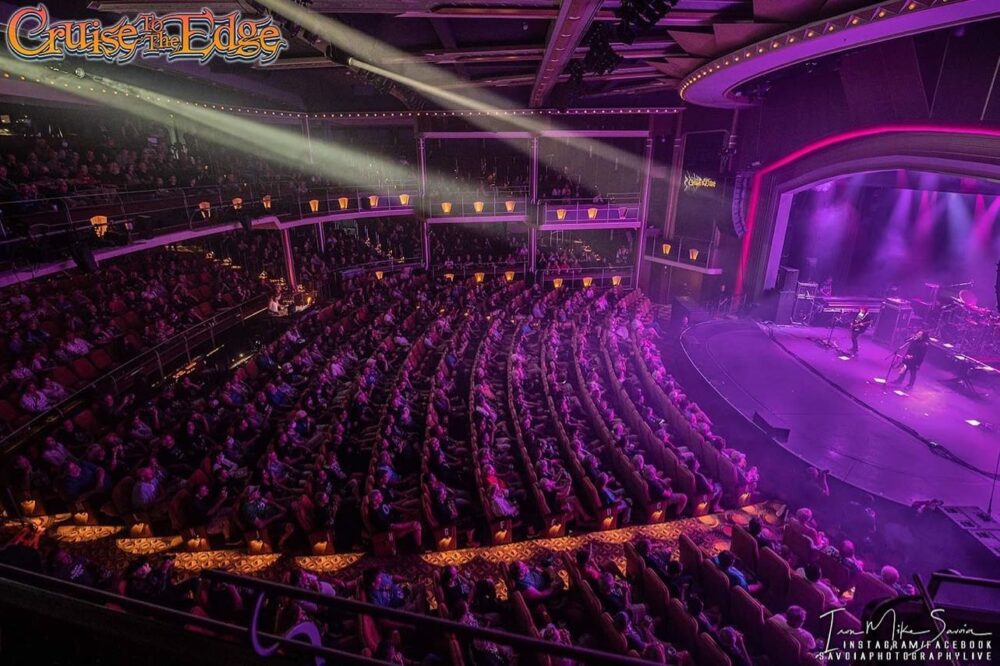 Fernando Perdomo formed an excellent band especially for the cruise, appropriately dubbed 'Fernando Perdomo and the Out to Sea Band.' Featuring multi-instrumentalist Dave Bainbridge, the band pleased many passengers by unexpectedly playing one of Bainbridge's new solo numbers.
Up next, the mouth-watering prospect of Riverside on the pool stage. Although it was very windy, nothing stopped the crowd from filling the covered pool area for this upbeat set. The band played a great selection of songs including some from 'Shrine of New Generation Slaves.' At one point they broke into Deep Purple's 'Black Night' with the crowd yelling 'Hey!' in all the appropriate places. Four gentlemen with t-shirts with large letters spelling 'Riverside' were acknowledged from the stage. The utterly dedicated crowd refused to be forced inside by the gale-force wind, and their fortitude allowed them to witness a triumphant set from Poland's best.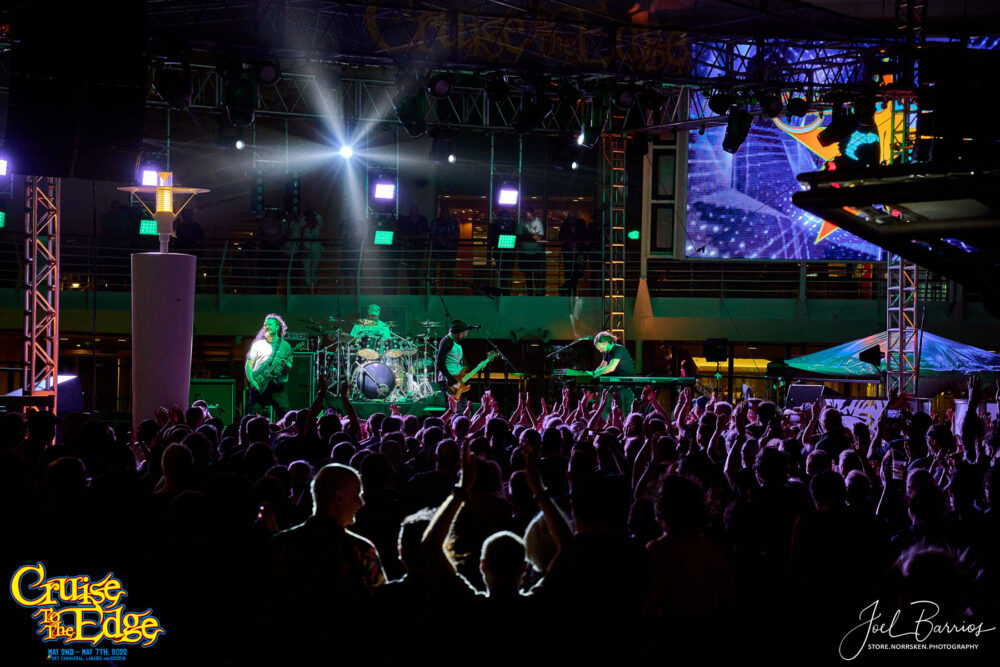 I managed to catch a few minutes of the ever-amazing Adrian Belew Trio, introduced by veteran CTTE host Jon Kirkman in Studio B. We were all happy to be Belew's 'flesh baffles' for that show. The band were all dressed in holiday shirts, and the coolest bassist on the ship was undoubtedly Julie Slick.
I rushed to the Royal Theater to watch Al Di Meola, and passed the 'Cape Night' competition on the way. (The cruise was filled with such events.) This was the first time I had seen Di Meola and am very glad that I made the effort to make it to see one of Rock's true guitar heroes. He amazed the crowd with his ineffable panache and talent. Playing mostly flamenco acoustic guitar, accompanied by a percussionist, it was magical. Regaling the audience with stories about Chick Corea (or 'Chuck Corea' as Di Meola's father apparently called him), it was as much a storytelling night as it was a musical concert. Corea's 'Senor Mouse' was, of course, played acoustically.
Having previously played in the 2014 Cruise with UK, Alex Machacek (and his band 'Fat') played a great jazz-rock set to a relatively small crowd. He called it 'Disco- prog' but the set was in fact quite jazzy. McStine and Minnemann had impressed me so much in their first show that I went back to see them a second time on the pool stage, undeterred by the hurricane-like wind. I was again (quite literally) blown away. Minnemann lost a stick at one point and did not have a spare handy until the next song. You would never have known it, because his one hand is as quick as most other drummers' four limbs combined. Minnemann's cymbals nearly blew over and Mohini Dey's guitar stand did, but the crowd remained.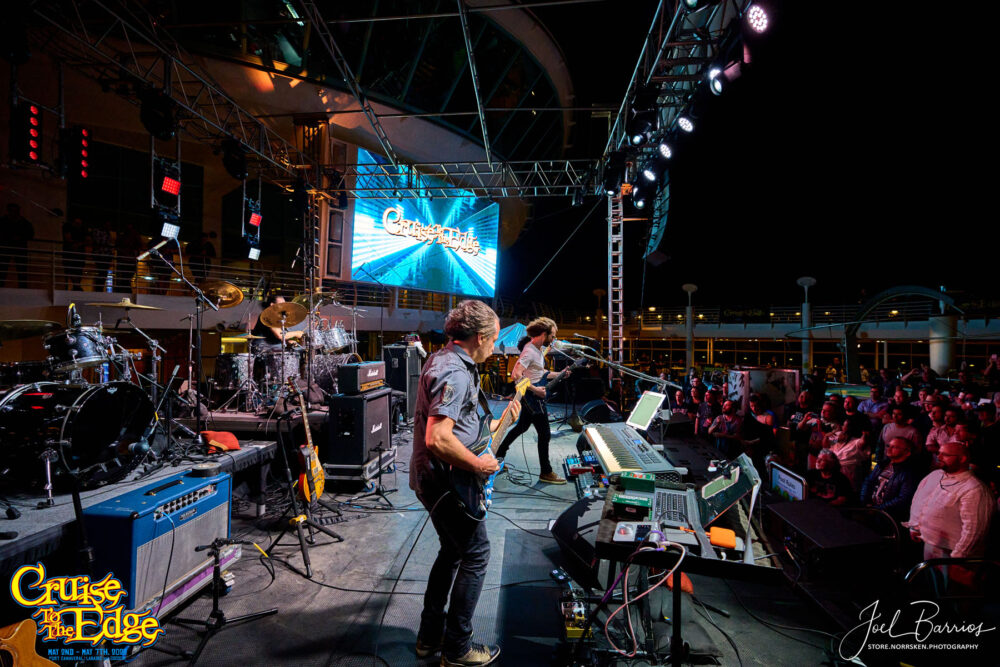 As happens on this cruise, the day was also filled with many special off-stage moments like Nick D'Virgilio using cutlery as drumsticks to help Marbin jam in one of the restaurants. Later that night, closing out Studio B with a powerful set, District 97 were joined by Mike Portnoy and played Alanis Morisette's 'You Oughta Know' in honor of Taylor Hawkins, which vocalist Leslie Hunt sang brilliantly. Late Nite Live closed out the day with a competent night-long tribute of Rush covers in honor of the great Neil Peart, which included an air-drumming competition set to YYZ.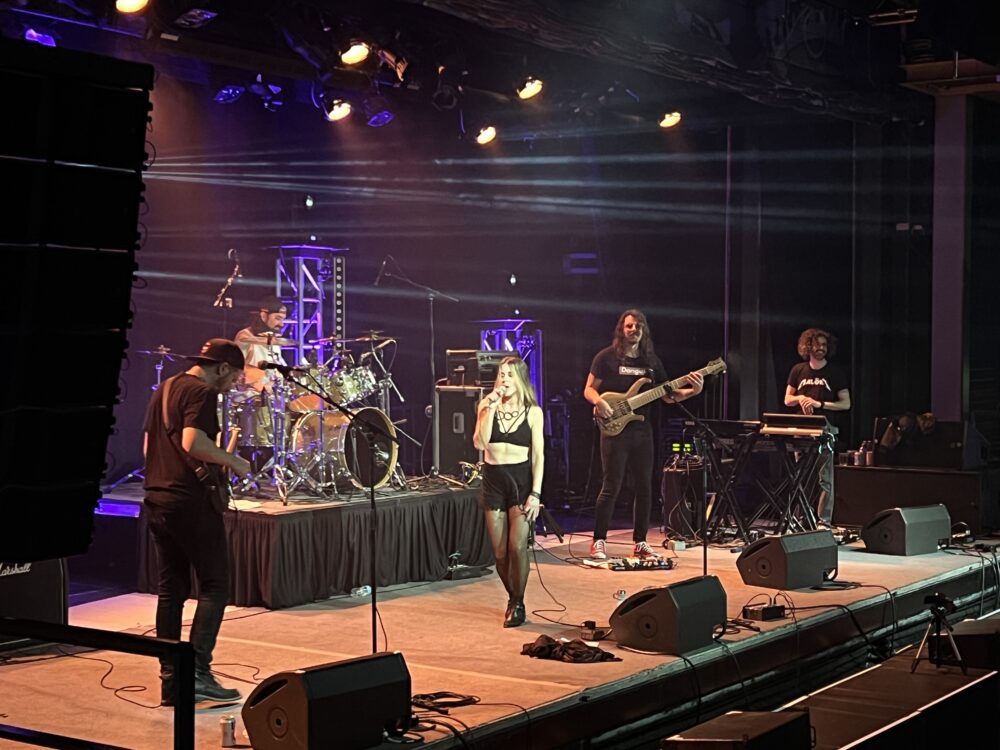 Day 3 was a port stop. Labadee is a tiny but gorgeous Haitian island, at which the ship docked on 4 May. While it does not have much more to offer than crystal clear waters and powder sand beaches, these two features proved more than adequate for cruisers wishing to rest their senses in anticipation of the remainder of the cruise. Just what the Prog doctor ordered.
I was back on the ship in time for the Transatlantic Q&A which had just been moved to later that day. Singer Al Stewart benefitted from this change, and while his set was not Proggy, it certainly did deliver what the singer-songwriter is famous for. He was backed by the band Empty Pockets who also had their own performance on the pool stage. Jane Getter Premonition gave a rocking performance on the pool stage alongside her husband and keyboardist Adam Holzman. They were joined by Randy McStine for a few songs.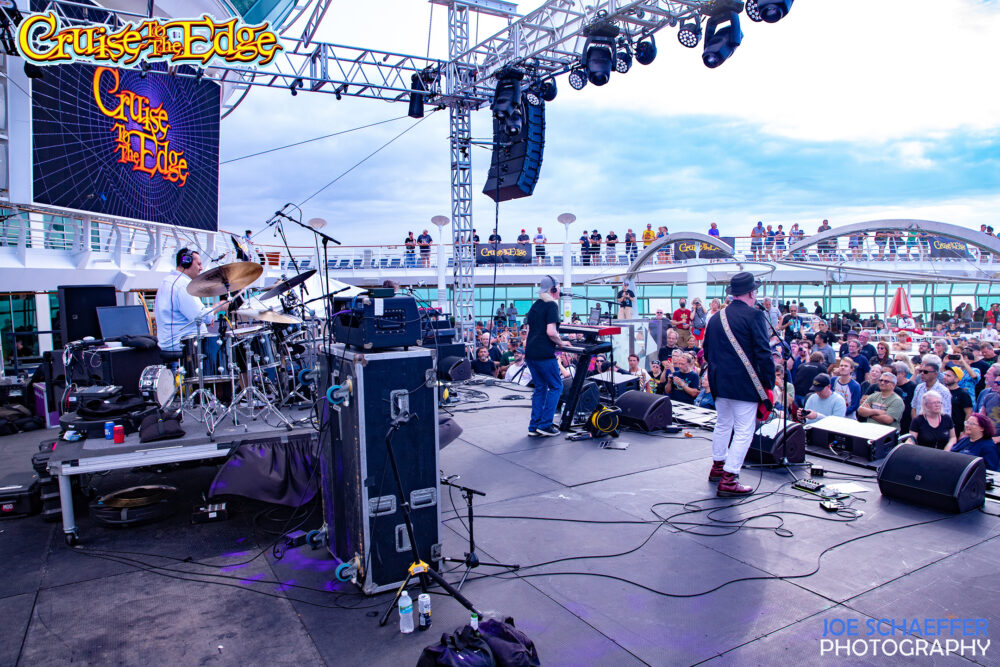 Just after an update announcement on the ship's system by Mike Portnoy (which thankfully did not interrupt the band), Lifesigns started their first set. Having graduated to the Pool Stage Sail-away slot at 6:45, these British (and Hungarian) Proggers showed just why they deserve to be on Prog's A-list. The sun came and went; the storm clouds gathered and blew away; the audience basked in Caribbean sunshine and low-hanging cloud descended while the band delivered music to match the varied weather. The lyric to 'Open Sky' was particularly apposite. Dave Bainbridge delivered one of the most searing guitar solos of the cruise in 'Last One Home.' Poignant, funny and musically brilliant, Lifesigns were breathtaking and bassist Jon Poole gets Hilarious and Energetic Bassist of the Cruise Award.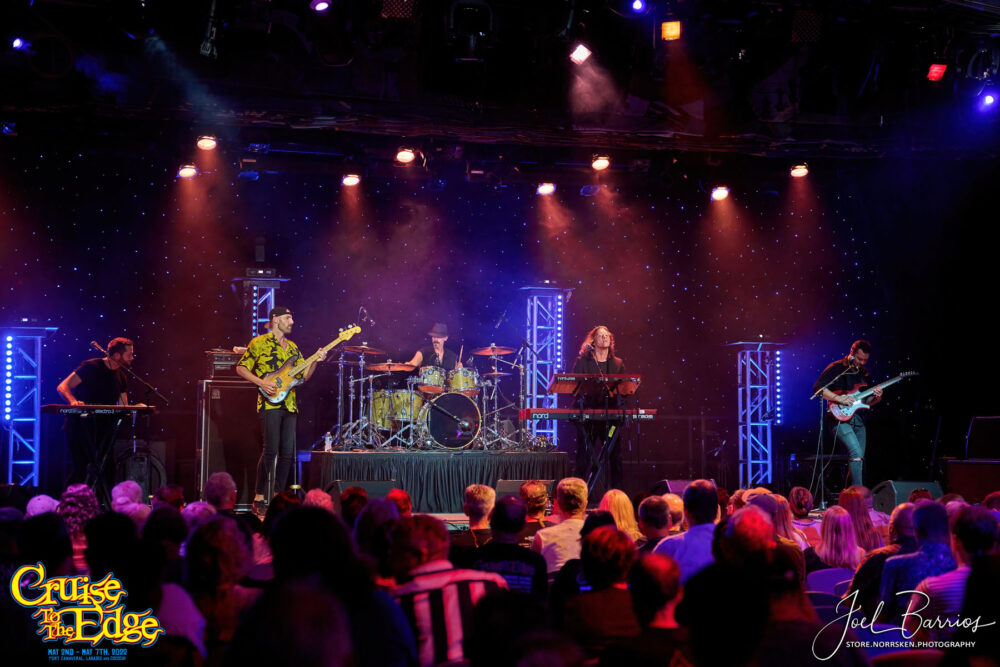 After dinner, one of the best vocal harmony bands in Prog, Sweden's Moon Safari, wowed Studio B. It was great to hear and see these young musicians in fine voice in a pleasingly well-attended venue. 'Welcome Back to Heaven' sang vocalist Simon Akesson – indeed. The band was without regular lead vocalist Petter Sandstrom (due to the birth of his child) which is simply astounding when one considers the complexity of their vocal arrangements. With their first live performance in three and a half years, this was a triumphant return for Moon Safari.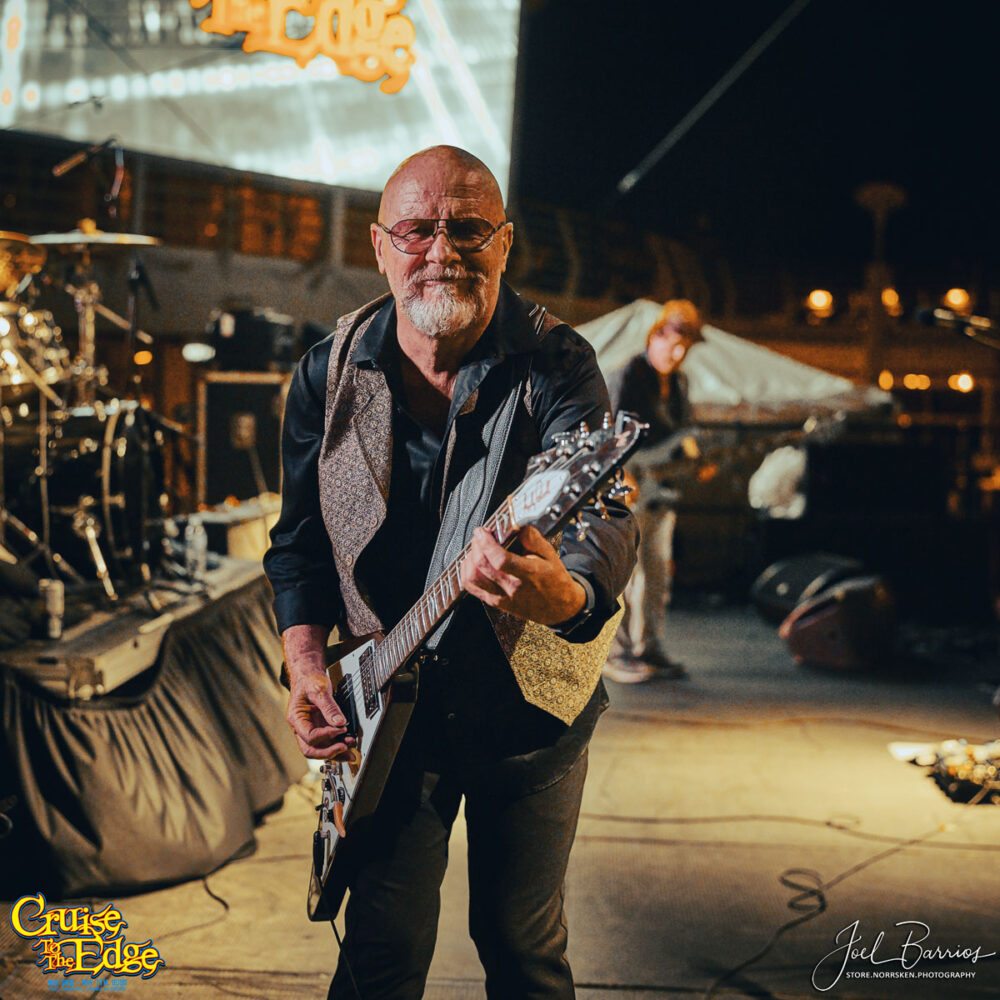 Wishbone Ash finally made their first appearance on the cruise at 6:30pm on the pool deck. My love for this seminal twin-guitar harmony band is well-known, and they did not disappoint. They won over a whole host of new fans with this set, which was a mixture of newer and classic material. Guitarist Andy Powell (who is the only remaining member of the 'classic' line-up) acknowledged that the band is not particularly well-known in American Prog circles, but with a nod and a wink, Powell pointed out that 'Argus' knocked 'Thick as a Brick' off the charts in 1972. A trilogy of Argus songs was played to a clearly impressed crowd and Martin Barre's bassist Alan Thomson helped this classic rock master-band establish itself in a now not-so utterly Prog environment. By the time the epic 'Phoenix' was played, the job was done. The Ash's front of house mix was amongst the best heard on the pool stage and kudos must go to the musicians and technical team – Wishbone Ash did a little bit of its own conquering that night.
Roie Avin led a pair of back-to-back Q&As in the ship's main promenade. First, the Riverside Q&A was very well attended and showed how truly beloved this band is. One fan told the band how Riverside's music had provided a constant solace in her life and said to Mariusz Duda 'Thank-you for sharing your gift.' Enough said – many people on the ship felt that way. Stu Hamm, bass player for the likes of Steve Vai, was next. The virtuoso bassist rocked the Star Lounge and when he pulled out Zeppelin's 'Going to California,' playing the vocal melody on his bass, you knew that he meant it.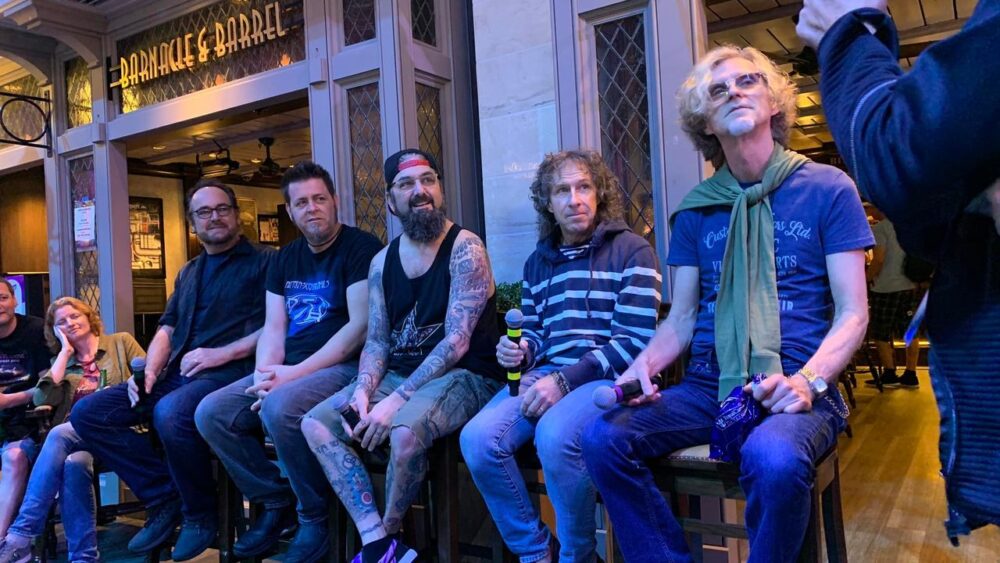 With just enough time for the rescheduled Transatlantic Q&A, I heard the guys in lively and humorous form, especially Ted Leonard and Neal Morse. The band emphasised how appropriate the name had become over the Pandemic and the importance of having an odd number of members for voting purposes. Stolt's bandmate Mirkko deMaio was in the crowd in support.
The Alan Parsons Live Project was next in the Theater. The legendary producer and composer gave us all the hits for over an hour. As the announcer said, 'We all truly love this man.' The drummer was behind a perspex cage, in the true pursuit of Alan Parsons audio perfection, and with eight people on stage, it was a spectacular show. Beginning with 'Standing On Higher Ground,' it was immediately apparent that stellar and varied vocals were to be a feature of this show. While a little clinical at times, the show certainly crystallised the monumental amount of hits this man has produced. 'I Wouldn't Wanna Be Like You' was a highlight, and there was plenty of funk in the band's delivery.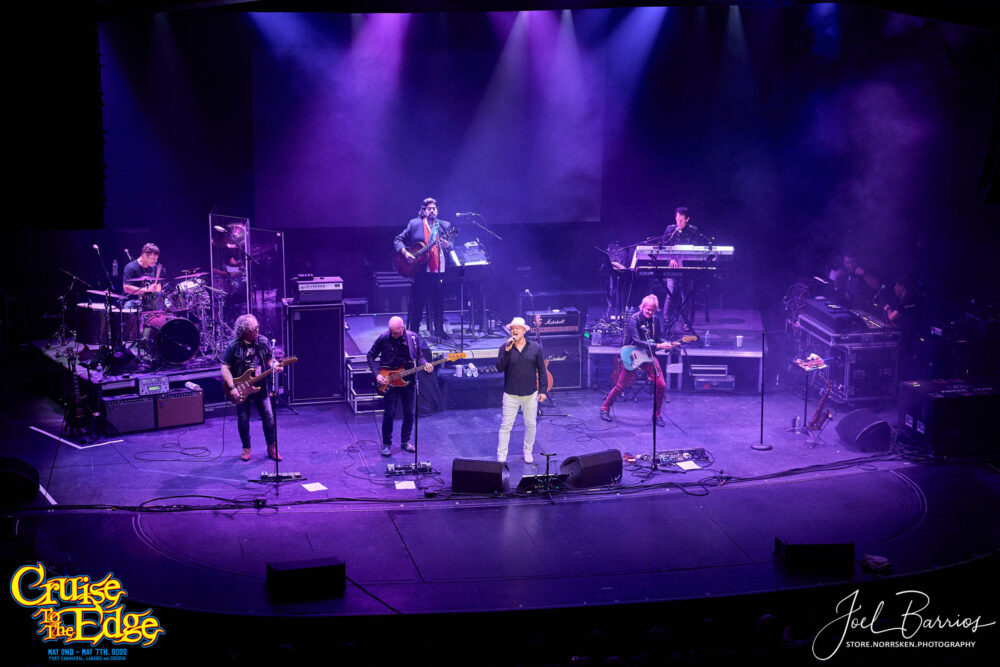 It was a tough choice whether to go to the Zappa Band or Haken, but I ended up with the former since it was closer, and I would in any event have a chance to see Haken in their second set. I ended up regretting this decision to some extent, since Haken played a cover set featuring songs from Genesis, Peter Gabriel, Yes and Queen. But the most talked about highlight on the ship was when the band performed 'Big Bottoms' and 'Stonehenge,' while Jimmy Keegan came on stage and danced around mini runes (yes – Stonehenge as in Spinal Tap.)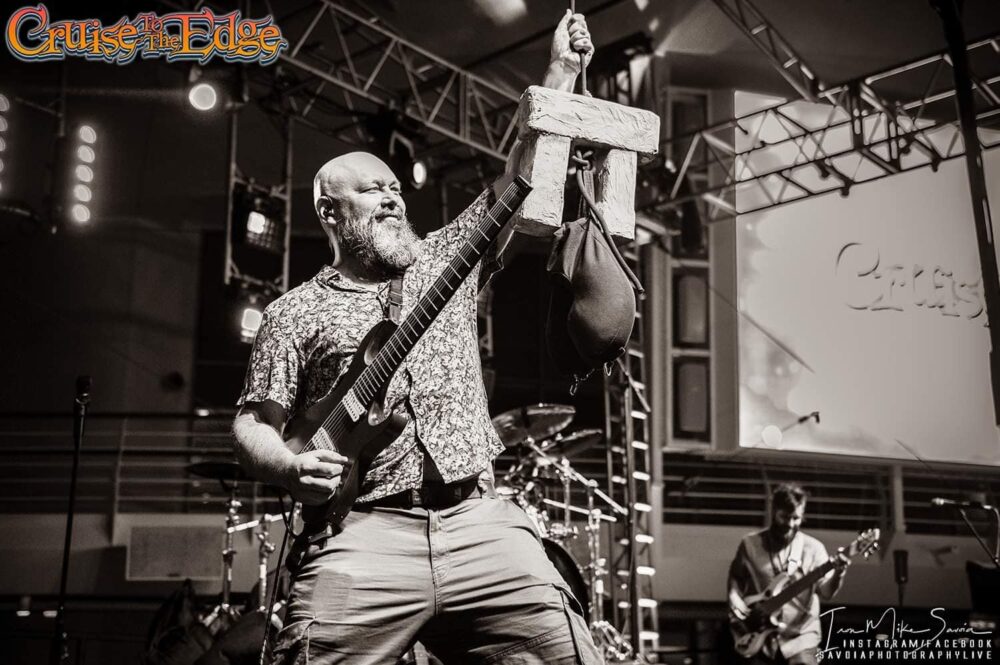 The Zappa Band, veterans to a man (including Marco Minnemann), did the late Maestro proud. Frank's guitar-sound in particular, was replicated to perfection. I walked in during 'Tiny Pillows' and bumped into Neal Morse who was also trying to be in two places at once. Ted Leonard was also in the crowd, as were Simon Phillips, Nick d'Virgilio, Ian Moseley and just about every other musician on the ship. Only on Cruise to the Edge can this happen. The crowd all bobbed their heads as the legend's arrangements unfolded before them and you could tell that these fantastic musicians were having the time of their lives re-living Frank's legacy. Minnemann in particular, gave a blistering drum solo that had the crowd (and the rest of the band) cheering. The Zappa Band deservedly got a standing ovation, and the evening ended with Late Nite Live.
Day 4 presented many interesting choices, especially in the photo-op department, but I chose to attend the live shows. Having been so impressed by Moon Safari, I caught the first part of their second show, this time in the open-air environment of the pool stage. Saga followed quickly in the Theater and Claudio Simonetti's Goblin in the ice rink. I missed the latter two bands but heard glowing reports about them. Just around noon, IO Earth guitarist Dave Cureton tore the roof of the star lounge with a blistering solo guitar set.
Casey McPherson held an auction for his 'To Cure a Rose' rare disease charity with one-of-a-kind items donated by various musicians on the ship. From Fernando Perdomo's bowler-hat to Roine Stolt's wah-wah pedal, from a rare Spock's Beard drumhead (signed by every member past and present) to Haken's Stonehenge rune, this was a collector's dream. There was even a day-long experience at Alan Parsons' home that went for $16,000. In total, the auction raised over $37,000! It goes without saying that Proggers support each other.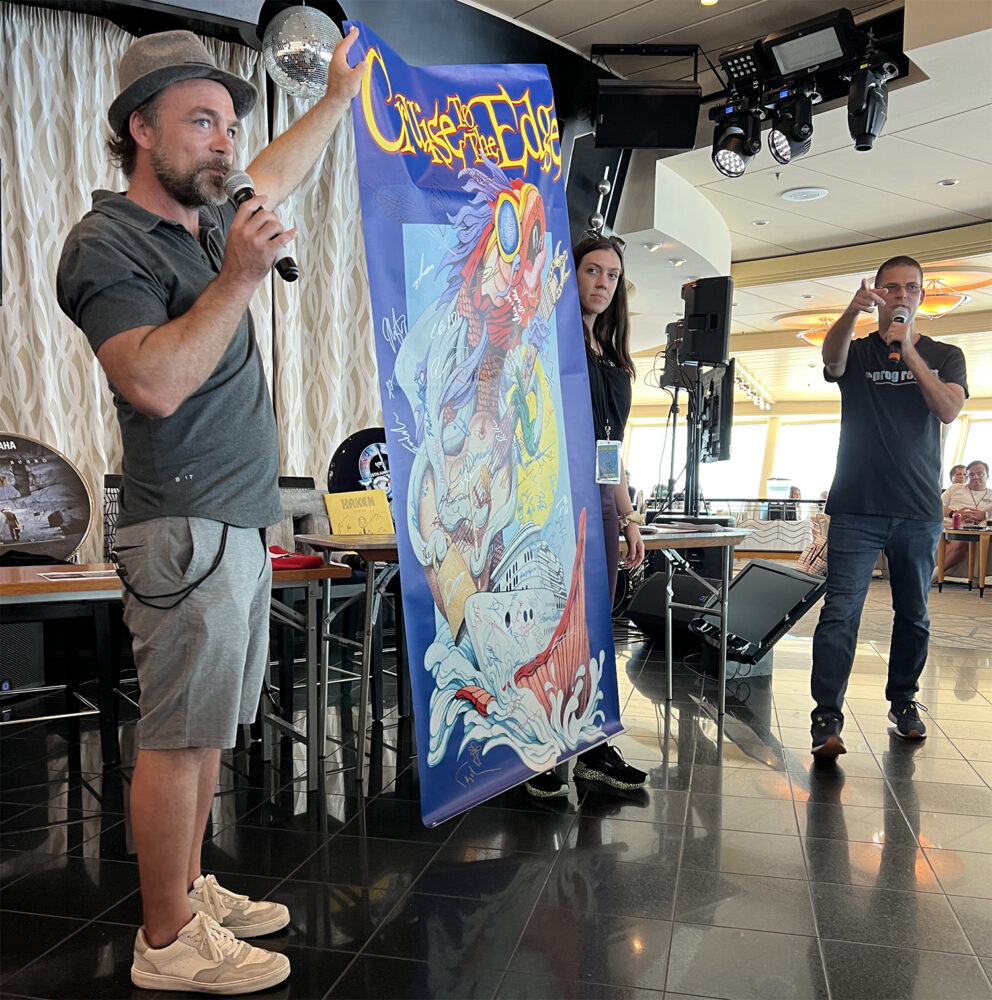 Adrian Belew rocked the pool stage in an appropriate Panama hat and a tropical shirt that he apparently wore in David Bowie's band. As Adrian said, 'Two shows in and I love this band already.' The crowd agreed.
Jakko Jakszyk provided a non-Crimson-oriented but highly melodic set of songs taken mainly from his latest album, with Lifesigns' Zoltan Csorsz assisting ably on drums and, of course, the great Mike Kineally on keys, guitar and vocal harmonies. This was Jakszyk's first solo gig in thirty-seven years, but there was no rustiness here. The band (who had only met Czorst two days earlier) gelled together beautifully. A great set in a great setting.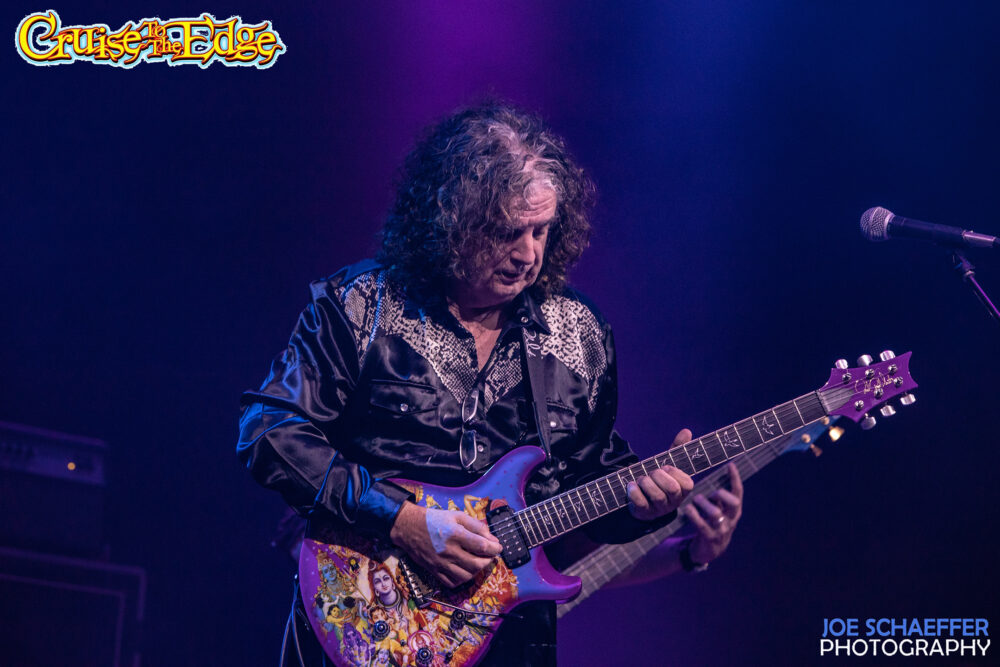 Protocol, featuring the legendary Simon Phillips, were next up on the pool stage. By now I was so used to bumping into Prog stars left and right that it had become de rigueur for me. But many, many of them seemed to be headed for Phillips' set – especially drummers. It was not hard to see why – Phillips and his cohorts presented a jaw-dropping show of complex jazz-rock with all the bells and whistles (and, of course, Phillips' see-through acrylic kit sounding like thunder in the warm sunshine.)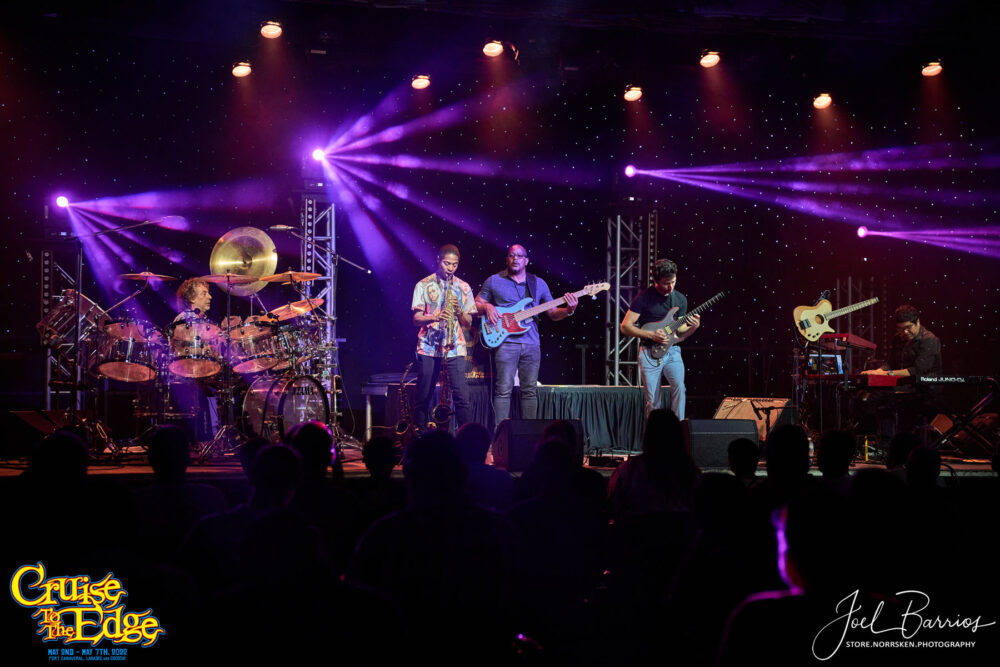 Transatlantic's second show (which started 45 minutes late) featured all of 'The Absolute Universe' (an extra-extended version for blu-ray.) Roine Stolt's voice was by this point quite ravaged and the other band members (mainly Ted Leonard) admirably covered for him in the higher vocal department. Mike Portnoy gave Ted Leonard an on-stage pat on the back for his extra vocal effort, almost every seat in the theater was filled and everyone in the audience was enthralled by the delivery of this mammoth album, which takes on a new life when performed live.
Adam Holzman attracted some big names to watch him deliver his unique keyboard performance in the Star Lounge, later accompanied by Randy McStine, who joined him in an amazing version of Peter Gabriel's 'Here Comes the Flood' (a version they originally recorded for The Prog Report's Prog From Home virtual concert in 2020).
People left very happy for Riverside in the Royal Theater, Wishbone Ash on the pool deck and Pain of Salvation in the ice rink. It was as if the organisers wanted to fill the penultimate night as much as they could, knowing that some passengers would want an early night on the final evening. Can there be such a thing as too much music? Not on Cruise to the Edge. Wishbone added 'Blowin' Free' to their second set (an important addition for Ash fans) and Pain of Salvation were simply magnificent in their second gig since 2019. While 'Panther' may have its detractors, the live renditions of several of its songs certainly changed some minds and hearts on the night. Monstrous and as heavy as steel (both to the eyes and ears) POS produced the most head-banging set of the voyage. Shirtless guitarist Johan Hallgren must have been freezing (literally over covered ice) and it was good to see Daniel Gildenlow back to full health and musical form. The only word to describe this gig was 'immense.'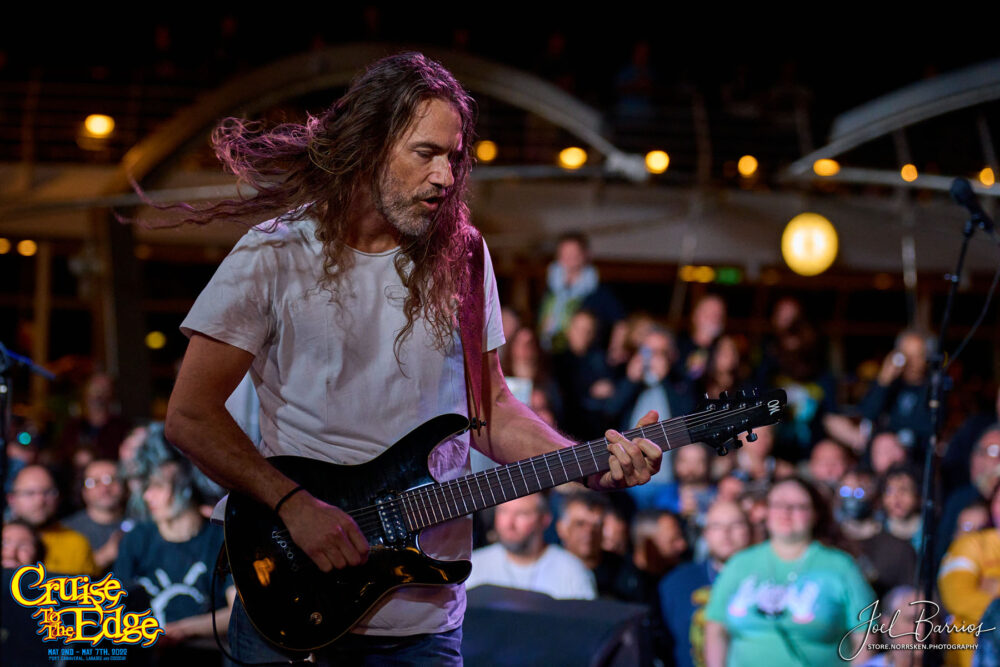 The fifth and final day was a port day at Coco Cay – a tourist's paradise of pools, palms and patios. Proggers mingled easily with passengers from another ship and the beautiful day went very quickly. On board, Martin Barre's minstrels impressed the gallery of pool stage passengers. The band pays proper tribute to the spirit of classic Jethro Tull while putting its own non-keyboard spin on these great songs. Vocalist Dan Crisp gives one of the best Ian Anderson impersonations that I have heard, both in terms of voice and of visual movement. This was the final gig of Barre's current tour. Also happening that afternoon were performances from Gabriel, whose band including Dave Bainbridge, Bill Hubauer, Joe Cass, and Fernando Perdomo, gave a powerful show in the star lounge, while prog veterans Nektar enchanted their fans with a nostalgic set of prog classics.
On to the mighty Haken in the Royal Theater. Ross Jennings announced 'No Stonehenge tonight, only serious business,' and did he ever mean it. The band were on top form with Ray Hearne's angular patterns driving the songs forward at every quarter. New (and previous) keys man Peter Jones slotted in perfectly. They played songs from their last album 'Virus' for the first time. 'Cockroach King,' of course, made an appearance (this has become a bit of a tradition on Prog cruises) and the crowd bobbed their heads as one in recognition and then waved their hands in unison at Jennings' command. The Haken LED glasses came out in '1985' and the audience were enslaved. 'Owner of a Lonely Heart' made a re-appearance in the middle of "1985" and the crowd sang along with gusto before giant crowd balloons bounced around the room. The band knelt before the audience as they received a standing ovation. This imperious show was one for the Haken books.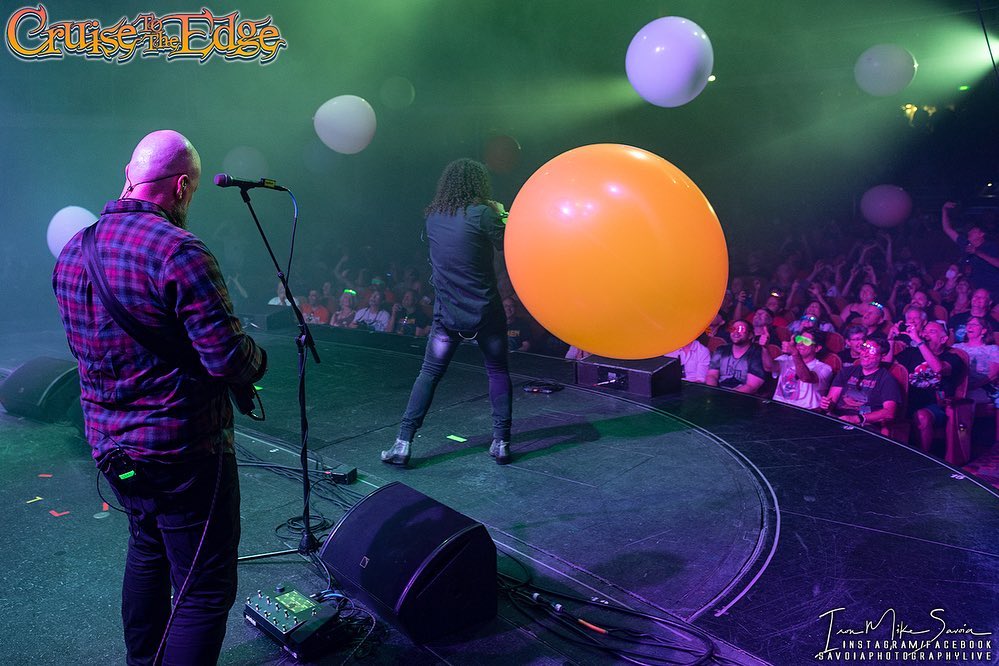 Later, Pattern-Seeking Animals were in Studio B for their second set, now giving them the opportunity to open up to a much larger crowd. Starting with the very Proggy 'Time Has a Way', the band immediately launched into their now-signature sound. The larger stage also led to more pronounced stage antics, especially from keyboard player Dennis Atlas. The band played a couple of songs that were not played at the first show, including 'Elegant Vampires,' featuring the great Dave Meros on what can only be described as 'Monster Granite Bass.'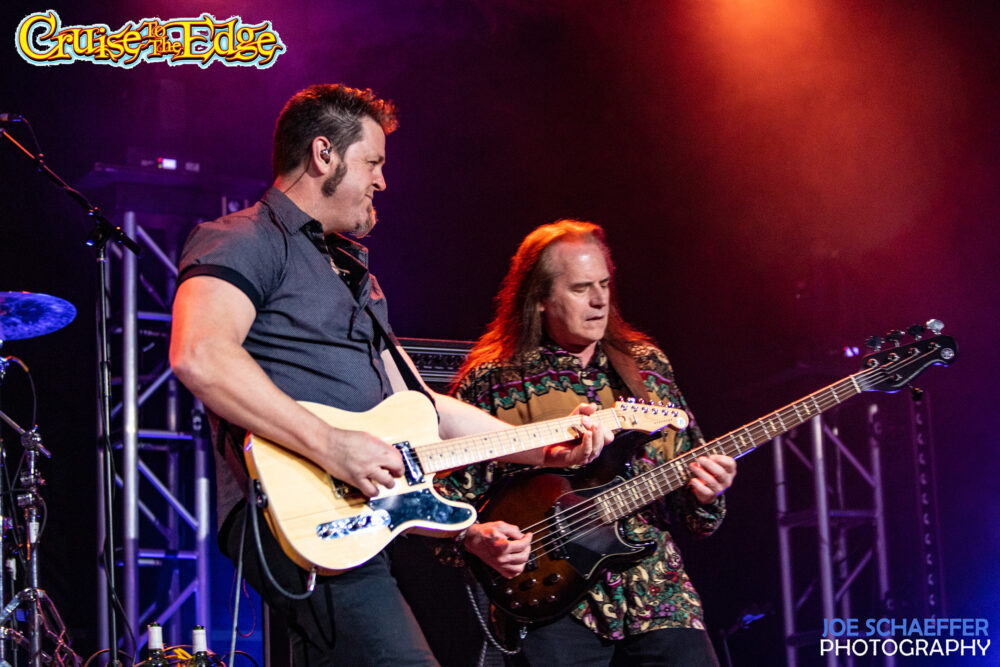 Lifesigns, this time in the Theater, were a sight and sound to behold. Playing the whole of their latest album 'Altitude,' Prog's next big thing absolutely flourished in this larger environment. How wonderful for John Young, Dave Bainbridge, Jon Poole, Zoltan Csorsz and sound designer Steve Rispin. In my review of 'Altitude.' I mentioned a certain musical 'glow' that Lifesigns create in studio. Live too, there was a marvellous glow that was palpable in that room, and hundreds of fans were converted that night. Utterly and absolutely triumphant, this was my favorite concert of the entire cruise.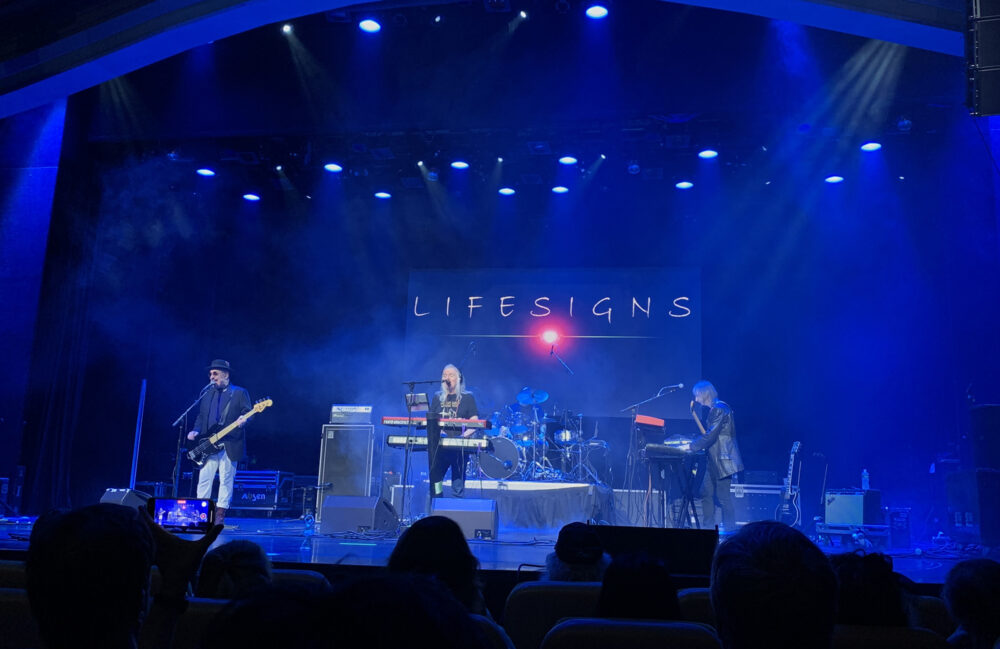 I just missed Saga on the pool stage but was in the elevator with Michael Sadler on the way down, while the occupants applauded him personally. Jakko Jakszyk deserved a larger crowd than he got in his Theater show, (though Pete Trewavas and other stars were there) and after an hour's delay, The Flower Kings proceeded to give the last non-passenger show of the cruise to rapturous applause. 'Run no more' said MC Jon Kirkman, who assured the crowd that 'We are definitely coming back next year.' TFK played a broad selection of material spanning their history all the way back to 'Flower Power.' Including several epics. While Hasse Froberg was in particularly fine voice for this late gig, Stolt's voice was, in his own words only 'half-back' but more than adequate when he chose to sing. After TFK, the folks at Late Night Live assiduously took it home, playing long into the night.
And so it ended. This cruise was so jam-packed (despite the absence of Yes) that it all went very quickly, and before you knew it, it was over. My apologies to those acts that I did not get to see, but if you have ever been on Cruise to the Edge, you will know that it is simply impossible to see everyone and everything. The reports that I received about the acts that I missed, were consistently good.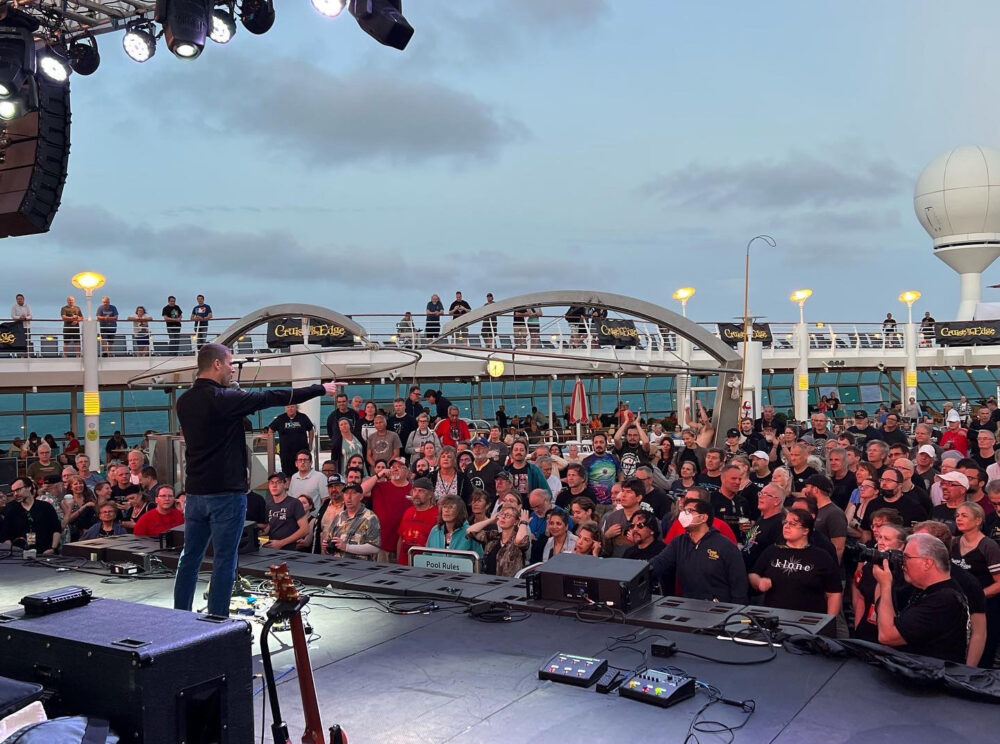 From tiny piano bars to huge outdoor stages, cape costume contests to impromptu corridor performances, karaoke to Q &A, it all happened on Cruise to the Edge, led by the hosting team of Jon Kirkman, Roie Avin, Gregg Bendian, Mike Dawson, Rob Rutz, and Izzy Presley, who expertly guided all the festivities in their own unique ways. Meanwhile the hard-working crew made sure things ran as smooth as possible from lighting to sound and everything in between. Single passengers and large traveling groups alike were well taken care of and everyone I spoke to felt impressed and, above all, welcomed – even by the ever-vigilant concert security staff. The sense of musical family that only Cruise to the Edge can create, was in abundance in all corners of the Mariner of the Seas. A Panoply of Prog, the cruise is always an adventure, even for one who has been fortunate enough to have attended it several times. Music is important, and this very significant event reminds us why.
Exhausted but satiated as I write this, my thoughts as a Prog fan and lover of true friendship is this: music is the bond, and the event we so dearly love is back with a vengeance. Until the next time, my friends.