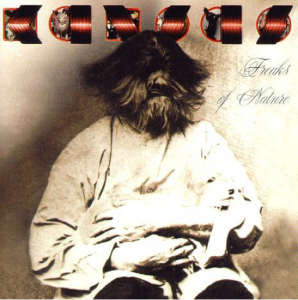 #2 Freaks Of Nature, 1995
The story of Kansas after the 70's could be told as a cycle of reinvigoration with the arrival of new members followed by either comfortable confidence or stagnation, followed again by a change of line-up. As with Vinyl Confessions and Power, Freaks Of Nature feels more energetic and 'chin-up' than its predecessor, this time due to the contributions of violinist/vocalist/writer David Ragsdale and longtime-sideman-turned-full-member Greg Roberts on keys. Jeff Glyxman returns as producer, bringing a 'lean and clean' sound of the kind that Kevin Shirley and Rick Rubin were enforcing for other older bands looking to carve out a place in the 90's musical landscape.
Thus, Freaks Of Nature sounds more 'live' than any other studio album in Kansas' catalogue. Drums, bass, guitar, and violin are forward in the mix, while keys and vocals are generally a little further back. Indeed, Ragsdale's violin becomes the focal point for every song, taking the spotlight more frequently than Steinhardt's ever had. Ragsdale is clearly the star attraction here, pulling together the folkier/acoustic moment of "Peaceful And Warm," the classical interlude on "I Can Fly," and the proggier title track. Rich Williams also steps up as primary guitarist for the first time on a Kansas album, providing muscular electric rhythm work and tasteful solos, as on "Black Fathom 4," which recalls the heavier rock of "Child Of Innocence" or "Mysteries And Mayhem" from Masque. Ehart and Greer are also more prominent than in the past; "Desperate Times" even features drum and bass solos, a rarity for Kansas' studio albums.
Unfortunately, the band's stellar performances don't quite manage to counterbalance the weakening of Steve Walsh's voice. Not quite yet shot, it's halfway there on this album, and the band seems to know it–the arrangements ask less of him, and the mix frequently drops him back in favour bass or violin, sometimes even to the point of obscuring the vocals. Two decades of touring were clearly taking their toll by this point. Nonetheless, Freaks Of Nature is an upbeat and fun rock record, and its place in any ranking finally comes down to the question of which element counts for more: Ragsdale's nimble fiddlin', or Walsh's deteriorating vocals and songwriting?
Essential Kansas: "Black Fathom 4," "Freaks Of Nature," "Peaceful And Warm"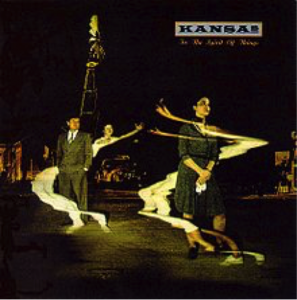 #1 In The Spirit Of Things, 1988
Two years later, the Steve Morse version of Kansas returned with an album that sounds even more like it's trying to be a hit 80's rock record. Bob Ezrin was brought in to produce and partially co-write In The Spirit Of Things, while nearly half songs on the album were written completely outside the band. Some songs also feature outside programming for drums, keys, and synclavier. You could listen without looking at the credits and pick out which songs were written as generic soft-rock 'hits' and then pitched to Kansas.
Yet, the good here outweighs the bad, and In The Spirit Of Things succeeds in spite of itself. Ezrin's production gives a leg up to this (rather loose) concept album about the destruction of a small Kansas town, a victim of the 1951 floods. The arrangements are more varied than on Power, and Walsh's vocals sound every bit as strong here–maybe better, even–as they did on Leftoverture. "House On Fire" features the fun-rockin' side of the band, with lots of energetic organ and those Morse arpeggios. The band's early rhythm & blues influence bleeds through on "The Preacher," while "Rainmaker" and "Bells Of Saint James" are the proggiest songs Kansas had done since "No One Together," qualifying as epics, if not in length than certainly in in their complex arrangements, the 70's-influenced interplay of keys/organ/guitar, and their soaring emotional arcs. Indeed, "Inside Of Me" may be the quintessential Kansas song, which apart from its 80's production would fit in nicely on Masque or Point Of Know Return. MCA's egregious failure to release this as a single demonstrates just how little the label cared about Kansas by this point.
Even with the crass commercialism of the outside songs (which are really perfectly decent songs in their own right), In The Spirit Of Things features Kansas' best songwriting without Livgren, and the band sounds more focused and confident here than on any other album of the 80's (yes, including the ones with Livgren). It more than deserves a re-evaluation from fans of Kansas and 80's prog.
Essential Kansas: "Inside Of Me," "Rainmaker," "Bells Of Saint James"