by Jordan Blum
Photos: Joel Barrios – Norrsken Photography
For over half a decade, ProgStock has been one of the United States' premier progressive rock festivals. Founded in 2017 by Ann Rinaldi and Tom Palmieri—who maintain it with help from countless volunteer staff—the three-day gathering at the Union County Performing Arts Center in Rahway, NJ invites hundreds of genre fans to watch and mingle with a handful of their favorite artists. (Of course, there's also ample time for purchasing awesome merchandise, chatting with other industry professionals, and hanging out with friends at numerous delightful restaurants, cafes, breweries, and the like.)
This year was no exception, as Rinaldi and Palmieri packed the Friday – Sunday (October 7th – 9th) schedule with some of the best acts they've ever featured. Granted, a series of delays—some more extensive than others—forced a few acts to begin far later than they were supposed to, but that hardly seemed to matter once the music got going. Thus, ProgStock 2022 was an overwhelming success that, especially in a quasi-post-pandemic world, demonstrated why the yearly event is so remarkable and rewarding.
Friday evening opened with a returning favorite act: Melanie Mau and Martin Schnella (with Simon Schröder on drums). Always endearingly humble and honest, their lengthy set saw Schnella singing and playing acoustic guitar alongside co-vocalist/songwriter Mau while Schröder provided skillful yet reserved percussion. Original tracks such as "Close to the Heart," "The Sorcerer," and "The Spiral at the Old Bridge" certainly impressed with their intricate fingerpicking, angelic harmonies, and /or inventive syncopation.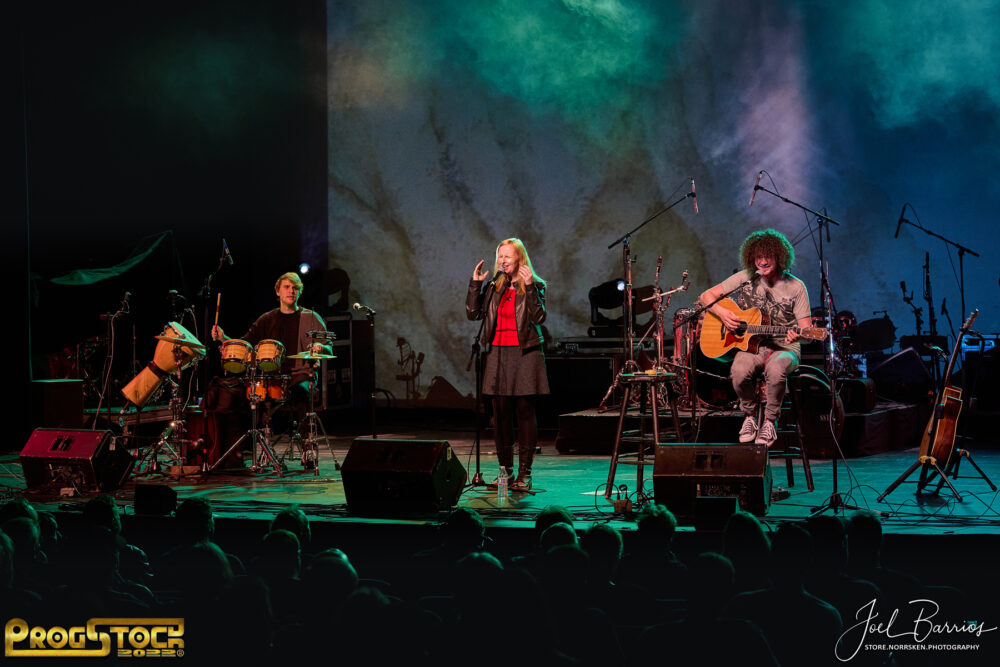 That said, their characteristic takes on Genesis' "Dancing with the Moonlit Knight," Peter Gabriel's "In Your Eyes," Kate Bush's "Running Up that Hill," and Kansas' "Miracles out of Nowhere" were arguably even more enthralling due to their fusion of authenticity and innovation. It's clear that the band are as adept at covering other people's work as they are penning their own gems. As a final treat, Pattern-Seeking Animals percussionist Jimmy Keagan made a surprise appearance for an amusing drum-off with Schröder during Iron Maiden's "Wasted Years." It was a great way to end their performance and start the celebration.
Next was The Zappa Band, which is undoubtedly the best Frank Zappa tribute act around (due in part to it containing several former members—Ray White, Robert Martin, Scott Thunes, and Mike Keneally—alongside Zappa Plays Zappa alumni Jamie Kime and Joe "Vaultmeister" Travers). In addition to upholding the lively banter Zappa was known for (such as when Thunes mocked himself for breaking a string), they did impeccable but refreshing renditions of roughly a dozen classics ("I'm the Slime," "Village of the Sun/ Echidna's Arf (Of You)," "Andy," "King Kong," "Cheepnis," "Peaches en Regalia," and "Florentine Pogen," to name a few). It was extremely fun and gratifying, particularly when another beloved ProgStock regular—the multitalented Rachel Flowers—came out for an prolonged keyboard jam during "Montana."
Closing out the night (around midnight) was Total Mass Retain, a renowned Yes tribute quintet that absolutely did their inspirations proud. For instance, they launched with a nearly perfect rendition of side-long epic "Close to the Edge." Frontman Terry Dey captured Jon Anderson's timbre incredibly well, with most of the other members providing backing harmonies. Happily, they did equal justice to the feistier "The Gates of Delirium," as well as some briefer inclusions: "Heart of the Sunrise," "Roundabout," "Madrigal," and "And You and I." The latter tune was dedicated to late Yes drummer Alan White, as well as everyone who's suffered during the pandemic, which was quite touching.
Singer/songwriter/guitarist Matt Dorsey (Sound of Contact, In Continuum) kicked off Saturday afternoon with a modest batch of originals (most titles unknown). Although he wasn't on stage for very long, he nonetheless showcased solid songwriting skills and a resourceful means of supporting his voice and guitar with plenty of prerecorded accompaniment. He also traversed a diverse range of styles (psychedelic rock, grunge, acoustic, hard rock, etc.) and ended with a novel spin on Peter Gabriel's seminal "Solsbury Hill."
Ten minutes later, progressive metal fivesome District 97 took over with a wide-ranging run-through of their catalog. Among their picks were "Forest Fire," "Many New Things," "A Lottery," "Crossover," "Deck is Stacked," "Stay for the Ending," "Mirror," and "Play with Me." Admittedly, their onslaught of shrill aggression made several songs blur together (so there could've been more stylistic variety in the selections), but their musicianship and dedication was undeniable. That's particularly true for vocalist Leslie Hunt, as her energetic and humble presence clearly did a lot to keep the crowd engaged, and the instrumentalists had stellar interaction from beginning to end.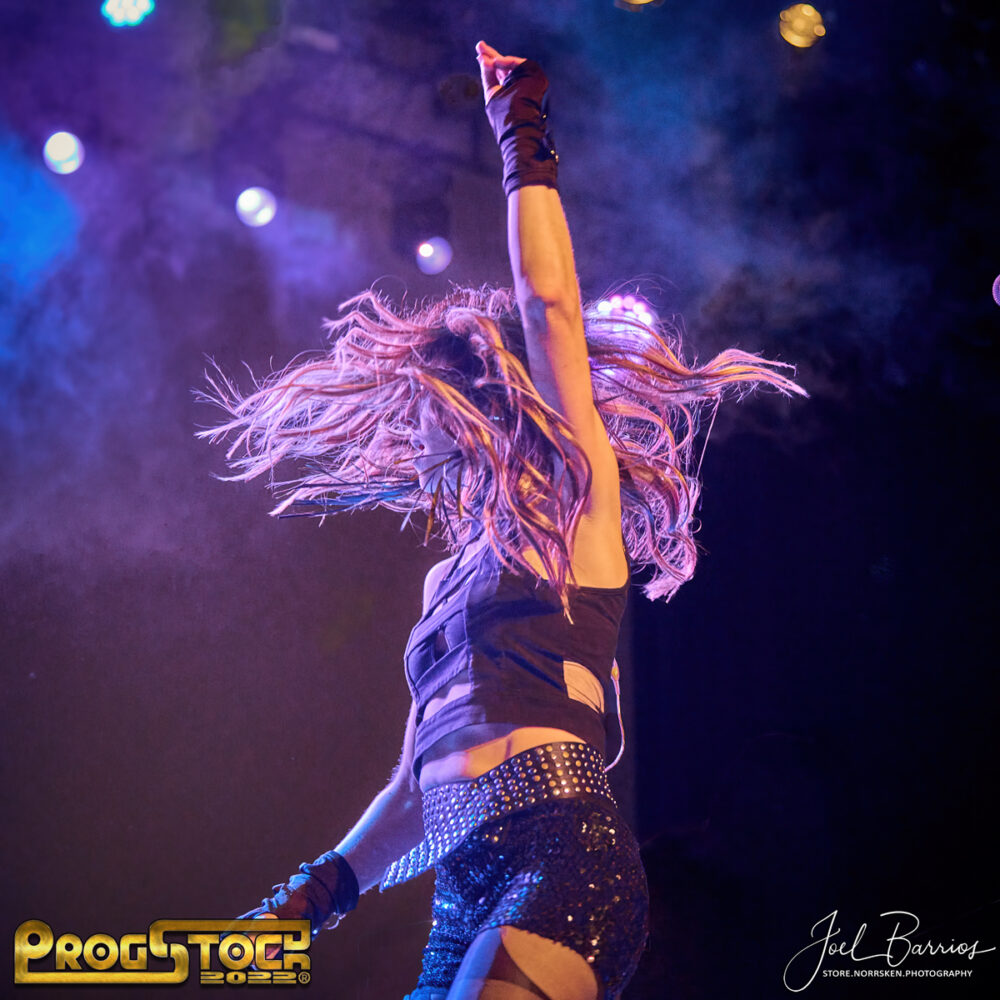 Following an approximately two-hour break, British symphonic rockers IO Earth were preceded by a quick stint from guitarist Dave Cureton (with help from keyboardist/guitarist Adam Gough, bassist William Kopecky, and drummer Tim Wilson). They queued up a few official music videos as they replicated the corresponding material (all of which were similarly abrasive prog metal instrumentals). Kudos for their abilities and tenacity, but it ultimately amounted to little more than virtuosic flashiness.
Once the full band arrived, however, IO Earth put on a superb 90-minute experience. In particular, returning vocalist Linda Odinsen (who was replaced by Rosanna Lefevre around 2016) was expectedly met with robust applause, and she did a great job bringing top-notch tracks such as "Solitude," "Harmonix," and newcomer "The Child" to life. Naturally, they used an expansive array of live and prerecorded timbres along the way (including saxophone, flutes, digital percussion, and sitars), and their projections of woods, angels, and various cosmic visuals enhanced their theatricality.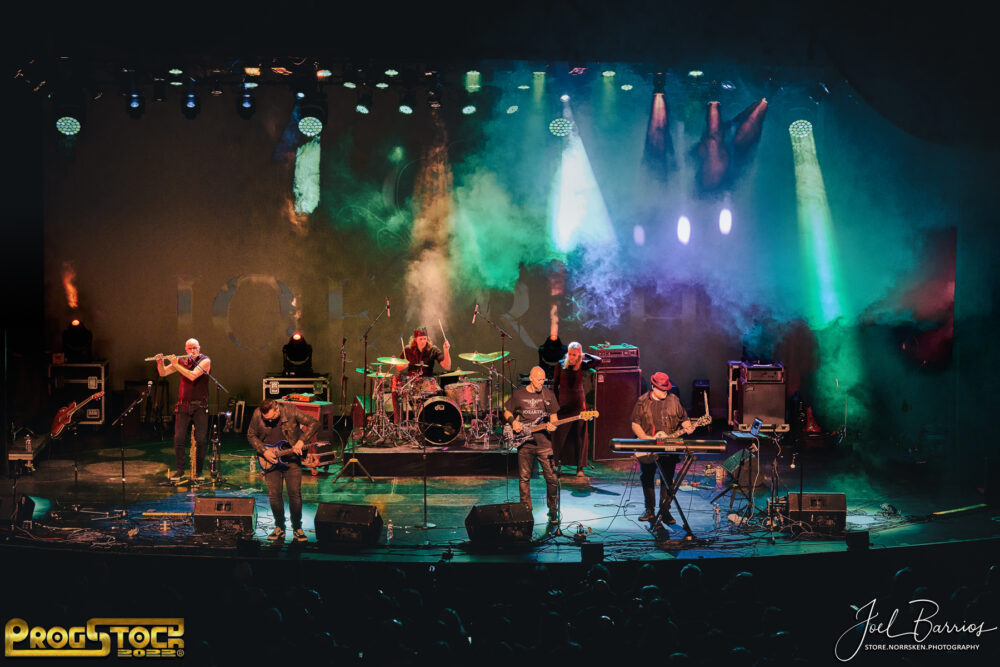 That evening, Reuter Motzer Grohowski—touch guitarist Markus Reuter, drummer Kenny Grohowski, and guitarist Tim Motzer—faced a faux brick backdrop as they dished out some avant-garde jazz rock creations. Complemented by weird sound effects, their abstract instrumentals surely pleased attendees with the patience for and interest in immensely experimental sound collages.
Afterward, Reuter joined Pat Mastelotto (percussion) and Tony Levin (bass/Chapman stick) as Stick Men. Alongside other crowd-pleasers, they pulled out a few originals ("Prog Noir," "Cusp," "Tentacles," "Ringtone," and "Schattenhaft") and, unsurprisingly, King Crimson's "Red." It was certainly more overtly accessible than RMG, and fans of their style likely found their performance worth the late-night price of admission.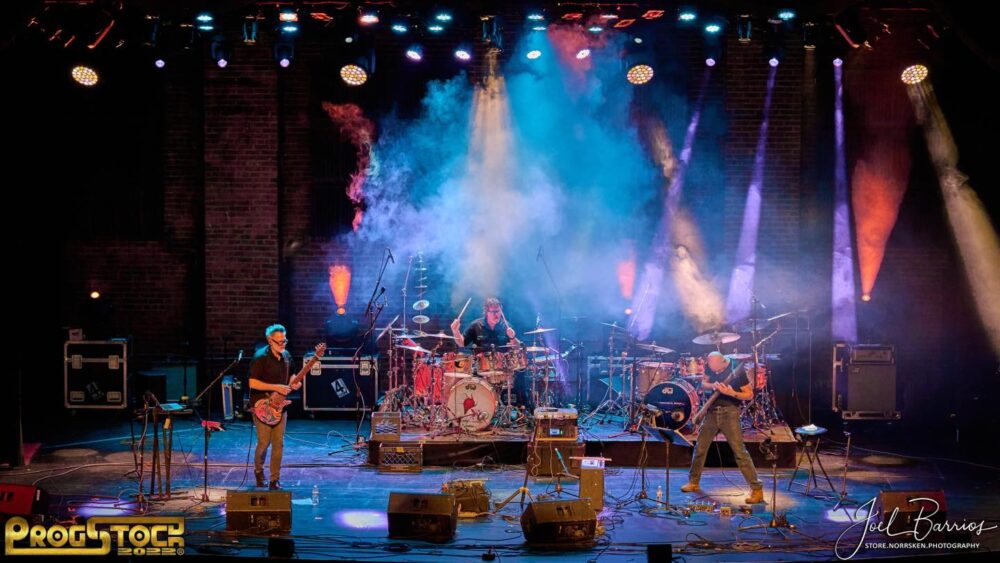 Sunday began with the boisterous Orpheus Nine, a New Jersey neo-prog quartet led by charmingly self-effacing keyboardist/singer Jason Kresge. He kept joking that their music was "weird," and it was, but in the best possible way (texturally and narratively colorful). Specifically, their lengthy excerpt from "Transcendental Circus" showcased a lot of inventive transitions and timbres, evoking greats such as Camel and The Tangent along the way. There were some quieter bits of earnest songwriting, too, and they played a startling amount of WIP cuts from their upcoming record. All in all, they were easily among the most enjoyable and thankful acts of the festival.
The next show began in the early evening and consisted of keyboardist/vocalist Dave Kerzner, guitarist Fernando Perdomo, Matt Dorsey, and violinist Joe Deninzon. They played some tracks from Kerzner's solo work, such as "Into the Sun," alongside Sound of Contact's lovely "Not Coming Down." Unquestionably, Perdomo's humorously animated guitar playing was the highlight here, although everyone sounded great. Best of all, they provided an enticing warm-up for what's surely the benchmark of the whole weekend: Rachel Flowers' All-Star Band.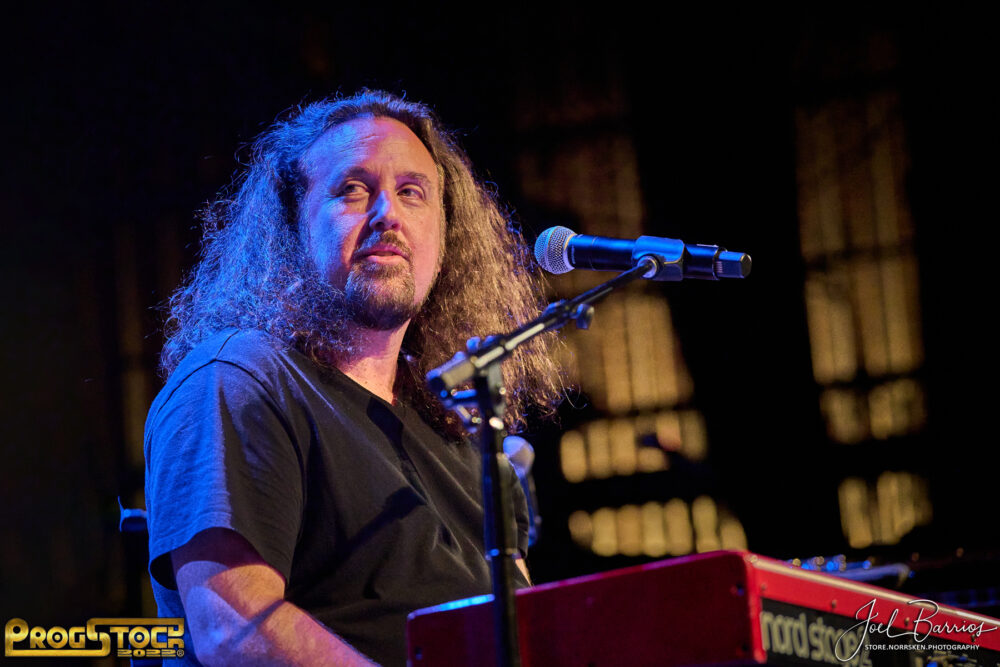 Honestly, Flowers and company were so spectacular that they compensated for, if not entirely justified, the roughly 90-minute delay in starting their set. Backed by a tremendous group of singers and musicians (including guitarist Keneally, Perdomo, Deninzon, guitarist Jane Getter, keyboardist Neil Alexander, and vocalist Ariel Farber), they managed exhilarating versions of original compositions "Greg's Favorite," "A B" (Adrian Belew), and "The Darkness." Most impressively, they also did a hybrid of King Crimson's "Epitaph" and ELP's "Tarkus" (in its entirety). Even Keith Emerson's jaw would've been on the floor by the end.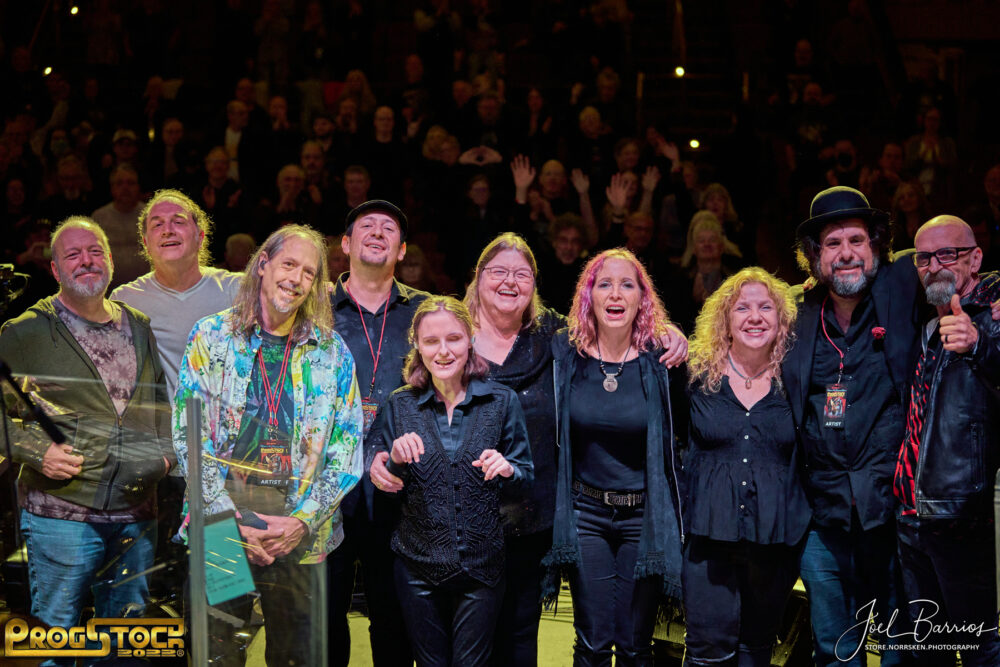 Sunday night saw Adam Holzman & Brave New World—featuring Getter, saxophonist Ofer Assaf, drummer Gene Lake, and bassist Fred Cash, Jr.—run through several of the famed keyboardists treasured tracks. Some personal favorites were the warm and funky "Good Luck with Your Music," the domineeringly synthy "Morphine Lollipop," and the delightfully manic "Mad Cow Disease." Even so, the biggest surprises came at the end, when they played two great Miles Davis tunes ("Maze" and "TuTu") and an instrumental variation of Steven Wilson's classic "Abandoner."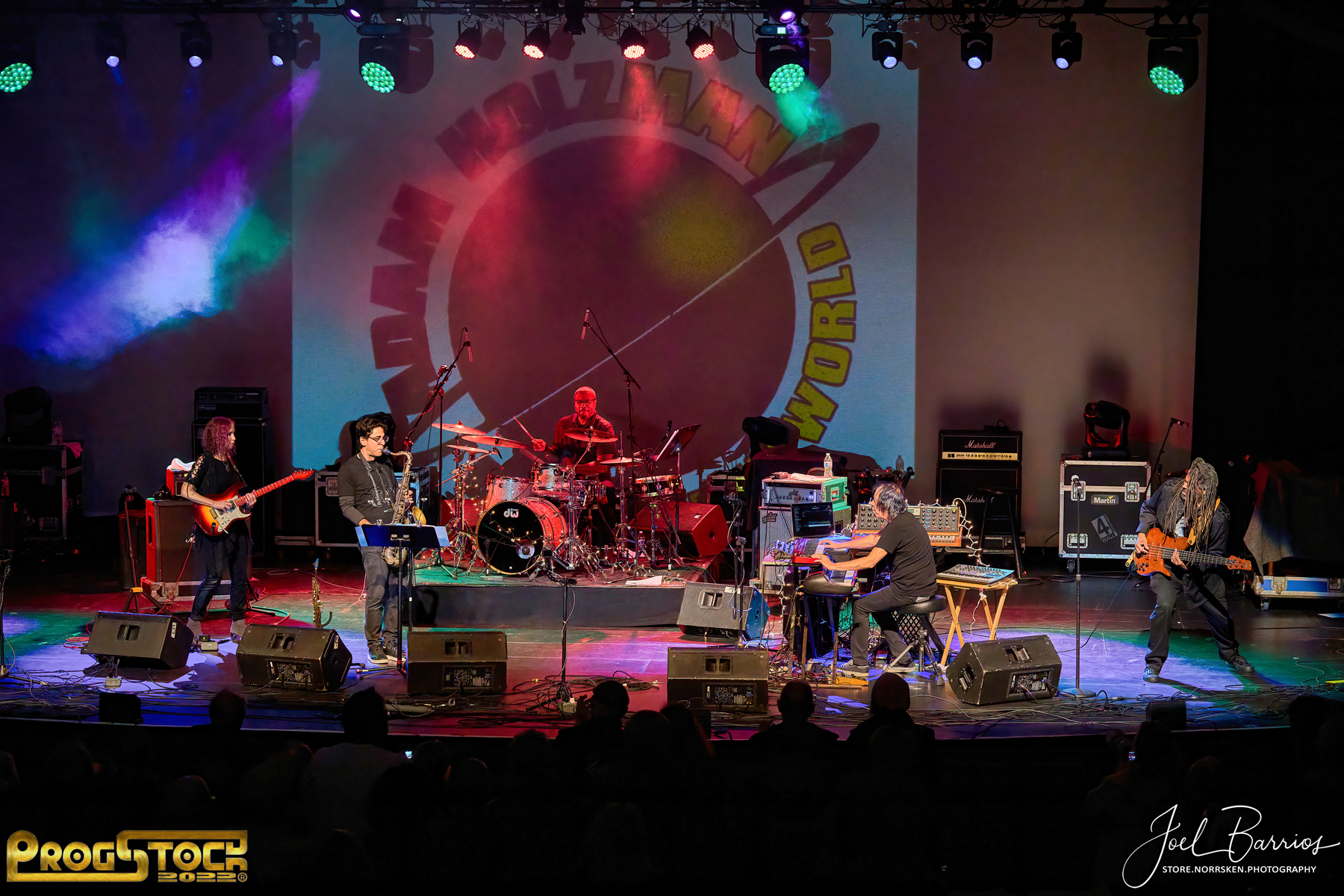 Regrettably, the final two performances (Evership and Pattern-Seeking Animals) began about three hours after they were supposed to—around midnight—so I was unable to catch more than a couple of the former artist's picks ("The Law of Ages" and "The Tower"). Both sounded really good, though, and there's little doubt that the rest of their stretch, as well as all of PSA's, warranted whatever lack of sleep awaited those who stuck around.
Of course, there were other worthwhile activities to partake in beyond the concerts. For instance, there were meet and greets with every act, pumpkin sculpting by Deane Arnold, outdoor music jams with Robeone, morning stretches with Moogstress, and album listening parties for Dave Kerzner's The Traveler and Evership's upcoming The Uncrowned King – Act II. Plus, vintage prog rock graphic artist Paul Whitehead (Genesis, Van der Graaf Generator, Le Orme) was around to sell t-shirts, tell stories, and paint more works of art as bands were on stage.
As with all monumental music festivals, putting on ProgStock every year is nothing less than a Herculean task (with ample moving parts and room for mishaps). Thus, the previously mentioned delays are at least somewhat forgivable, particularly since they always led to captivating performances. Outside of those setbacks, ProgStock 2022 lived up to expectations and then some, offering concertgoers more than enough wonderful music, food, drinks, merchandise, and networking/socializing opportunities.
It may've been exhausting and unreliable at times, but it was almost always awesome.
Rachel Flowers – "Tarkus":

The Zappa Band – "King Kong/Cheepnis":

Simon Schroeder (Melanie Mau & Martin Schnella) and Jimmy Keegan- dueling drums: