Pralaya are a Hard Rock/Prog band based in NY.  The group currently have their debut album out called 'Matter of Time'.  The group began with original members Rick (guitars), Jon (Bass), and Greg (Drums) who had been jamming together laying the musical foundation for what would be the current band. Having gone through a number of auditions, there were a few potential possibilities with singers who worked with the band for a bit, but all in all nothing stuck until they finally connected with Alex. The chemistry with the rest of the band was immediate and apparent, not just in the traditional role of a singer but as an overall musician which furthered and strengthened the writing ability and the music quality. Now with the lineup being complete, they proceeded into the studio to record our debut album "Matter of Time."
Pralaya draw from a lot of influences as everyone in the band listens to a wide variety of music spanning both multiple bands and genres.  This has greatly contributed and molded not only how they instinctively write as well as influencing their overall sound. Bands such as Deftones, Tool, A Perfect Circle, Porcupine Tree, Led Zeppelin, Karnivool, the Mars Votla, Muse, U2, Incubus, NIN or anything really one would considered to be in the Rock/Prog/Alternative/Art Rock realm are all part of this band.  Currently the band are immersed in writing a new record.  They have nearly 8 songs completed with several more that they are still experimenting with and finalizing.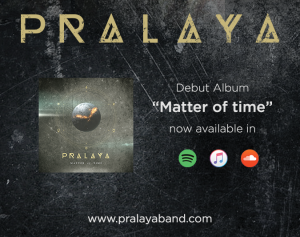 The band will be looking towards additional select shows and opportunities for later this year throughout the U.S.  The next show we have coming up will be Mid-Summer at Mexicali Live with Thank You Scientist.
'Matter of Time' album is available for purchase, free download on www.PralayaBand.com, or stream on all major music platforms and outlets.