Steven Wilson's album The Future Bites is set to be released on Jan 29th, 2021.  Just before the end of 2020, we had a chance to have Steven on the podcast for a special episode, the Top 5 Audiophile Albums. On the episode we talk about his latest album The Future Bites, and a lot more, including covering some of his previous albums, which might have made the list.
For the full audio click the podcast link or download the podcast on
iTunes · Google· Stitcher · PodBean • Spotify
Subscribe to the podcast to automatically receive future podcast episodes.
Subscribe to our YouTube channel
Steven Wilson recently announced dates for THE FUTURE BITES tour for 2021. The initial tour was cancelled due to Covid like many tours around the world. You can see the dates below.  You can see the trailer for the tour here:
Wilson has also released a B-Sides EP for The Future Bites which is available digitally now.  It features a cover of the Lonely Robot track "In Floral Green".
1. EYEWITNESS
2. IN FLORAL GREEN (Lonely RobotCover)
3. MOVE LIKE A FEVER
4. KING GHOST (TANGERINE DREAM Remix)
THE FUTURE BITES TOUR 2021
Tickets on sale 11th December. Sign up for pre-sale access to the UK dates at https://store.thefuturebites.com
September 2021
Wed 8th Cardiff, St Davids Hall
Thu 9th Sheffield, City Hall
Sat 11th Manchester, 02 Apollo
Sun 12th Glasgow, Concert Hall
Mon 13th Birmingham, Symphony Hall
Wed 15th Portsmouth, Guildhall
Thu 16th London, Hammersmith, Eventim Apollo
Fri 17th Nottingham, Royal Concert Hall
Mon 20th Germany, Hamburg, Sporthalle
Tue 21st Netherlands, Amsterdam, Afas
Thu 23rd Luxembourg, Luxembourg, Rockhal Main Room
Fri 24th Germany, Frankfurt, Jahrunderthalle
Sat 25th France, Strasbourg, Palais de la Musique et des Congrès
Mon 27th France, Toulouse, Theatre Du Casino Barriere
Tue 28th France, Bordeaux, Theatre Fémina
Thu 30th France, Paris, Zenith
October 2021
Fri 1st France, Nantes , Cote Des Congress
Sat 2nd France, Lyon, Ampi Theatre
Mon 4th Italy, Milan, Teatro Degli Arcimboldi
Tue 5th Italy, Florence, Tuscany Hall
Wed 6th Italy, Rome, Auditorium Conciliazione
Fri 8th France, Aix en Provence, Le 6Mic
Sun 10th Spain, Madrid, La Riviera
Mon 11th Spain, Barcelona, Razzmatazz 1
Thu 14th Germany, Berlin, Tempodrome
Sat 16th Belgium, Brussels, AB
Mon 18th Germany, Bochum, Congresshalle
Tue 19th Switzerland, Zurich, Volkshaus
Wed 20th Germany, Munich, Zenith
Thu 21st Germany, Ludwigsburg, MHP Arena
For updates, please see stevenwilsonhq.com/sw/tour-dates.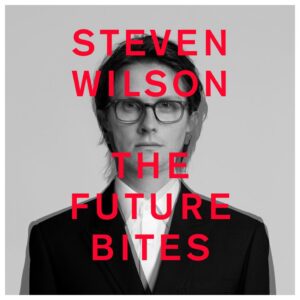 Steven Wilson: The Future Bites
1. Unself
2. Self
3. King Ghost
4. 12 Things I Forgot
5. Eminent Sleaze
6. Personal Shopper
7. Man Of The People
8. Follower
9. Anyone But Me
Order here: https://store.thefuturebites.com/