In 2019, PATTERN-SEEKING ANIMALS, the California-based band featuring Ted Leonard (lead vocals & guitars), Jimmy Keegan (drums & vocals), Dave Meros (bass) and John Boegehold (keyboards), presented its much-lauded eponymous debut. Just a year later, the group announces May 15th, 2020 as the release date for its newest opus, "Prehensile Tales", which expands the stylistic niche carved out by the debut and adds additional twists and turns along the way.
As a first track from the forthcoming new album, PATTERN-SEEKING ANIMALS now reveal "Here In My Autumn", John Boegehold comments:
"The tale of a man clinging to a chapter in his life that's become impossible to return to yet impossible to forget. Of course that describes much of life itself, doesn't it?"
Listen to "Here In My Autumn" here:
For the six songs on the album (the longest clocking in at over 17 minutes), the band introduced violin, flute, trumpet, cello, sax and pedal steel to the sound palette that was once again recorded & mixed by Rich Mouser at The Mouse House.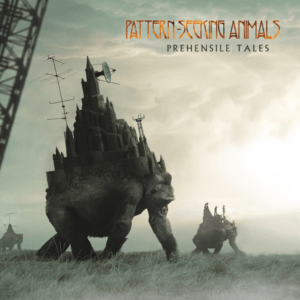 The track-listing reads as follows:
1. Raining Hard In Heaven
2. Here In My Autumn
3. Elegant Vampires
4. Why Don't We Run
5. Lifeboat
6. Soon But Not Today
To pre-order, stream, download "Prehensile Tales", just click https://patternseekinganimals.lnk.to/PrehensileTalesID