by Prog Nick
Named after a quote about human behavior from science historian Michael Shermer, Pattern-Seeking Animals (P-SA) are main songwriter John Boegehold on keyboards and production, Ted Leonard on lead vocals and guitar, one of Prog's finest bassists in Dave Meros, and the energetic and talented Jimmy Keegan on drums. With a line-up consequently as enticing as any in the crossed-over worlds of Prog and pop, P-SA have, since their inception in 2019, quietly but confidently developed into a force to be reckoned with. While the debut album only hinted at the greater things to come, 2020's sophomore album Prehensile Tales was massively well-received and it boldly entrenched P-SA as a potential Prog behemoth. P-SA immediately became a sought-after and coveted act, and the band is now set to have its most important year in 2022, with both a new album release and a debut live performance scheduled for April.
P-SA's third album Only Passing Through released on April 1st, is a production of Jurassic proportions. It would have to be, in order to surpass the excellence of Prehensile Tales. Offering eight songs (and two bonus tracks) that are as varied as they are pleasing, Only Passing Through is a work that delivers fulfillment in a wide range of moods and from a broad range of perspectives. In particular, the album presents, at Boegehold's behest, the continued use of highly varied instrumentation (including strings, brass, charango, ronrocco, ukulele and, of all things, vihuela.) The record also emphatically highlights Leonard's increasing influence as a respected lead guitarist. Naturally, the rhythm section of Meros and Keegan provide more than suitable power and dynamics, and the production is predictably excellent, under the auspices of uber-engineer Rich Mouser (who is by now the premier engineer and producer in American Progressive Rock.) All in all, the album presents a prospect that is as mouth-watering as a rare but well-seasoned steak to a carnivore.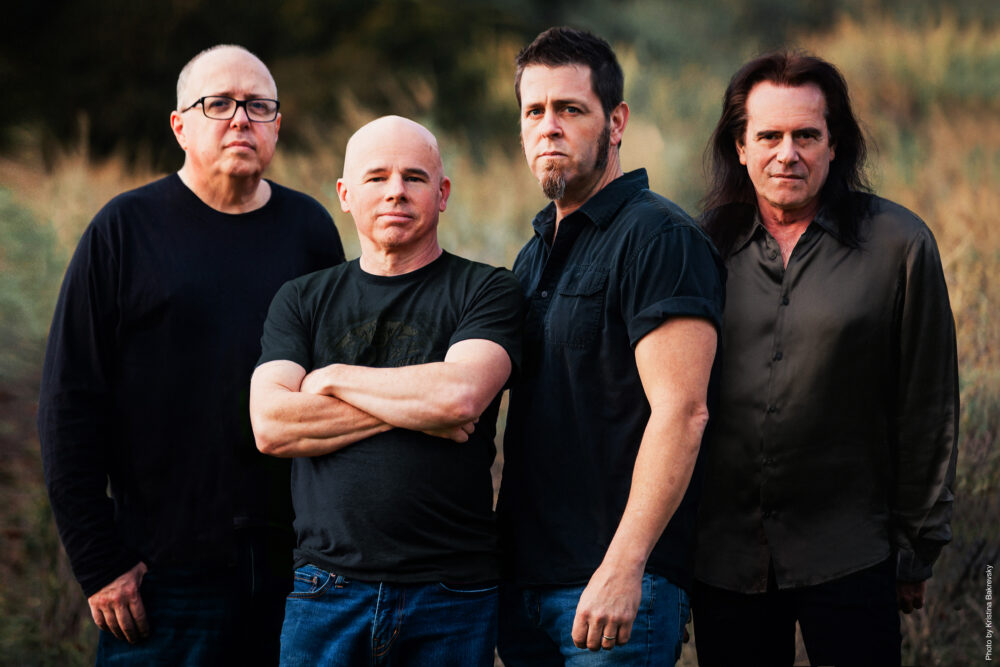 The name of opening track "Everdark Mountain," says it all, and the song makes an immediate statement that P-SA are back with clear intent. Prog chops in 7/8 timing are used innovatively in this guitar and mandolin-based foray, and the lyrics are suitably mythical. At times, it has to be said, Leonard's harmonized guitar sounds a little like Alan Morse's – a comment that is meant as the highest praise. 'My manifesto fooled the world' intones Leonard in a description of a fabled emperor, and the mood is well set.
"I Can't Stay Here Any More," the first single, has a quirky intro and proceeds to build and take flight from there, with Keegan providing drum fills that attack like the claws of a hungry pterodactyl. He really is one of the most incisive drummers in Prog, and he drives this track with typical passion. With a big sing-along chorus, Boegehold's stated intention behind this song was to provide 'scene-changes', and this is certainly achieved, with the band delivering variation in spades.
Third song "Time Has a Way" is one of my favorite tracks of the year thus far, featuring a brilliant Boegehold keyboard riff, a Flamenco violin section and more instruments than you can throw a hunting spear at. Clocking in at over 13 minutes, the song also contains several scintillating keyboard parts that show that Boegehold is not to be underestimated as a performer. It has a very progressive leaning, featuring myriad odd time signatures, diverse moods and a brontosaurus-like Meros bass-line. (What would a P-SA album be without at least one song showing off the granite bedrock that is Dave Meros?) The track reassuringly shows that P-SA have no intention of abandoning their Prog responsibilities. Obviously a highly demanding performance, it will be interesting to see how the band delivers this one live. A Prog feast.
Second single "Rock Paper Scissors" is a command performance from singer Ted Leonard. His lofty vocals leave little doubt that he is by now one of the most pre-eminent lead vocalists in the game. This ballad is a beautiful eulogy to lost childhood, and only Ted Leonard could deliver this a weighty message with such particular vocal sensitivity.
"Much Ado" is a rocker that contains the lyric 'A melody that goes nowhere…' Far from it – this track's melody is one of the most compelling and powerful that you have heard this year, built around Leonard's brilliant higher range. Leonard also provides a potent and interesting lead solo that could not have been easy to deliver, before the echo of the refrain 'nothing' ends the song. A high point on the album, 'Much Ado' can only be described as the Ted Leonard Show.
The title track is an expressive vignette that exhibits a particularly plaintive melody line. The opening chords are reminiscent of Tears for Fears' 'Advice for the Young at Heart', but thereafter the song takes a different, more symphonic, direction. A speculation on the nature of life, it is a deeply philosophical commentary with a lyric that is a homily about our temporary sojourn on Earth, and the experience of watching the cinematic production that is life. Whilst its melody is not the most memorable on the album, and the backing vocals are at times a little pompous, these are small imperfections in an otherwise excellent song.
If you ever wondered what Spaghetti Western Cinema would sound like in the world of 2022 Prog, lend your ear to "Said the Stranger," which is a song that showcases Boegehold's experience as a successful film-score composer. It is all quite dramatic while not losing its humor in an Indiana Jones sort of way, and it certainly is very interesting. Beginning with a twanging cowboy guitar riff, the song soon climbs the slopes of Mount Prog, but somehow still invokes images of bad guys astride horses pointing rifles at each-other with storm clouds gathering in the distance. Classic.
"Here With You with Me" contains more laid-back, jazzy stylings, based partly on Boegehold's obvious admiration for Steely Dan and even some big band chord progressions, until Leonard's vocals and the band's harmonies again remind us who they are. As strident as a herd of theropods on the range, the vocals in this song will echo in your ears long after the track has ended.
There are two bonus tracks on the album. The first, "I'm Not Alright" is a hard-rockin, heartbroken lament of fractured communication in relationships while "Just Another Day at the Beach" is a light-hearted visit to the land of Jellyfish, a band that is known to be one of Leonard's influences. Far from being filler material, these bonus tracks are as good as anything else on the album. In fact "I'm Not Alright" could be described as the melodic T-Rex of the album. It alone is worth the price of admission to the musical theme park that is P-SA's third record.
Largely written by Boegehold, with Leonard contributing two songs, the album is compositionally very strong. Lyrically, it straddles various topics from the worldly to the philosophical and, of course, the cinematic. Listeners will be impressed and moved. There are moments on the album (such as the cowboy guitar parts on "Said the Stranger" and the backing vocals on the title track) that might make you sit up and wonder what the intent was behind them, but after a few listens, these moments will make absolute sense to you. There are many detours, diversions and contrasting musical directions, but the album still holds together nicely when listened to as a composite whole, due in large part to the top-drawer performances that each of these veterans consistently delivers.
Pattern-Seeking Animals provide an identifiable cross-over between pop and prog, and with Only Passing Through they masterfully solidify their niche in this space. P-SA may have started as a recording side-project, but the band has now evolved into a fully-fledged Prog adventure with a unique name, a clear identity and a rightful place at the top of the Prog food-chain. With a great third album under its belt and live gigs to come, P-SA is certainly not just passing through – on the contrary, it looks very definitely as if this band is here to stay, making its mark in the evolution of 2022 Prog.
Released on April 1st, 2022 on InsideOutMusic
Track List:
1. Everdark Mountain (2:50)
2. I Can't Stay Here Any More (6:05)
3. Time Has a Way (13:15)
4. Rock Paper Scissors (5:01)
5. Much Ado (4:49)
6. Only Passing Through (4:19)
7. Said the Stranger (7:08)
8. Here with You with Me (8:07)
Bonus Tracks:
9. I'm Not Alright (4:18)
10. Just Another Day at the Beach (3:33)
Pre-order here: https://patternseekinganimals.lnk.to/OnlyPassingThrough