The New Release Spotlight is a roundup of new and recently released albums.
---
Gazpacho – Fireworking at St. Croix (Mar. 11th, 2022)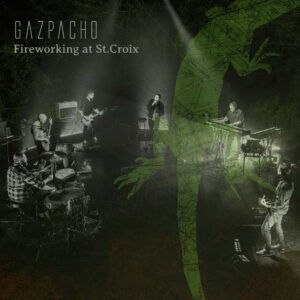 Another casualty among many was the tour for Gazpacho's 2020 'Fireworker' album. Rather than scrap the whole show, the group recorded a livestream performance of the set and have released it as 'Fireworking at St. Croix'. The resulting film is a very moody trip into the world of 'The Fireworker', captured on October 25th, 2020. The performances here are earnest, without any extra polish or fixes and it is brilliant. Mixing tracks from their long career, largely focused on the new album, Gazpacho show what a great live band they are. Fans will definitely enjoy this collection.
Order here: https://kscopemusic.bandcamp.com/album/fireworking-at-st-croix
Tracklisting:
1.Space Cowboy (at St. Croix) 19:31
2.Hourglass (at St. Croix) 04:05
3.Fireworker (at St. Croix) 04:38
4.Antique (at St. Croix) 06:16
5.Sapien (at St. Croix) 15:16
6.Substitute For Murder (at St. Croix) 05:38
7.The Walk Part I (at St. Croix) 07:53
8.The Walk Part II (at St. Croix) 05:35
9.Winter Is Never (at St. Croix) 05:27
Jan Henrik Ohme – vocals
Thomas Alexander Andersen – keyboards
Jon Arne Vilbo – guitars
Mikael Krømer – violin, mandolin
Kristian "Fido" Torp – bass
Lars Erik Asp – drums & percussion
---
Vast Conduit – Always Be There (Feb. 16th, 2022)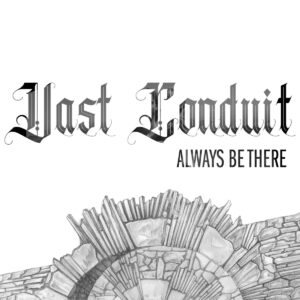 New prog ensemble Vast Conduit have released their debut album 'Always Be There'. The group features keyboardist/vocalist Bill Jenkins, best known for his work with Enchant and Thought Chamber.  There are definitely elements of Enchant in these tracks, from the rocking opener "Barrier" to the ballad single "Always Be There."  While the vocals aren't the strongest element of the album, the group do show off their chops on instrumental tracks like "Soul Tuck" and "Too Busy" which features a killer fretless bass solo. "Philly Etymology" is another strong jazzy instrumental with a great horn section and grand piano performance. The band sound more free on the instrumentals, and it would be cool to hear a full album of songs like these.  This album is a nice surprise and one worth giving a chance too.
Order here: https://vastconduit.bandcamp.com/album/always-be-there
Tracklisting:
1.Barrier 06:22
2.Soul Tuck 05:10
3.Always Be There 05:49
4.Endless Days 06:40
5.Too Busy 05:45
6.Odessa 05:56
7.500 Miles 04:44
8.Philly Etymology 05:39
9.Early Eclipse 06:59
10.Of A Feather 05:01
11.Wesley Save Us 04:31
Bill Jenkins – keys
Will Jenkins – drums
Michael Harris – guitar
Jeff Plant – bass
Friel – vocals
Jim Hurley – violin
---
Tiger Moth Tales – A Song of Spring (Mar. 4th, 2022)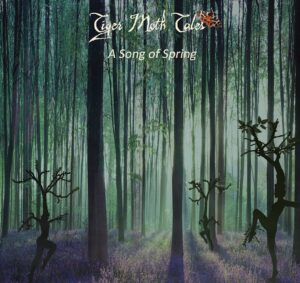 A Song Of Spring is the 7th studio album from Pete Jones prog outfit Tiger Moth Tales, and follows on in the seasonal albums after 2017's 'The Depths Of Winter'. This new offering from the multi-instrumentalist, celebrates the spirit of rebirth and renewal, light and new life. From the opening pop of "Spring Fever" to the total proginess of the 10-minute track "Dance 'Til Death", Jones continues to prove why he is such a talent. Jones' Camel bandmate Andy Latimer joins the final track "Light." But afterwards, stick around for a secret jazzy instrumental that rips.
Order here: https://tigermothtales.bandcamp.com/album/a-song-of-spring
Tracklisting:
1.Spring Fever 06:52
2.Forester 07:51
3.Dance 'Til Death 10:20
4.Holi 02:46
5.The Goddess And The Green Man 02:39
6.Mad March Hare 04:00
7.Rapa Nui 07:34
8.Light 15:25
Pete Jones: vocals, keyboards, saxophone, guitars, drums, percussion, recorders and whistles.
John Holden: keyboards and programming on Holi, and pad on Dance Till Death.
Special guest Andy Latimer – electric guitar on Light