The New Release Spotlight is a roundup of new and recently released albums.
---
Derek Sherinian – Vortex (July 1st, 2022)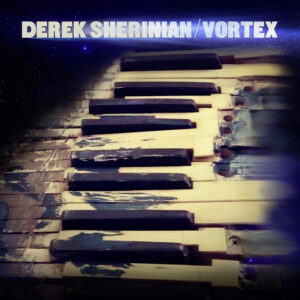 When Derek Sherinian does a solo album, he doesn't just record a few songs. He brings along everyone who is anyone to join in the fun. Following his last release The Phoenix, Sherinian is once again joined by Simon Phillips, who is credited with co-writing and co-producing. The two have a great way of working together and you can hear it in the music. Along with fretless bass wonder Tony Franklin, the core group are joined by one of the most impressive collections of guitarists you might hope to see on an album. Particular standout tracks are "Fire Horse" with amazing fretwork by Nuno Bettencourt, and the 11-minute proggy album closer "Aurora Australis" featuring his Sons of Apollo bandmate Bumblefoot. The track "Scorpion" finds Sherinian and Phillips tapping in to some jazz as Sherinian shows off his piano chops in lieu of adding guitar to the track. Overall, this is a fun record with outstanding playing throughout. It's also worth trying to guess which guitarist is on which song, before you check the credits.
Order here: https://dereksherinian.lnk.to/Vortex
Tracklisting:
1. The Vortex
2. Fire Horse
3. Scorpion
4. Seven Seas
5. Key Lime Blues
6. Die Kobra
7. Nomad's Land
8. Aurora Australis
Lineup
Derek Sherinian / organs, pianos, synths
Simon Phillips / drums
Tony Franklin / bass
With:
Steve Stevens / guitar (1,4)
Nuno Bettencourt /guitar (2)
Joe Bonamassa / guitar (5)
Steve Lukather / guitar (5)
Michael Schenker / guitar (6)
Zakk Wylde / guitar (6)
Mike Stern / guitar (7)
Ron "Bumblefoot" Thal / guitar (8)
---
The Aristocrats – With Primuz Chamber Orchestra (June 3rd, 2022)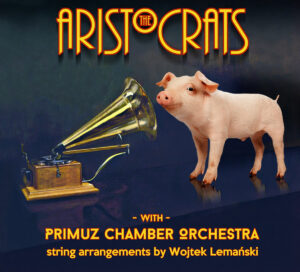 The Aristocrats (guitarist Guthrie Govan, bassist Bryan Beller and drummer Marco Minnemann) take an unexpected orchestral turn on their new collaborative release The Aristocrats With Primuz Chamber Orchestra. As said in a band statement,"This project began when we randomly stumbled upon a YouTube video of Poland's Primuz Chamber Orchestra performing one of our songs, as reimagined by composer/arranger Wojtek Lemański." And the results are rather breathtaking. The group's already elaborate arrangements are elevated to another level with the brilliant orchestration. "The Ballad of Bonnie and Clyde" takes on the feeling of a cinematic masterpiece all on its own, while on "Dance of the Aristocrats" the orchestra allows Govan's incredible guitar work to shine even more, and the closer "Last Orders" sounds as if this is always the way the song was intended, with a more bombastic approach. While initially there might be a thought of "not another band recording their songs with an orchestra", this actually might be one of the few times it has worked exceptionally well.
Order here: https://the-aristocrats-band.bandcamp.com/album/the-aristocrats-with-primuz-chamber-orchestra
1.Culture Clash 07:00
2.Stupid 7 03:52
3.The Ballad Of Bonnie And Clyde 09:35
4.Dance Of The Aristocrats 06:39
5.Through The Flower 11:26
6.All Said And Done 05:26
7.Jack's Back 07:43
8.Ohhhh Noooo 06:48
9.Last Orders 10:26
Lineup
Guthrie Govan – guitar
Bryan Beller – bass
Marco Minnemann – drums
---
Returned to the Earth – Fall of the Watcher (April 15th, 2022)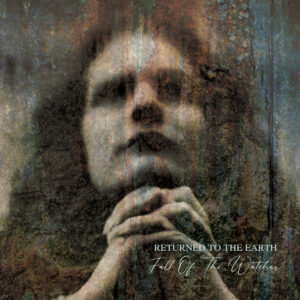 With the release of their 4th album and first since 2019, the 3 piece from the UK, Returned to the Earth, dive deeper into the art rock waters. The 6 songs channel early Porcupine Tree, Pink Floyd and IQ, while still creating a cohesive collection of melodic yet proggy material. Look no further than the 9 minute opener for everything the band do well from the brilliant pop hooks in the chorus to the heavy guitar breakdown in the middle. Most of the album stays firmly mid-tempo, but the music does not suffer. Each track is given room to breathe and grow. Given a few listens, this is an album that will stay with you and is thoroughly enjoyable.
Order here: https://returnedtotheearth.bandcamp.com/album/fall-of-the-watcher
Tracklisting:
1. Fall of the Watcher (9:11)
2. White Room (6:34)
3. Drowning (5:36)
4. Sacrificed in Vain (10:28)
5. Lack of Information (6:33)
6. April Sky (7:21)
Lineup
Robin Peachey / vocals, guitar
Steve Peachey / keyboards
Paul Johnston / drums