Anneke van Giersbergen's new band VUUR have unveiled the cover artwork and tracklist for their forthcoming debut album, 'In This Moment We Are Free – Cities'. The 11-track LP is due for release on October 20th via InsideOut Music and includes 'Days Go By – London', which the band released early June and can be heard here:
Regarding the cover artwork, band founder Anneke says:
"The cover is designed by Black & Finch with whom I've previously worked on the 'Verloren Verleden' release.
The lyrical themes of this album revolve around cities and freedom. Exposure to big cities can be overwhelming and you can feel engulfed by everything around you. At the same time it's easy to be a stranger in a big city and for me that brings out a feeling of freedom as well. This past year I've thought a lot about the virtues of rural versus urban life, since me and my family are moving back to the city. It's very exciting, but at the same time I know that sense of urban solitude from past experiences. The cover artwork represents this duality."
VUUR's full length debut was produced by Joost van den Broek, who was also involved in the writing process. Others co-writing partners are Mark Holcomb (Periphery), Esa Holopainen (Amorphis), Daniel Cardoso (Anathema), and both of VUUR's guitar players wrote a song as well.
'In This Moment We Are Free – Cities' tracklist: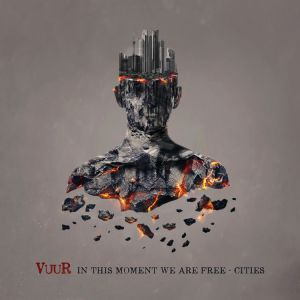 01. My Champion – Berlin
02. Time – Rotterdam
03. The Martyr And The Saint – Beirut
04. The Fire – San Francisco
05. Freedom – Rio
06. Days Go By – London
07. Sail Away – Santiago
08. Valley Of Diamonds – Mexico City
09. Your Glorious Light Will Shine – Helsinki
10. Save Me – Istanbul
11. Reunite! – Paris