Berklee College of Music trio, Native Construct, is made up of guitarist Myles Lang, bassist Max Harchik, and vocalist Robert Edens, have successfully blended many musical styles in their debut album "Quiet World".   The mix and production of the album is at a top level.  Native Construct's concept album takes you on a journey of a mute boy who's love for a girl is not returned and he creates his own fantasy world.
[Read the interview by The Prog Report's Roie Avin featured on PROG Mag]
The opening track "Mute" immediately floods the listeners years with Giorgio Moroder/Harold Faltemeyer synthetic style vocals immediately into intense blast beat drums with strings and distortion mayhem.  Dynamic vocal work is evident as it delivers the first of many melodies and leads to an entirely different style which reminds you of the harmonic vocal supremacy of queen.  The track ends with a tight and complex riff between the drums, guitar and bass which would satisfy any Dream Theater fan.
The next track "The Spark of the Archon" begins with a catchy groove fooling the listener into a dance electronica vibe then quickly kicking into a metal jam.  Leading the listener into a more predictable rhythm pattern, the trio then shows off its ambitious creativity by making drastic style changes reminiscent of Cynic's "Veil of Maya".  This almost nine minute song takes unexpected turns which keep you guessing yet at the same time appreciating the top notch musicianship and song writing skill of the band. With a flair for the cinematic presentation, the song ends softly which leads into the next 8 minute track.
"Passage" begins with a music box and bassoon duet sounding like something out of Cirque du Soleil and continues to build into some great vocal melodies.  "Your Familiar Face" the album's psuedo-ballad, finds the band harmonizing vocals once again drawing comparisons to Queen's legacy.  The rest of this track continues to showcase the versatile and talent of the Berklee trio by blending parts of jazzy moods with great rocking grooves.
Next comes the 6 minute masterpiece "Come Hell or High Water" in which Native Construct get to show of their full on Prog muscles.  The complexity, tightness of the band's musical lines, and creative sounds and instrumentation make this the most entertaining and memorable song of the album.
"Chromatic Lights" is a short instrumental guitar prelude which will take you into the final 12 minute Prog mini-epic "Chromatic Aberration".  This is a track in which the die hard metal Prog fan will solidify their appreciation of the band.  This is a no-holds-barred piece in which they achieve the heart pounding technical extended range dent-type grooves.  The vocals are once again showcased in very tasteful melodies and tight clashing harmonies.  The track uses a film scoring atmosphere to build up to a climax which would make Two Step From Hell, BTBAM, Haken, and Dream Theater fans unite in Prog music glory, all coming to a chaotic end and quickly winding down again to a "Quiet World."
There is genius work by the trio.  When new talent puts out quality Prog like this, the genre of Prog rock is alive and well.   This album should be in every faithful Prog collector's arsenal.
Review by contributor Victor Giol
Released on April 21st, 2015 on Metal Blade
Key Tracks: The Spark of the Archon, Come Hell or High Water, Chromatic Aberration
Tracklisting: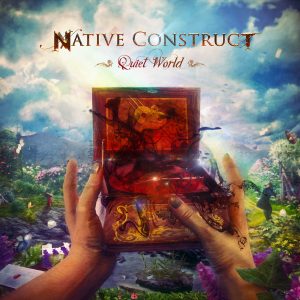 1 Mute 6:21
2 The Spark of the Archon 8:51
3 Passage 8:07
4 Your Familiar Face 4:12
5 Come Hell or High Water
6 Chromatic Lights 2:14
7 Chromatic Aberration 12:29
Band:
Robert Edens: Vocals
Myles Yang: Guitar
Max Harchik: Bass
Drums and Strings were programmed