18 years is a long time to go between albums.  Yet, with Sol Invictus, Faith No More, find themselves very much continuing from where they left off.  As a band ahead of their time for most of their career, their sound is as current as ever.  In fact, it finally seems like they feel comfortable with their sound, enough to stake claim to it with no apologies.  While not breaking any new ground for the band, Sol Invictus reaffirms what fans and critics always knew; this band doesn't follow trends or care what anyone else is doing.  They do what they want and they kick ass at it.  The album is a brief, concise effort with most of the 10 songs clocking in at 3-5 minutes.  If there is a complaint, it is that it feels too short.
The title track begins a haunting piano amid slow tempo with Mike Patton's signature talking style as he has been known to do.  But the song creeps towards a building chorus acting as the intro to the explosive first single "Superhero."  This track is everything FNM are in one track.  The manic screaming and in your face bass lines married with beautiful piano refrains and Patton's over-powering vocals.  It is hard to imagine that what we hear from every band nowadays, screaming alternating with great vocals, Patton has been doing for over 20 years!  This song is one of the highlights of the album.
"Sunny Side Up" is another one of the many sides of FNM, featuring Patton sounding as relaxed as a lounge singer.  But just as quickly as he relaxes you as, the song erupts with punk rock verocity.  The track would fit perfectly on "King for a Day."
The next few tracks "Seperation Anxiety" and "Cone of Shame" find the group revisiting their metal roots in their own Faith No More interpretation.  While "Rise of the Fall" and "Black Friday" lie somewhere between a surf-country vibe and a Tarantino movie soundtrack complete with accordion and Dick Dale guitar tones.
The album peaks with the closing 3 tracks, the enjoyably vulgar "Motherfucker", the epic "Matador" and the 60's sounding swan song "From the Dead."  The vast area that these songs cover show just the expansive range this band can master and produce with ease.  Patton's voice is the weapon that conquers each style and song with precision.  He is as enjoyable a singer to listen to as there has ever been in rock.
While at first there might not be a sure fire hit that jumps out at you, this is an album with substance and gives a new audience a chance to discover the brilliance that is Faith No More.  And for those of use in a Midlife Crisis, a brand new Faith No More album, might just be what the Dr ordered.
https://www.facebook.com/faithnomore
Released on May 19th, 2015 on Reclamation Records.
Key Tracks: Superhero, Motherfucker, Matador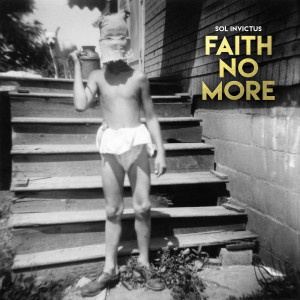 Sol Invictus Track Listing:
01. Sol Invictus
02. Superhero
03. Sunny Side Up
04. Separation Anxiety
05. Cone Of Shame
06. Rise Of The Fall
07. Black Friday
08. Motherfucker
09. Matador
10. From The Dead
Faith No More
Mike Bordin – drums
Roddy Bottum – keyboards, vocals
Billy Gould – bass guitar, producer, recording engineer
Jon Hudson – guitar
Mike Patton – vocals
Production
Billy Gould – producer, recording engineer
Matt Wallace – mixing engineer
Maor Appelbaum – mastering engineer