Following the premiere of "The Passage", the first single to be taken from the forthcoming seventh album Through Shaded Woods, due for release on November 13th through Kscope,  Lunatic Soul have released a new track and video, the instrumental "Navvie".
Watch the video here:
Of the new track Mariusz Duda explains  "Nav" (Polish spelling "Nawie") is the name for the Slavic underworld, and also denotes the souls of the dead, so it gives me great pleasure to welcome everyone to my musical underworld. The new Lunatic Soul album, "Through Shaded Woods", talks about breaking free from the great beyond, about making your way to the other side, about a second chance and coming back to life. 
The "dancing souls" from the album artwork and the new videoclip makes the world turn green. Green is the colour of healing, hope and freedom. In these incredibly trying times, I wish each one of us exactly that: healing, hope and freedom."
On album number seven Mariusz Duda, the multi-instrumentalist, vocalist, and mastermind behind Lunatic Soul is extending his musical explorations to include dark Scandinavian and Slavic folk referencing bands like Heilung or Wardruna. Following the heavily electronic sound of previous albums Fractured and Under the Fragmented Sky, Through Shaded Woods is completely devoid of electronics and is the first album in Duda's discography, on which he plays all instruments.
Mariusz found his inspiration for the album from his childhood home, an area of Poland known for its forests and lakes, " I think I have always wanted to create an album steeped in nature and woodlands. These bring to my mind freedom, breathing and a dance ritual of coming back to nature, so I wanted the album to include such ritualistic primal dances, shamanic, Slavic and Viking moods. I wanted to mix it all up and put it all together, making "Through Shaded Woods" the most intense, dynamic and the most danceable album in my career."
Mariusz Duda appears to have put the personal darkness that inspired his previous albums behind him, as more optimistic elements shine through in his new music. The album becoming musically "brighter" as it progresses – from the atmospheric introduction of "Navvie" through to the title track, which leads the listener to a melodious, trance like "Oblivion", echoing the style of Dead Can Dance.
Through Shaded Woods will be released on CD; 2 CD featuring a bonus disc of 3 additional tracks including a 26-minute suite called "Transition 2; black vinyl LP in gatefold sleeve and digitally and is available to pre-order HERE (https://lunaticsoul.lnk.to/ThroughShadedWoods)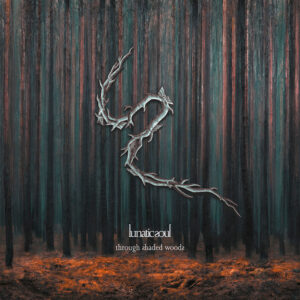 Tracklisting:
Navvie [04:03]
The Passage [08:57]
Through Shaded Woods [05:51]
Oblivion [05:03]
Summoning Dance[09:52]
The Fountain [06:04]
Additional bonus tracks contained on disc 2 of the Ltd Ed CD format:
Vyraj [05:32]
Hylophobia [03:20]
Transition II [27:45]