KANSAS have announced a Fall tour celebrating the 40th Anniversary of their breakthrough album 'Leftoverture.' To celebrate, for the first time in history, the band will be performing the album in its entirety. The tour will showcase two hours of classic KANSAS music including hit songs, deep cuts, and new songs from their soon to be released album, 'The Prelude Implicit."
"These definitely will not be your typical KANSAS concerts of the past few years," commented original KANSAS guitarist Richard Williams. "This is incredibly exciting for the entire band, and hopefully our fans. It's something we've never done before, play an album in its entirety, as part of a set. 'Leftoverture' was our breakthrough, and it's special that we are getting to celebrate it 40 years later. We've never even played "Questions of My Childhood" live before. I can't wait!"
In 1976, KANSAS released the album 'Leftoverture.' Containing the smash hit, and million-selling single "Carry On Wayward Son," along with fan favorites such as "The Wall," "Miracles Out Of Nowhere," and "What's On My Mind," 'Leftoverture,' became the band's breakthrough album. The album peaked at #5 on Billboard's Album charts and reached sextuple-platinum status for more than 6 million copies sold.
The tour will also debut performances of songs from the band's latest studio release 'The Prelude Implicit.' The new album, scheduled for release in September 2016 is the band's 15th studio album and first new album since 2000.
KANSAS Lead Vocalist Ronnie Platt added, "This is going to be really special for both the band and our fans. It has been really wild recording 'The Prelude Implicit.' We are anxious to perform some of the songs for live audiences. To be able to do that while also be performing 'Leftoverture' in its entirety, and more; this is going to be a blast! Who knows, we may even have some more twists added in!"
Tickets & KANSAS VIP Packages for most dates go on sale to the general public Friday, April 22, 2016. More ticket information can be found at www.kansasband.com.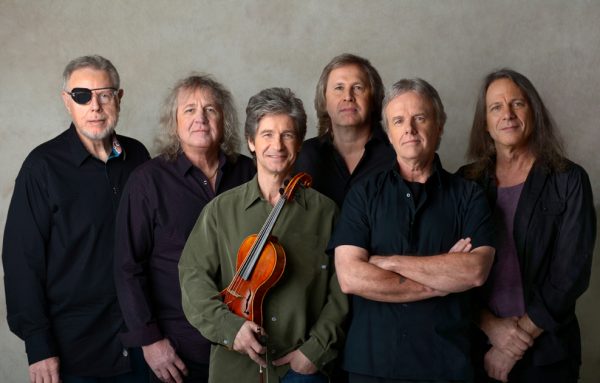 Confirmed 40th ANNIVERSARY LEFTOVERTURE TOUR; dates and venues*:
September 30 – Pittsburgh, PA: Benedum Center
October 1 – Philadelphia, PA: Merriam Theater
October 7 – Atlanta, GA: Atlanta Symphony Hall
October 8 – Nashville, TN: Ryman Auditorium
October 15 – Dallas, TX: Majestic Theater
October 21 – St. Louis, MO: Peabody Opera House
October 22 – Kansas City, MO: Kauffman Center for the Performing Arts
October 27 – Indianapolis, IN: Murat Theatre at Old National Centre
October 28 – Detroit, MI: MotorCity Casino
October 30 – Cincinnati, OH: Taft Theatre
November 3 – Milwaukee, WI: Pabst Theater
November 4 – Chicago, IL: Copernicus Center
November 11 – Clearwater, FL: Ruth Eckard Hall
November 12 – Ft. Lauderdale, FL: Broward Center for Performing Arts
November 18 – New Bedford, MA: Zeiterion Theatre
*More dates to be added