Gong have had many, many line-ups. Formed when Australian beatnik/freak Daevid Allen quit The Soft Machine and moved to France at the tail end of the '60s, before debuting in 1970 with Magick Brother, the band have remained fluid, even playing without their founder from the mid-to-late '70s, fracturing and reassembling and constantly taking on new shapes and forms: an undeniably amorphous unit.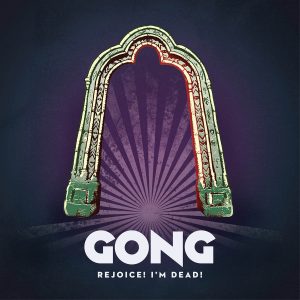 Now comes the new alum, Rejoice I'm Dead due out on Sept 16th featuring a lineup without Daevid Allen but with Kavus Torabi leading the charge.
""Rejoice! I'm Dead! came together over several weeks in an East London rehearsal studio. In terms of the writing, the songs became very elastic, what may have been brought to the band as a fixed idea, through experimenting, discarding, expanding and mutating evolved into the songs as you hear them now. Every member was key in the development of each song," closes Kavus Torabi. Thus, Kavus (vocals/guitar), Fabio Golfetti (guitar/vocals), Dave Sturt (bass/vocals), Ian East (sax/flute) and Cheb Nettles (drums/vocals) took on the mantle of steering the Teapot further into outer space and the inner ear.
Rejoice! I'm Dead! will be released on CD, a double LP and as a limited edition deluxe 3 disc hardback book edition featuring 44-page book, CD, DVD-AV & Bonus CD and is available to preorder here