by contributor Craig Ellis Bacon
The Fringe. It's a great name for a rock band, but a rather unassuming name for this rock band. Nick D'Virgilio (Spock's Beard, Big Big Train) is on drums and vocals, Jonas Reingold (The Flower Kings, Karmakanic) provides bass and vocals, and Randy McStine (Lo-Fi Resistance, The Pink Floyd Experience) supplies guitar and vocals. Prog fans familiar with these musicians' past body of work will be halfway through the ordering process at this point, sold on reputation alone. So, 'The Fringe.' It's a poor indicator of the talent involved here, but it does serve as a fairly apt description of the contents of their debut album.
The music skirts around the edges of progressive rock, leaning towards the alternative side of Spock's Beard, or the more populist moments from power trios such as Mr. Big, Rush, or King's X. Alternative, progressive, pop, jam band…The Fringe exists at the edge of each of these genres–or, better–at the intersection of them all taken together. Virtuoso musicianship is always on display, and there are plenty of time-signature changes, but the band focuses on driving riffs, melodic hooks, and lots of two- and three-part harmonies. All of these elements show up in the very first song, "You," which opens with crunchy power chords and pounding, jazzy drums that give way to a big vocal hook and harmonies in the chorus. Indeed, my wife was singing along in the car the very first time she heard that melodic shift. The band reaches an even higher point on "A Second Or Two," where McStine's bright guitar upstrokes and D'Virgilio's staggered percussive work hold down the rhythm for Reingold's grooving bass leads. Just over two minutes in, there is an honest-to-Hendrix fuzz guitar solo that takes an already great song and puts it over the top.
"Flare" is the first long track here, featuring an extended and slightly relaxed, jazzy middle section in which everyone takes a solo. "Yours To Steal," which closes the album, is the second long track and also provides some more relaxed musical moments, including acoustic guitar and some drum programming as an accent. Both of these longer tracks highlight The Fringe's jam band side: the extended length allows ample time for the song to develop and for each instrument to receive its own spotlight along the way. But there is no pretense of attempting a typical prog 'epic suite.' Again, this puts them on the outskirts of both progressive and alternative rock, while demonstrating that they are conversant in both.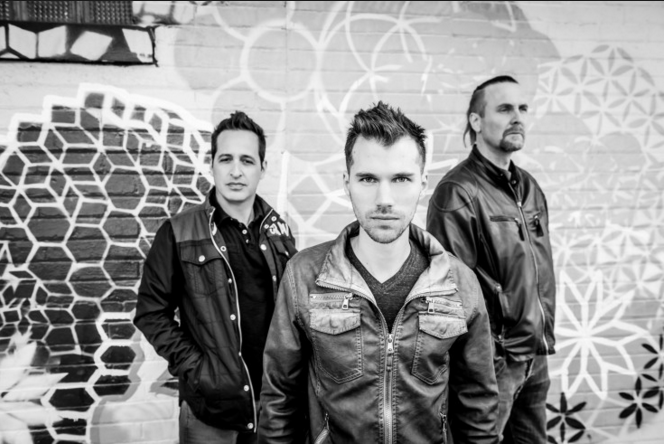 Structurally, the songs all hone in on the band's capabilities as a power trio. While it would be misleading to say the instrumentation is 'stripped down,' since the sound is actually quite lush, most every song consists in simply drums, bass, guitar, and vocals. "Go" is one of the few exceptions, incorporating some mellotron sounds and slightly trippy vocal effects, both reminiscent of The Beatles' "Flying." Otherwise, the album is sonically very 'live' and punchy, with clear separation of instruments and excellent tone. And, while both McStine and D'Virgilio are credited with lead vocals, it doesn't really feel like this band has a lead vocalist, so much as it feels like each song is full of expressive melodic vocals. Instead, the overall experience hearkens back to the early albums from The Beatles, where the liner notes had to tell you who was singing what on each song–the harmonies are that pervasive. More so than your average supergroup, The Fringe sound like an organic unity, wherein the whole outshines the individual lights of its parts.
This debut album is the kind of thing that a record company like Elektra or Atlantic would have thrown a lot of money at in the 90's: it clearly rocks, it's clearly very good, it has driving energy and enticing melody, and it translates well into both club and arena settings. It sounds good from the first introduction, but it becomes a familiar friend with repeated listens. Still, The Fringe is a rather unassuming album, right down to Hugh Syme's minimalist art that hearkens back to his work on Rush's Power Windows and Hold Your Fire. Consider that a strength; The Fringe sound like an exceptionally well-rehearsed and well-produced garage band, and that's a rare treat these days.
The Fringe is available from Reingold Records
Key Tracks: You, Opening Day, Flare
1. You (4:54)
2. Opening Day (4:14)
3. A Second Or Two (3:55)
4. Flare (9:56)
5. Go (4:18)
6. My Greatest Invention (3:44)
7. Snake Eyes (3:32)
8. Yours To Steal (7:48)