Rush Concert Review
Venue: Greensboro Coliseum, NC May 28, 2015
Review & Photos by: Jeff Wagner
"A Headlong Flight Down the Garden Road"
Acknowledgment of the progressive rock heroes who inspired Rush in the early '70s was apparent immediately upon stepping into the Coliseum tonight: Yes was being piped in through the enormous PA, "Yours is No Disgrace" from The Yes Album. We subsequently heard King Crimson, Genesis, Pink Floyd, and Kansas tunes. It was all very fitting. The R40 tour is a celebration of the myriad of directions the band have traveled since drummer Neil Peart joined guitarist Alex Lifeson and bassist/vocalist Geddy Lee in 1974, and tonight they worked chronologically backwards, offering a near-three hour set.
Beginning with the sleek, cerebral rock of newer songs "The Anarchist," "Headlong Flight" and "Far Cry," they hurled themselves back to the '90s with "Animate" and "Roll the Bones." While they avoided too much of the '80s synth era, the performance of 1984's dramatic, keyboard-led "Between the Wheels" was an evening highlight. After concluding set one with the always-affecting "Subdivisions," there was a feeling that this was just mere warmup for whatever else Peart, Lifeson and Lee had up their sleeves…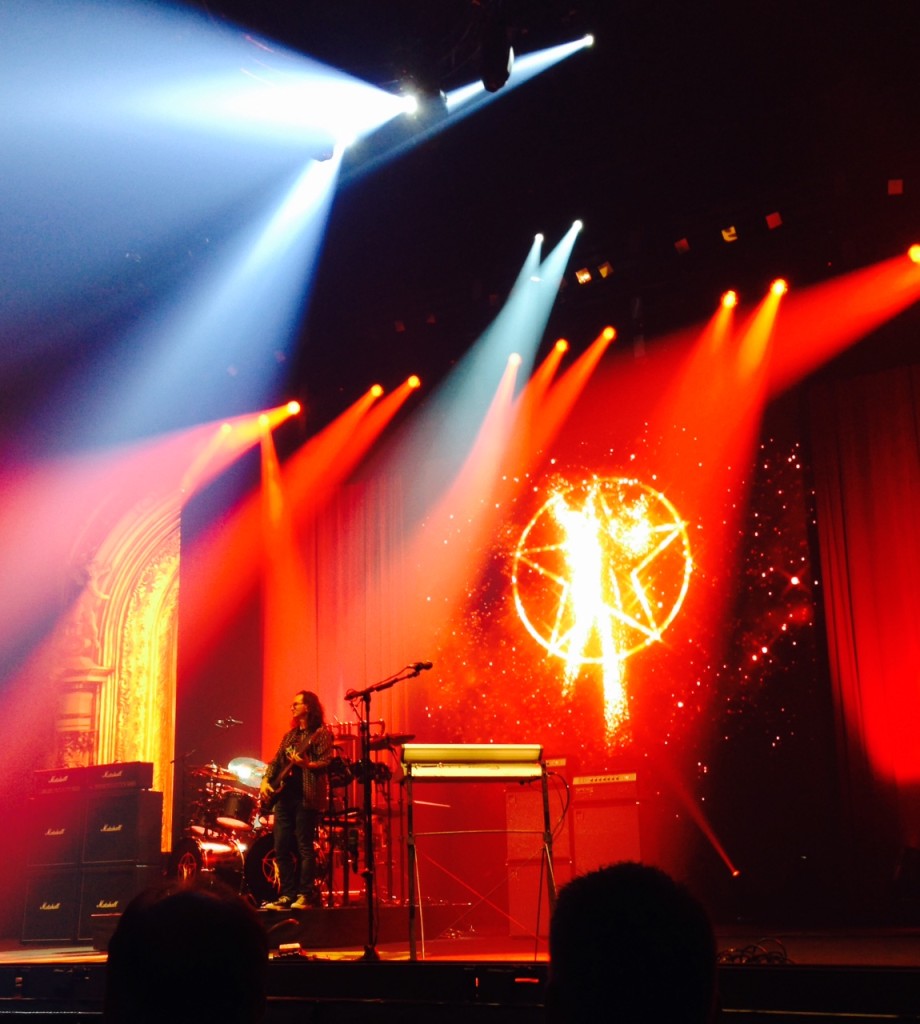 As with the intro animation – an amusing morphing timeline of Rush's various looks through the decades – the crowd was treated to a number of amusements on the main stage video screen and smaller screens flanking it. During set changes, we took a trip through time thanks to oddball skits, celebrities (Paul Rudd, Jerry Stiller, the South Park kids), and various visual representations that celebrated Rush's illustrious career — always fun and light-hearted, never overly self-congratulatory. Even throughout the sets, as the band played on, roadies dressed in coveralls (resembling the movers depicted in the classic Moving Pictures artwork) continually morphed the stage to take us through each era. They not only changed out amps and keyboards, but various silly props like a huge popcorn popper and clothes dryers. This band that has created such poignant, literary rock music can never be accused of lacking a sense of humor.
The curtain rises a second time and we're in the midst of the grand strains of "Tom Sawyer" and "The Camera Eye." Here is where Rush relived arguably the most glorious of their glory years: tracks from Moving Pictures, Permanent Waves, Hemispheres, A Farewell to Kings and 2112. Majestic, stately epics like "Jacob's Ladder," "Xanadu" and "2112" were dusted off and presented with bone-rattling volume and genius-level precision. Geddy's voice isn't the crystal-clear, shimmering banshee-wail it once was, but he delivered well enough. His hot bass work never faltered, nor did drummer Neil Peart's myriad percussive patterns. There were a few errant notes from guitarist Alex Lifeson in "The Camera Eye," but it didn't matter. Not in a set of such challenging material and deep scope. They worked through the most difficult songs of their prog rock period with the authority that makes Rush, well, Rush.
After reaching even deeper with the wistful "Lakeside Park" and proto-metal workout "Anthem," the curtain dropped once again. A schmaltzy showbiz character, played by Eugene Levy, appeared on screen, introducing the band as if it was 1975 and as if they were new to us all. Rush then stormed onto the stage one last time, amid a simpler, more stripped down atmosphere, running through "What You're Doing" and "Working Man" from their debut album. (Ultra-geekazoid fans recognized the snippet of the "Garden Road" riff tacked onto the end of "Working Man.") The entire presentation had to be the most authentic feeling of time travel anyone in the room had ever experienced prior to this evening.
While this isn't a farewell tour, it has that bittersweet vibe. You can read between the lines of the members' recent public comments about R40. They're in their 60s, they have families, and, good lord, they've been doing this longer than most of us have done anything. They deserve a nice long vacation, and please let's let them have it. They've earned it 2,112 times over.