On the first weekend of June 2022, the U.K. is celebrating 70 years of the reign of Queen Elizabeth II, and I could begin this review with a pun about "prog rock royalty" also being in town… but I won't! Nevertheless, NMB's European tour is underway and there was An Evening of Innocence & Danger in London, at the Shepherd's Bush Empire, a really beautiful theatre venue that can be glimpsed in Transatlantic's Whirldtour and Flying Color's Live in London release. This is the first NMB show in this former music hall venue and there's no doubt it is an evening of celebration. Fans have had since August 2021 to digest the latest NMB double album and, of course, the great thing about many modern prog bands, NMB included, is that you know you are going to get a large chunk of new material in the live show, unlike, say, some heritage bands whose fan base mainly want to hear the old songs. This creates an exciting environment for band and fans alike, and you can see right from the first song, "Do It All Again", that everyone is on-board. In fact, in the entire main set, we only encounter one catalogue song, the acoustic "Waterfall".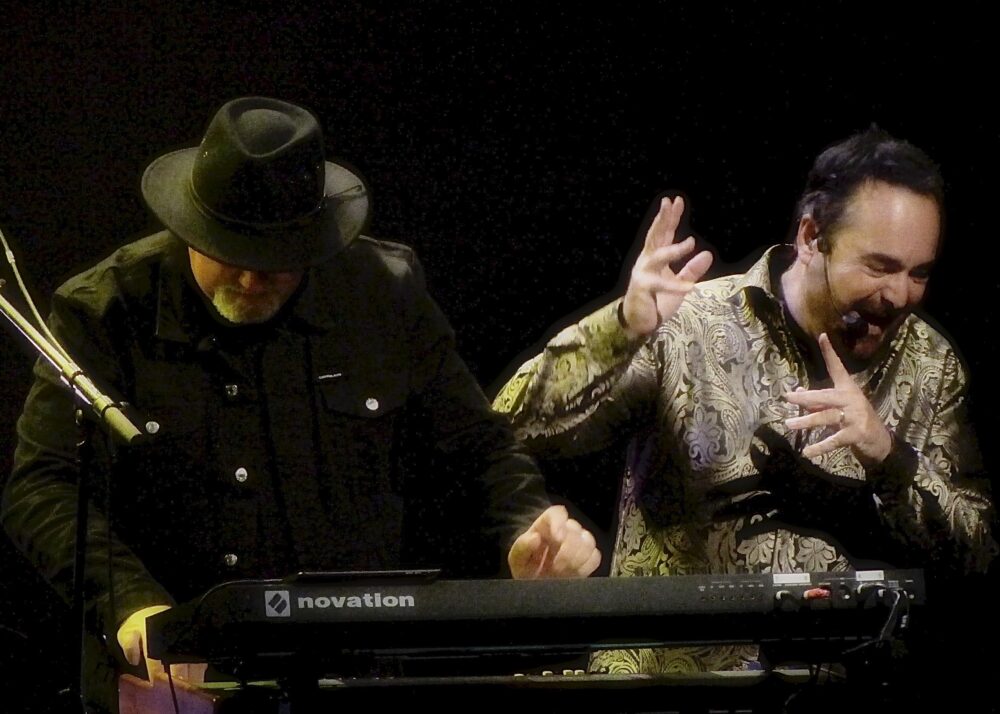 Despite jumping into the European tour several months after the N American leg, and not forgetting that Morse and Portnoy had played a run of Transatlantic shows in between, NMB are straight out of the blocks. It was easy to tell that the new songs had bedded in both with the band and with the audience, and both were energetically enjoying them. A straight blast through the first 5 tracks from the Innocence disc covered an incredible diversity of styles. It goes without saying that each of the band members brought it instrumentally but equally notable was the incredible vocal blend the band has – for example in Bill's vocal section of "Bird On A Wire", the 3 part harmony that the other 3 singers underpinned it with was incredible. Possibly "hidden" slightly mid disc on the CD, "The Way It Had To Be" was brilliant in live performance, with Eric's vocal and Strat guitar parts being a real contrast to some of the more frantic playing (which we love just as much!), leading appropriately into a section of Pink Floyd's "Breathe". This was closely followed by Innocence closer, NMB's cover of Simon & Garfunkel's "Bridge Over Troubled Water", a song that had particular significance to Neal on the passing of his mother. In the live context it benefits from being a song that absolutely everyone knows, right down to the venue staff team! The finale of this one was an absolute goosebumps moment especially the massed harmonies on "I will ease your mind" and the subsequent lights and smoke! Credit should be given to the crew for an amazing sound mix, superb lighting and the video backdrop – for a smaller scale touring production the audio and visual experience was best in class! The acoustic song, "Waterfall" (dedicated to those who lost loved ones during Covid and the U.K. prog fan Paul Hanlon, who passed away recently) was a palette cleanser for the 2 Danger epics!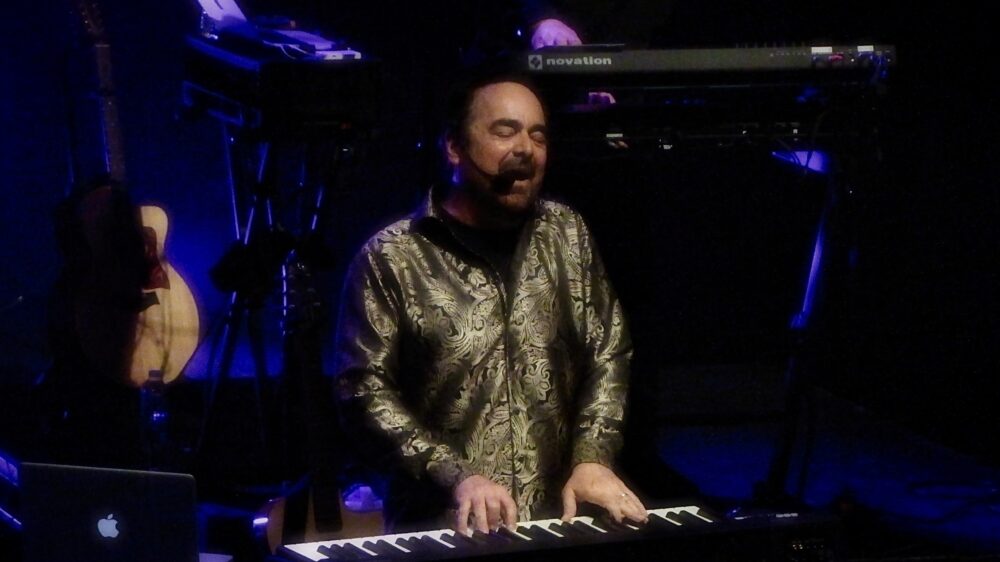 On CD alone, the Danger disc has enough content for it to have been an album in its own right, and at this point it's clear that Not Afraid Pt 2 and Beyond The Years are already becoming major fan favorites. The "Mystery Man" section of the former works really well, and the new lyrical variant (Bring on "the Chocolate Chicken"!) and the closing 15 minutes of "Beyond the Years" are simply outstanding… and yes, they was a bass guitar/ drum duet between Randy George and Mike Portnoy which was just breathtaking! Also noticeable was how many keyboard tones and parts Bill Hubauer was covering simultaneously, requiring massive dexterity (and I'm sure concentration!). No tracks or faking here – this is the full live experience, with musicians playing in the moment!
Having played for close to 2.5 hours, the audience demanded the band returned for encores and we got a selection of 8 songs from their last two mammoth concept albums The Similitude of a Dream and The Great Adventure – a relentless blast of "greatest hits" kicked the audience energy level up a gear, with lots of participation and singing along, ending the show on a massive high, with frontman Neal leading the charge, while juggling guitar and keyboard parts!
There's no doubt that it was worth the wait to see NMB live once again… and with European dates during June 2022, you should grab a ticket/ car/ train/ aeroplane and catch them while you can!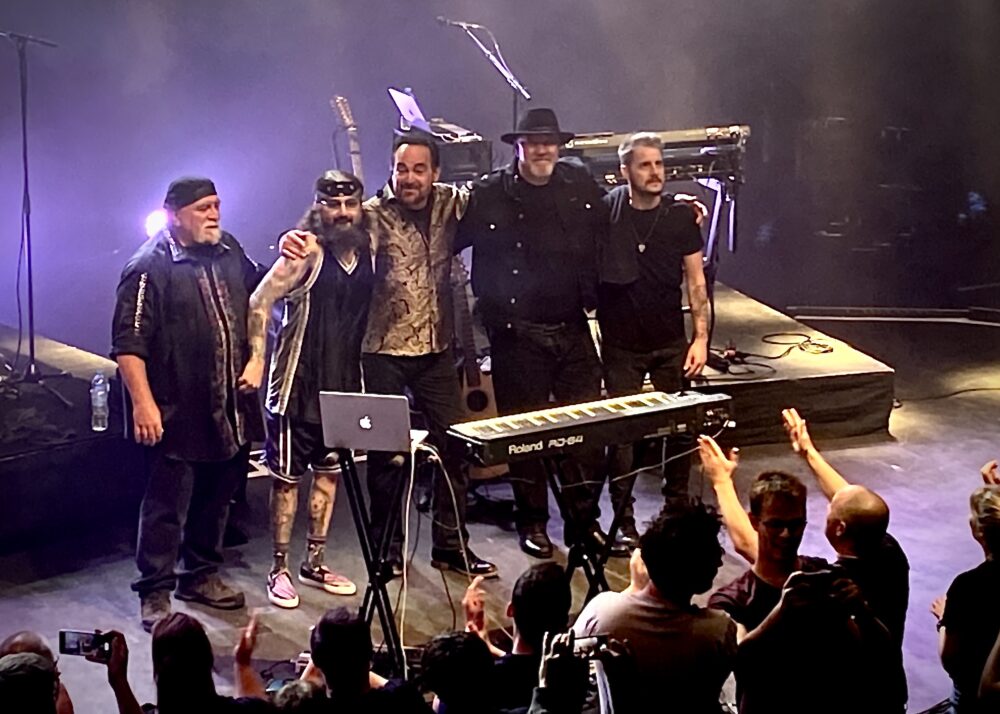 Setlist
Innocence Intro
Do It All Again
Bird on a Wire
Your Place in the Sun
Another Story to Tell
The Way It Had to Be
Breathe (Reprise)
Bridge Over Troubled Water
Waterfall
Danger Intro
Not Afraid, Pt. 2
Beyond the Years
Encore:
Long Day
City of Destruction
So Far Gone
The Ways of a Fool
Welcome to the World
The Great Adventure
A Love That Never Dies
Broken Sky / Long Day (Reprise)