Concert: Iron Maiden, Book of Souls Tour
Venue: BB&T, Ft. Lauderdale, 2-24-16
Review by contributor: Ronnie Young
Photos by: Larry Marano Photography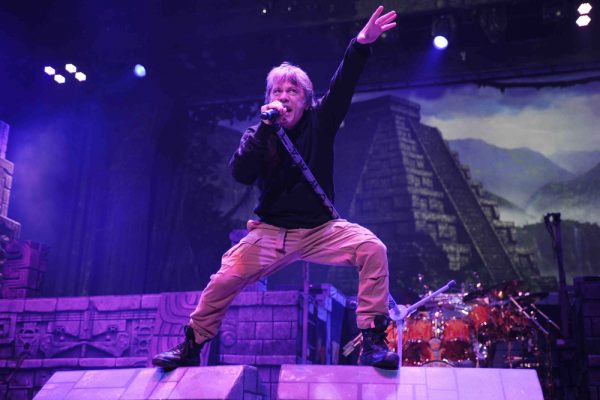 I've always felt kind of bad for comedians. Not so much the fact that they have to deal with hecklers is that they constantly have to be coming up with new material. Think about it – when was the last time you went to a Chris Rock or a Jim Gaffigan comedy show and say "man, do that joke you used to say 5 years ago about the cat"! In comedy, once you heard it, you heard it and have moved on.   Quite the contrary with rock concerts where people pay (increasingly) large fees to see their favorite band/artist play the "classics", songs they might have heard hundreds of time before. This idea was pretty much lost on Iron Maiden on their first US tour date in Fort Lauderdale.
The band showed up with much fanfare as they landed in FLL last Friday in their new "Ed Force One" Boeing 747 piloted by none other than vocalist Bruce Dickinson.   Fans came from all over, lining the perimeter, stopping traffic to get a view of the incoming aircraft. There were even websites and Twitter feeds that would allow you to follow its progress from Cardiff.   Can't confirm this since I don't listen to terrestrial radio any more, but have heard they did get a ton of mentions and chatter on the local Classic Rock station (but of course, never actually played an Iron Maiden song).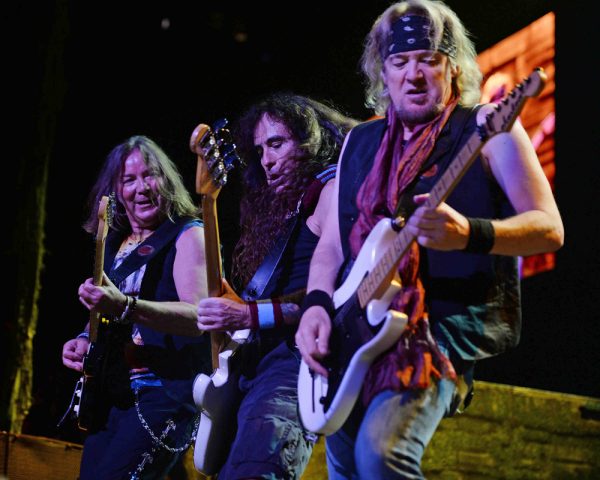 So now fast forward a few days to the actual show. BB&T is known for having a pretty huge "tarmac" outside of its doors. Arriving right around the time the doors should have been opened, I was astonished of how insanely filled the outside was with hoards of Maiden fans. I hadn't seen the BB&T outside area that full since the NHL All Star Game was there.   That led me to find out the first issue of the night – the ticket scanning system went down.   Not once but twice. Mostly for their credit, the mob was waiting patiently albeit for the occasional "Maiden" chants. By the time the second system failure, the crowd was met with an out-of-nowhere monsoon of rain and wind.   Maiden fans of yesteryear would have definitely charged the gate but now, mostly made up of 40-50 something's with their kids – not really going to happen.
Unfortunately for them, opening act The Raven Age started right on time – to a pretty cavernous arena. Only the few who were probably camped out for hours before, actually made it on to the floor to witness Steve Harris' son's (George) band.   Sound and lighting wise – they actually held their own. Probably got a few favors in that department having a famous Dad in the headlining act.   Most unknown bands in that spot would be lucky to even get a soundcheck.   Despite only having a 4 song EP, they played for about 40 minutes and then the real wait began (Anthrax – where were you when we needed you ?!).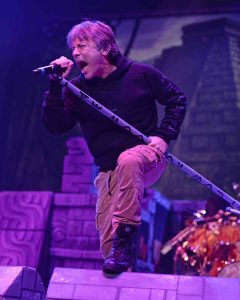 At this point, pretty much the entire arena was still waiting out in the rain to get inside. It was then announced that Maiden wouldn't take the stage until 9:30.   The hour seemed like an eternity but what made it okay was at least knowing when they were coming on – in contrary to a Guns & Roses concert for example. I wonder, does anyone else miss the old days of "rip & tear" when it comes to concert tickets? I'm not going to go all nostalgic on you – I know people like their technology and have their cell phone scanned or credit card swiped to get in but past Maiden concerts, this wouldn't have been an issue.   At that moment last night, I missed the days before we were able to conveniently print our own tickets out at home – not to mention a fee for that "convenience".
As promised, Iron Maiden hit the stage at 9:30 starting off with a barrage of songs off Book of Souls – in fact 4 of the first 5 songs. I was probably thinking as other Maiden fans were – "good, get them over with so we can get to the good stuff". Can't say that it really happened. Now mind you that Book of Souls is not a bad record – in fact it is one of the best they've released in years and it actually did very well in sales (as Bruce was sure to point out).   But 7 songs?!   For a band who has so many classic albums and songs….How many bands can you think of where you have so many albums that Maiden fans would actually argue over which is the best one. If a true fan of AC/DC was asked – "what is their best album?" Back in Black would be the answer without hesitation.  Judas Preist fan? Screaming for Vengence. Motley Crue fan? Shout at the Devil.   With Iron Maiden, you can argue that "Number of the Beast", "Piece of Mind" or "Powerslave" is their best record. I even change my mind all the time over this.   Three whole albums worth of classic, great songs and you get three off "Number" which was great (Children of the Damned, Hallowed Be Thy Name and the title track) but only one off of "POM" (The Trooper – a song if they didn't play there would be a riot) and one off of "Powerslave" (Powerslave). The other bands mentioned above still put out records too but they have the awareness to know that people don't want to hear half a concert's worth of "Rock or Bust" (AC/DC) or the self-titled Def Leppard album (who were also just here at the BB&T center). Unlike comedians, we do like to hear the same material over and over again from our favorite bands – that is what people mostly pay for. In sections where there were actual seats, you can see the constant sit down for a new song/get up for a classic one. You can totally feel the energy of the crowd deflate as new song after new song was played. Yes it can get tiring for a band to play the same songs over and over again for years but even for a 50+ year old band like The Rolling Stones gets that you are there for the fans. Not the other way around.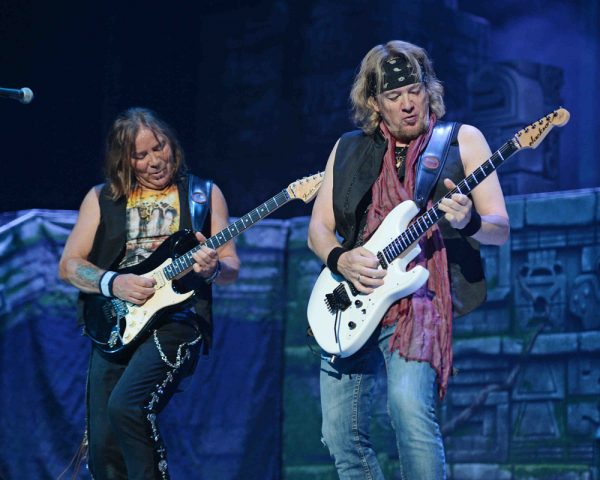 With that said, I can actually say I don't think the band has ever been more popular. Without having actual attendance figures, there appeared to not be an open seat anywhere to be found at the BB&T.   That is a huge feat for a band that's been around as long as Iron Maiden and originally, had just a small following of mostly guys who were into the New Wave of British Heavy Metal.   Now the arena is filled with multi-generations of fans – all with the same black dress code.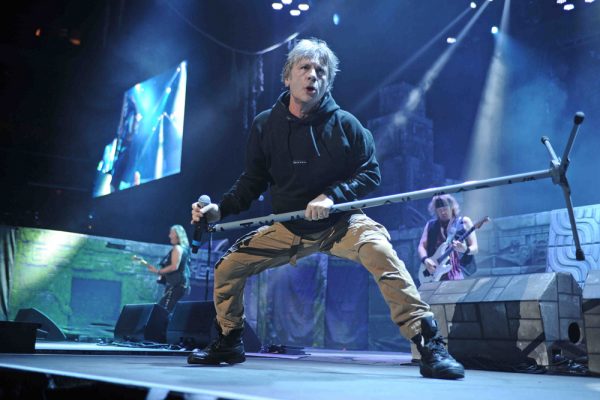 The show itself was decent – stripped down from the days of huge Egyptian like structures. This one was more like a jungle temple scene you would find in Lost or Indiana Jones. Great fire effects and life size blowups of Eddie and a goat-like devil came from behind the drum structure and catwalk.   A kind of awkward "Eddie" came out during "The Book of Souls" and strutted around the stage as the band played on.   The onstage energy of Bruce and Janick Gers was unmistakable and there were some great camera shots that showed things you would have otherwise missed like Nicko's drumming.   Bruce's voice has held up great over the years especially singing mostly in the higher register. But other than that, a pretty straightforward rock concert you would expect from most bands – just you would expect more from a seasoned band like Iron Maiden.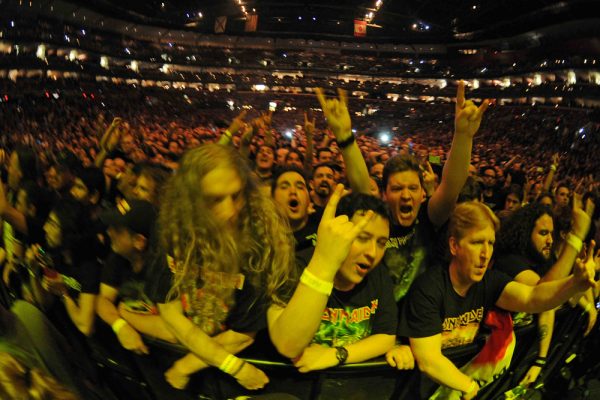 Setlist: http://www.setlist.fm/setlist/iron-maiden/2016/bbandt-center-sunrise-fl-53f34b71.html