Concert Review: Haken at ProgPwer2016
Words and Images by Joel Barrios

Around the middle of their North American tour dubbed "Affinitour v2.0" Haken appeared at Atlanta's prominent and marathonic progressive and power metal Festival ProgPower USA VXII. Haken are the latest truly prog-metal band to take the world by storm, and arguably the best exponent of the current generation of bands in a genre which has evolved from anonymity to overcrowdings. They combine the required level of instrumental virtuosity with a degree of song-craft and compositional skills unmatched by most of their peers. Superb vocal harmonies, intricate guitar melodies and solos, splendid keyboard soundscapes, killer drumming passages: they are all present in Haken's music, and they are all combined differently for the utmost degree in terms of musicality.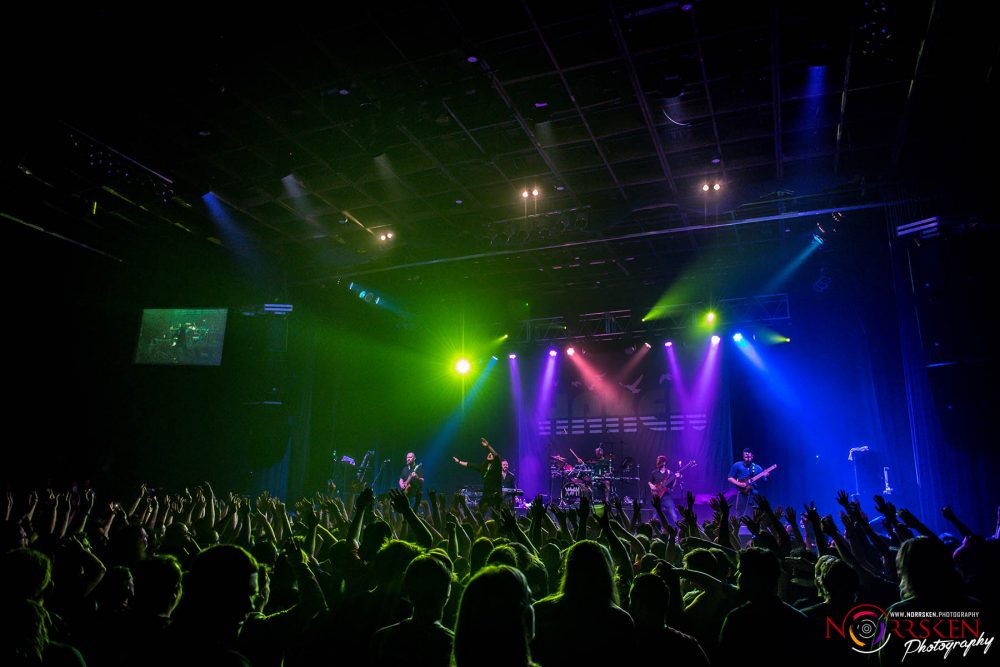 In a venue packed up to the roof Haken came to stage as the penultimate band of the night, and set the place on fire. The sound in the Center Stage was crystal-clear, allowing for each guitar to cut through and the bass and drums to pound in your chest as Haken busted through the pummeling progressive-metal riffs and delicate shimmering vocal sections of "Initiate" to immediately dive head first into the djent-laden prog-metal journey of "Falling Back To Earth" which came equipped with monolithic choruses and more intricacies than you can shake a stick at. Frontman Ross Jennings came back with reflective green glasses, matching the new album cover, and the first chords of 1985 filled the air. That song is one of the outstanding tracks in their latest album "Affinity", conjuring up memories of the birth of personal computers, 8-bit video games, boom boxes, MTV and just about every keyboard sound and 80s production element introduced during the first half of the decade, serving a mashup of sounds with Toto, Rush, Yes and even King Crimson elements added in a very unique way. By the time the band finished the tune, the venue was in a roaring rapture. Then they threw another bone at the hungry crowd: "Earthrise", an outstanding and rather short poppy composition, with clean and joyful guitars and memorable harmonious moments; followed by "Pareidolia" off their mammoth and personal favorite album "The Mountain". Clocking in nearly 11 minutes the song is an absolute stunner where every single musician shines through; and allowed Ross to match his bandmates' virtuosity, delivering a variety of vocal styles (every single soul present felt shivers down their spines when he handled the growling verses with eponymous aplomb) whilst retaining an intrinsic uniqueness which added to an already captivating show.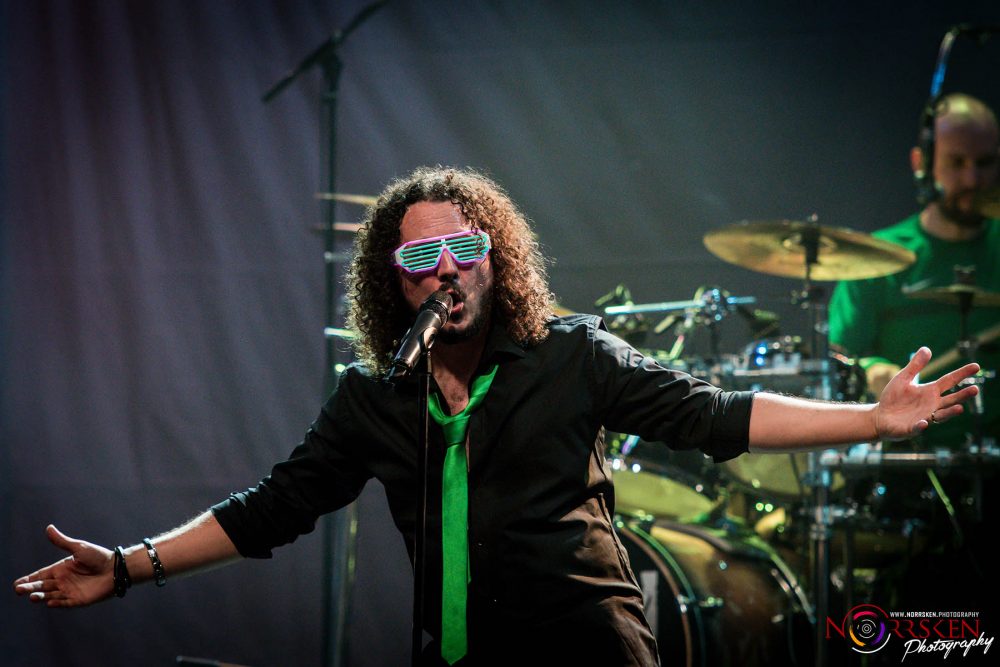 Nonetheless the heaviest moment of the night came by the hand of "The Architect", by far the heaviest track on "Affinity": a 15-minute tour de force of the power and diversity this band can summon, where muscular technical prog-metal mixes with a gorgeous mid-section, ambient pads of voices and sound effects, a lyrical fusion-inspired bass solo, intense and contrapuntal guitars paying homage to King Crimson and a brief appearance by 'The Cookie Monster" (originally was sang by Einar Solberg from Leprous) where Ross again morphed into the boogieman showcasing how deep his singing ability can reach. A brutal display of immense arrangement and an impressive achievement. A perennial staple in Haken's setlist "Cockroach King" had to be present. And when after an extended introduction Ross started singing the verses "Tantalized by the cockroach and its promise" the crowd once again went whacky. I've witnessed that song live for at least 5 times, and every single time I do I'm amazed at such phenomenal level of inventiveness when they decided to combined the Gentle Giant-esque vocal melodies and "a cappella" passages into such a powerful lyrically and musically song. Haken has always been notorious for their quirk, but they have become not notorious, but endearing and impressive and Jennings has one of the best voices in music. The bouncing and odd vocals, the psychedelic keys, the epic chorus, and the general Middle Earth feeling all combine to make this the definitive track of Haken's career in my personal opinion.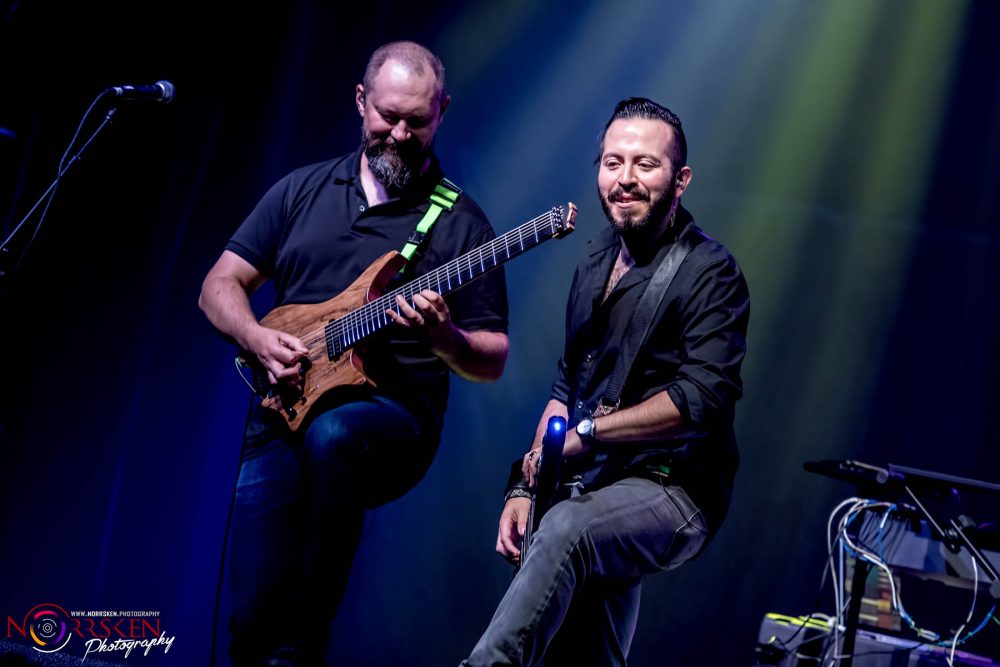 The finale of the song had the complete audience on their feet, applauding feverously, but Haken had more up in their sleeves. The jumped into "The Endless Knot" and the front rows started to jump and dance after the pounding, hard punching and relentless tempo adorned with heavy distorted keyboards and riffs accompanied by atmospheric vocals and electronic drums sound. The whole band was oozing a "melt your face" type of energy, specially Ray Hearne who had been pulling out a blazing performance throughout the entire night (despite his drumkit may look rather meek compared to Portnoy's or Peart's) seemed frenetically inspired in the back seat.
After such a passionate enactment which everyone thought would be the end, Ross asked "Are you guys ready for another one?" Obviously a deafening answer resonate in the air like a tsunami wave. "Ok, this is Crystallized!" he screamed. "Crystallized" an extended epic clocking almost 30 mins had the sonic effects of a full-on mushroom trip. Jennings graciously walked off stage during extended musical sections to allow his band to come to the focus. Haken seem to weave so many classic and modern progressive elements into such a tight package that to witness them live was an absolutely mesmerizing experience. When the song was more than ¾ through I looked with the corner of my eye to the area inside the audio console where Mike Portnoy had been seating all show long with his wife Marlene and his song Max (he apparently was having a blast, drumming in the air and singing alone; I'd dare to say Haken is Mike's favorite band he's not in), and he was gone, and I immediately knew he would appear on stage at the end. My suspicions proved spot-on and he showed up on-stage to pompously bang the gong at the end of the song (As he originally did in the EP) to put a remarkable epitaph to a more than memorable show. When the last note died we hugged each and every one of Haken guys, in a clear nod of admiration.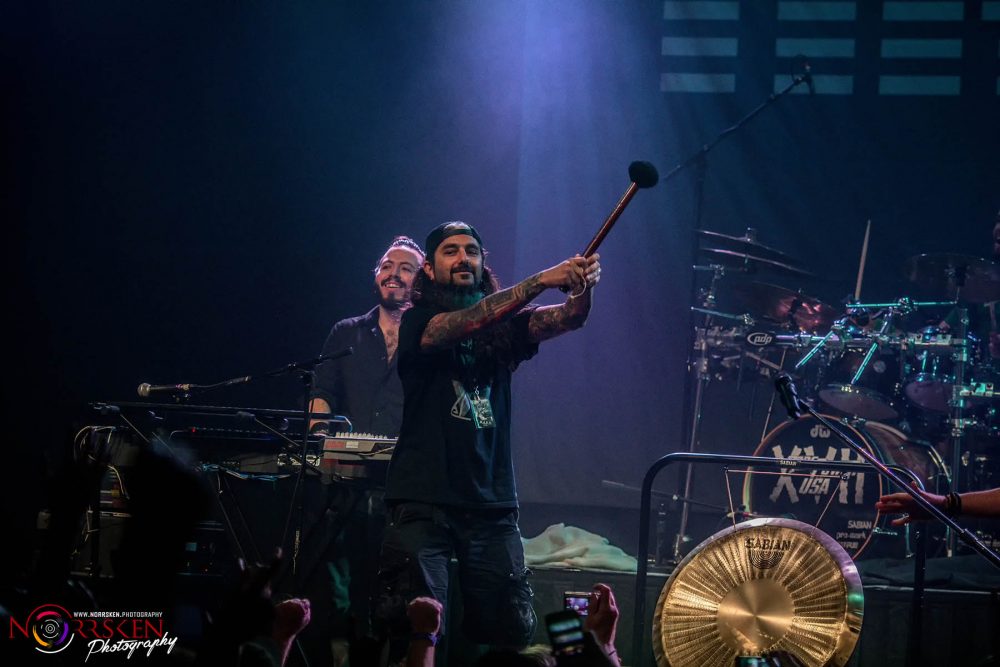 What makes Haken so loyalty-inducing and good? There can be many factors, but in my opinion is the fact they don't quite sound like any one other band in particular. They have a knack for putting outstanding songs together; there is no meandering, no endless and self-masturbatory solos, and no mindless repetition. They are capable of writing a 9 minutes long song and you'll be surprised how fast it goes. Their style is an amalgam of interesting, progressive tendencies that could be referenced from all over the prog-map, yet the result is something reinvented for the twenty-first century rather than a reverential pastiche of the music from a generation ago. They sound only like Haken does, and even having the audacity to write such esoteric compositions and pulling them off live is a testament to their eclectic musical evolution, a path that has taken them to become the genuine state of the art exponents of the best modern progressive rock.
Once again big kudos to Glenn Harveston and his crew who year after year reinvent themselves to offer the foremost and closest experience to fans and musicians alike in a Festival that has grown bigger than its own name and has become the to-go musical experience to behold by lovers of classic power metal and refined progressive rock.