Tony MacAlpine is getting ready to release his latest album, Concrete Garden's on April 21st.  Recently, he performed the new album live in its entirety on EMGtv.  Joining Tony and special guest Jeff Loomis are: Aquiles Priester on drums, Pete Griffin on bass, and Nili Brosh on guitar. Audio mixed by Adair Daufembach. Engineered by Greg Wurth.
The new album is vintage MacAlpine with all the shred and musicality he is known for.  The track "Poison Cakes" is the standout track on the album and you can check it out here:
Tony will be touring the US in support of his forthcoming album "Concrete Gardens" in late May-June!  Dates below on sale now, with more dates to be confirmed!
05/27 Hermosa Beach, CA – Saint Rocke
05/28 Studio City, CA – The Baked Potato
05/29 Studio City, CA – The Baked Potato
05/30 Mexicali, B.C., MX – CEART – Centro Estatal de las Artes
05/31 Ramona, CA – Ramona Mainstage
06/02 San Jose, CA – RockBar Theater **NEW
06/04 Seattle, WA – Studio Seven
06/06 Las Vegas, NV – To Be Announced
06/08 Scottsdale, AZ – Pub Rock Live
06/11 Austin, TX – The Saxon Pub
06/12 To Be Announced
06/13 McKinney, TX – Sanctuary Music & Events Center
06/14 Tulsa, OK – Vanguard
06/17 Columbus, OH – Rumba Cafe
06/18 Indianapolis, IN – Birdy's Live
06/19 Chicago, IL – Reggie's
06/20 Westland, MI – The Token Lounge
06/21 Cincinnati, OH – The Mad Frog
06/23 Pittsburgh, PA – Hard Rock Cafe
06/24 Vienna, VA – Jammin' Java
06/25 Philadelphia, PA – North Star Bar
06/26 New York, NY – Iridium
06/27 Cambridge, MA – Middle East – Upstairs
Tony's band is: Aquiles Priester – drums & Bjorn Englen – bass.
Support on most dates is LoNero, with additional support on select dates from Hephystus. Tickets and latest updates: http://www.tonymacalpine.com/tours/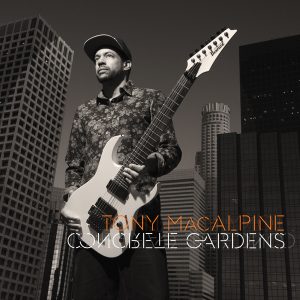 Concrete Gardens Pre-order
Concrete Gardens will be released April 21, and is now available for pre-order in Digital Download, Standard Edition CD, and Special Edition CD/DVD versions at http://tonymacalpine.spinshop.com