The Tangent, the progressive rock group led by Andy Tillison, recently announced their 11th studio album 'Auto Reconnaissance' on August 21st, 2020. The follow-up to 2018's 'Proxy', sees them taking the band philosophy of celebrating the golden age of prog, whilst bringing it to the present and exploring new paths for the music to take in the future. On 'Auto Reconnaissance', they bend that philosophy to their will, taking in prog rock foot Stomping, sublime Jazz, humor, narrative, a modern R&B love song, funk/soul and a 28 minute long emotional epic about the band's home country of England.
Today they launch the first track, titled 'Life On Hold', and you can listen now here:
Andy comments: "'Life On Hold is  the cheerful up-tempo Prog Rock foot-stomper we chose to kick off our album. It sits alongside pieces we've done in the past like 'GPS Culture' and 'Spark In The Aether', 'Crisis In Midlife' etc and it's a flavour we do like to return to now and then. This one is influenced by things like that first Asia album, stuff like Kansas and Boston, and the kind of thing that Transatlantic might bang out at you. It's part of our genetic makeup, but of course only one part. Although there's a fair amount of accessible tunes on the new album, there's some seriously deep water around too.  And no, 'Life On Hold' has nothing to do with Lockdowns. It mentions Jean Paul Sartre, which is not normal in foot-stompers. Get it ON!! Bang, and the dirt is gone!"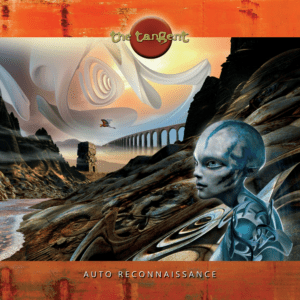 'Auto Reconnaissance' will be available as Limited CD Digipak (incl. bonus track), Gatefold 2LP + CD + LP booklet & as Digital Album, all featuring the artwork of Ed Untisky, whose visuals have not been seen on a Tangent album ince 2014's 'A Spark In The Aether'.
The full track-listing can be found below:
1. Life On Hold
2. Jinxed In Jersey
3. Under Your Spell
4. The Tower Of Babel
5. Lie Back & Think Of England
6. The Midas Touch
7. Proxima (Bonus Track)
The Tangent are the following players:
Andy Tillison – Vocals, Lyrics, Keyboards, Composer
Jonas Reingold (The Sea Within, Steve Hackett Band) – Bass Guitar
Theo Travis (Soft Machine, David Gilmour, Travis-Fripp) – Sax & Flute
Luke Machin (Maschine, Francis Dunnery Band) – Guitar
Steve Roberts (David Cross Band, ex Magenta, Godsticks) – Drums