In October 2020, progressive rockers THE FLOWER KINGS released their new double album "Islands" on InsideOutMusic, just a year after the group's much celebrated "Waiting For Miracles".
Today the band have launched a brand new video for the track 'All I Need Is Love', and you can watch it now here:
The band comments: "Hasse Fröberg – this is his contribution, 'All I Need is Love' – to the latest album Islands. The only member, besides Stolt, from the original first line up of The Flower Kings that started in 1994. Still with the band many moons later – vocalist, guitar-player,rock star.
This video was recorded around Christmas time – some of it outdoors! 
A traditional multi-part prog-rock song penned by Fröberg – that has all the elements that put the Swedish 'kings' on the progressive map worldwide."
Check out our review of 'Islands' here.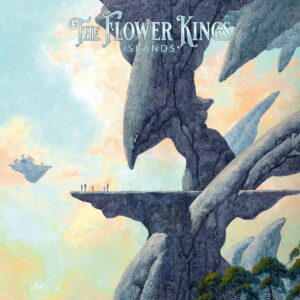 Disc One (49:40)
1 – Racing With Blinders On 4:24
2 – From The Ground 4.02
3 – Black Swan 5:53
4 – Morning News 4:01
5 – Broken 6:38
6 – Goodbye Outrage 2:19
7 – Journeyman 1:43
8 – Tangerine 3:51
9 – Solaris 9:10
10 – Heart Of The Valley 4:18
11- Man In A Two Peace Suit 3:21
Disc Two (43:01)
1 – All I Need Is Love 5:48
2 – A New Species 5:45
3 – Northern Lights 5:43
4 – Hidden Angles 0:50
5 – Serpentine 3:52
6 – Looking For Answers 4:30
7 –Telescope 4:41
8 – Fool's Gold 3:11
9 – Between Hope & Fear 4:29
10 – Islands 4:12
Line-Up:
Roine Stolt – Vocal, Ukulele, Guitars, Additional Keyboards
Hasse Fröberg – Vocal & Acoustic Guitar
Jonas Reingold – Bass, Acoustic Guitar
Zach Kamins – Pianos, Organ, Synthesizers, Mellotron, Orchestrations
Mirko DeMaio – Drums, Percussion
Guest: Rob Townsend – Soprano Saxophone