Steven Wilson has announced details for his new album, "The Future Bites", to be released on June 12 via Caroline International. Co-produced in London by Wilson with David Kosten (Bat For Lashes, Everything Everything), THE FUTURE BITES sees Wilson exploring contemporary addiction and the lasting effect of ever-increasing technology on our daily lives. The album marks his most inventive and far-reaching musical construction to date, spanning soaring acoustics, lush electronica, relentless bass-driven grooves, murky funk, and so much more, all linked through powerfully focused songcraft and this one-of-a-kind artist's always unique creative vision.
"Personal Shopper" – which was inspired in part by acclaimed French director Olivier Assayas' 2016 film of the same name – heralds Wilson's eagerly awaited sixth solo album, THE FUTURE BITES, due to arrive everywhere on June 12, exclusively via The Future Bites Corporation. A striking trailer previewing the album's provocative themes of high concept consumerism and post-internet evolution is streaming now.
Wilson will celebrate THE FUTURE BITES with an equally ambitious live schedule, promising "a series of special events at larger venues, something on a grander and more immersive scale." "The Future Bites Tour" begins this fall with his biggest-ever headline shows in the United Kingdom and Europe; North American dates will be unveiled soon. For updates, please see stevenwilsonhq.com/sw/tour-dates.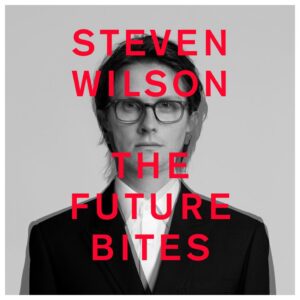 Steven Wilson: The Future Bites
1. Unself
2. Self
3. King Ghost
4. 12 Things I Forgot
5. Eminent Sleaze
6. Personal Shopper
7. Man Of The People
8. Follower
9. Anyone But Me
Order here: https://store.thefuturebites.com/
STEVEN WILSON
THE FUTURE BITES TOUR
SEPTEMBER
17 – Nottingham, UK – Motorpoint Arena
19 – London, UK – The O2
21 – Paris, FR – Le Zénith Paris La Villette
23 – Milan, IT – Mediolanum Forum
25 – Oberhausen, DE – König-Pilsener-ARENA,
26 – Hamburg, DE – Sporthalle
28 – Amsterdam, NL – Ziggo Dome
30 – Warsaw, PO – COS Torwar