Porcupine Tree and Japan keyboardist Richard Barbieri releases his brand new album entitled Planets + Persona on March 3rd 2017. It is the third Barbieri solo album, but the first to feature such a wide pallet of instrumentation. Vintage analogue synthesizers combine with acoustic performances and jazz elements. Twisted voices are always present, though not in a language we can recognize. Barbieri skilfully utilizes the talents of a pan-European core of musicians to produce an album that marries synthesized sounds with organic instrumentation to conjure up vivid, colourful and allusive soundscapes. It's a skillful commingling of texture and tone, mood and musicality.
Fans can have a taste of Planets + Persona here with a teaser of all 7 album tracks:

Recorded in London, Italy and Sweden, this is Barbieri's most ambitious solo work to date with a central theme of duality that runs through the album. The title alone – "Planets and Persona" alludes to this, and the dialectic theme is a constant throughout the contrasting and shape-shifting sounds of the album. Take, for example, Night of the Hunter – inspired by Charles Laughton's only directorial movie, the piece moves through subtle shifts of atmosphere and emphasis, through melodic, dream-like sequences through to harsher tones; it's a piece that builds to a profound cumulative effect. Elsewhere, Solar Storm shifts gears artfully, with Percy Jones' sometimes percussive bass work contrasting to the smoother synthesizer textures incisively. Barbieri's purely solo Interstellar Medium shows that his ability to develop and realize a theme under his own auspices that underscores his innate creativity. It's but one aspect of a thoroughly engrossing and immersive album.
Barbieri had this to say: "Proud to announce that my new album will be released on March 3rd 2017. I couldn't have chosen better people and musicians with whom to work with on this recording. I feel it's my best solo work to date. Better late than never !"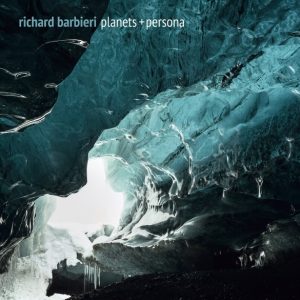 Planets + Persona tracklisting:
Solar Sea (07:30)
New Found Land (07:17)
Night Of The Hunter (10:44)
Interstellar Medium (05:38)
Unholy (08:58)
Shafts Of Light (06:39)
Solar Storm (06:22])
Available to pre order now at http://found.ee/RB_PLANETS_PERSONA