"Before" is the latest single from guitarist and singer/songwriter, Randy McStine (The Fringe, Lo-Fi Resistance). The track features Craig Blundell (Steven Wilson, Frost*) on drums, and was mixed by Grammy Award-winning producer and mixer, Mario J. McNulty (David Bowie, Laurie Anderson).
https://randymcstine.bandcamp.com/album/before
The subject matter of the song dives into some of McStine's deep concerns and skepticism towards current trends in public discourse.
"We generally seem eager to set fire to constructive, civilized communication, in exchange for toxic brands of tribalism that are leading us to extremely dark places," says McStine. "I'm trying to keep myself open to different ideas, and to avoid the grasp of confirmation bias; but to find common ground on facts, or to merely question or cite anything relatively 'taboo' in public…it's becoming an immediate invitation for battle. 'Before' is my first attempt to clear my head of some of it, but it certainly won't be my last."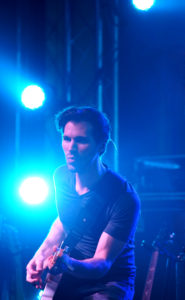 Although there are more songs in the pipeline from sessions with Blundell, along with other luminaries such as Nick D'Virgilio (Big Big Train), Marco Minnemann (The Aristocrats), and Nick Beggs (The Mute Gods), McStine says he isn't working on a full-length album at this time.
"I have always been driven to create in relation to my love of the album," explains McStine, "but there is a sense of freedom I feel right now in crafting singles."
When pressed on the subject of weighing artistic decisions against various cultural shifts in listening experience, the 30 year-old songwriter doesn't hesitate to lean in.
"In many ways, I am learning who my audience might be, and yeah…at this moment, it is definitely more sustainable for me to focus on releasing music on a song-to-song basis. Like many independent artists, I have released albums only to watch them quickly disappear into the void. There are so many channels competing for our attention, which now reach far beyond music. The important thing is that I'm exploring a lot of exciting territory with friends and colleagues that I truly admire, and regardless of the format, I think you'll find the journey to be quite interesting if you follow along."
Outside of his own projects, Randy McStine is an in-demand vocalist, guitarist and bassist, recently working with artists such as Vinnie Moore (UFO), Stuart Hamm (Joe Satriani), Tom Brislin (Kansas), Adam Holzman (Steven Wilson), Dave Kerzner Band, and Jane Getter. His latest, full-length solo album, Blank, was released in 2017, while his creative guitar work is featured prominently throughout In Continuum's debut album, Acceleration Theory, which was released at the beginning of 2019.