"Avalon | The Tide" is the second single to be released from Firmament, the recently announced new album by Norwegian art rock trio Dim Gray set for release in early September. The group themselves state that writing it was "where the album really started, as it became a blueprint for the entire record. The expansiveness in its lydian harmonies and modulations, the prevalence of piano and strings, as well as the lyrical themes, all came to influence the rest of the songs."
Watch the lyric video for "Avalon | The Tide" here:
As with several other tracks on 'Firmament', the music was written by guitarist Håkon Høiberg on piano rather than his main instrument, with singer/keyboardist Oskar Holldorff then adding words. Holldorff explains that "the music felt like it was constructed as a story, so I thought the lyric should depict some sort of journey. Avalon, the mythical island from Arthurian legend, felt like an appropriate metaphor for reaching an impossible goal or destination; like a pot of gold at the end of the rainbow, or, as these particular words mean to me, peace of mind. They are about trauma, wanting to forget, and the futility of fighting against the overwhelming forces and inherent dynamics of the world, hence the reference to King Canute and the tide in the second verse. I couldn't decide whether the song should be called Avalon or The Tide, but when we later wrote 'Meridian', which ends the album and suggests a split globe, the joint title was suddenly justified."
Consisting of twelve vivid and melody-driven songs, 'Firmament' is an ambitious artistic statement bursting with life and colour, making for an engaging and constantly surprising journey as it weaves a route from strings-infused chamber pop, through evocative indie-folk and lush electronics and into grandiose art rock. It will appeal musically to fans of artists such as Radiohead, Agnes Obel, Owen Pallett, Susanne Sundfør, Keane and Tears For Fears.
Thematically, the new record explores further the landscape of melancholy and longing that was introduced on the group's well received 2020 debut, 'Flown', a concept record structured like one continuous story with intimate and spatial moments offset with massive colourful soundscapes. Those sensations are now contextualised in the depressions of the modern world, juxtaposed against romanticised ideas of simpler times through childhood memories interspersed with myths and superstition.
Firmament' will be available on CD, LP (via Plane Groovy) and all digital services, with the physical formats available to pre-order here:
https://burningshed.com/store/english-electric-recordings
&
https://thebandwagonusa.com/collections/dim-gray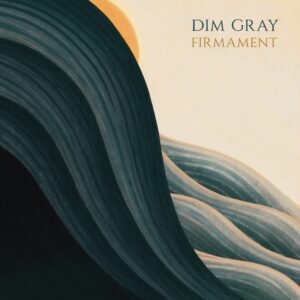 FIRMAMENT
TRACKLISTING
1 Mare
2 Ashes
3 Undertow
4 Avalon | The Tide
5 52~
6 Abalus | In Time
7 Long Ago
8 My Barren Road
9 Cannons
10 Iron Henry
11 Firmament
12 Meridian
The trio who comprise Dim Gray come from different places, both musically and geographically, with each member moving from different parts of Norway to Oslo a decade ago to study. All three have contrasting backgrounds in genres as diverse as black metal, progressive rock, blues, folk and film music, but in fusing these together they have developed their own distinctive sound.
'Firmament' will be issued via English Electric Recordings, the label run by UK prog titans Big Big Train, and is the first record on the label that is not either by that band or at least one of its permanent members. Holldorff will however be touring as part of the Big Big Train line-up (deputising for BBT keyboardist Carly Bryant) for a set of European dates in September, while Dim Gray have just been announced as the support act for them. The first show is in Aylesbury on 2nd September, the same day that 'Firmament' is released.
"We're thrilled to have the opportunity to play these shows supporting Big Big Train,"enthuses Dim Gray drummer Tom Ian Klungland. "We supported Marillion at a show in Stockholm in May and were delighted by the wonderfully warm reaction we received from their fans. We're going to try our best to make plenty of new friends amongst the Big Big Train audience and it's fantastic that the Aylesbury show coincides with the release date of 'Firmament'. Roll on September!"
ON TOUR WITH BIG BIG TRAIN
SEPTEMBER 2022
02.09.22 AYLESBURY (UK) Waterside Theatre
05.09.22 ZOETERMEER (NL) Cultuurpodium Boerderij
06.09.22 BONN (DE) Harmonie
07.09.22 MAINZ (DE) Kuz
08.09.22 BERLIN (DE) Frannz Club
10.09.22 BASEL (CH) Z7, Pratteln
11.09.22 PARIS (FR) Café de la Danse