Nick D'Virgilio (Big Big Train, ex-Spock's Beard), Neal Morse (Transatlantic, NMB, ex-Spock's Beard), and Ross Jennings (Haken, Novena) are pleased to announce their debut album titled 'Troika' will be released on Feb 25th, 2022.
Today, the band is also sharing the album's first single "Julia". You can watch the video by Christian Rios here:
Ross had this to say about the track:
"With my original demo clocking in at around the 8-minute mark and possibly leaning too close to 'prog epic' than the singer/songwriter vibe we were attempting to present on this record, Neal arranged my lengthy ballad into something more concise, in-keeping with the album's essence and writing in a powerful new chorus in the process!
"This one was all about the 3-part vocal harmony interplay and 'pull-at-the-heartstring' lyrics which deals with themes of regret and forgiveness in the context of a broken father-daughter relationship."
– Ross Jennings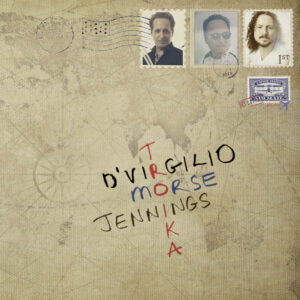 Tracklisting:
1.Everything I Am (5:43)
2. Julia (6:07)
3. You Set My Soul On Fire (3:22)
4. One Time Less (4:53)
5. Another Trip Around The Sun (4:39)
6. A Change Is Gonna Come (4:24)
7. If I Could (4:02)
8. King For A Day (5:47)
9. Second Hand Sons (4:43)
10. My Guardian (3:43)
11. What You Leave Behind (4:16)
'Troika' will be available as Ltd. CD Edition / Gatefold 2LP+CD / Digital Album. Each format includes a bonus alternative version of the track 'Julia' and is available for pre-order here: https://dvirgiliomorsejennings.lnk.to/Troika