Nick D'Virgilio (Big Big Train, ex-Spock's Beard), Neal Morse (Transatlantic, NMB, ex-Spock's Beard), and Ross Jennings (Haken, Novena) have announced their debut album titled 'Troika' will be released on Feb 25th, 2022.
The band have now shared the new video from the album's second single and open-ing track "Everything I Am", directed by Christian Rios.
Neal Morse had this to say about the track:
"A long time ago my parents allowed my brothers and I to go see the "Woodstock" movie in the theater. It was rated R and that was kind of a big deal at the time. I was rather overwhelmed with all the great music in that film and one of the groups that I fell in love with and stayed in love with was Crosby, Stills and Nash. You can definitely hear their influence in this song as the vocal blend that we got I believe almost gets to that level!
"I wrote this song one morning when my wife was having a bad day and it's about how no matter what happens our lives are fully intertwined no matter what. "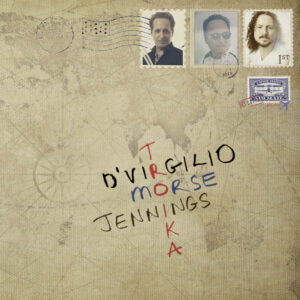 Tracklisting:
1.Everything I Am (5:43)
2. Julia (6:07)
3. You Set My Soul On Fire (3:22)
4. One Time Less (4:53)
5. Another Trip Around The Sun (4:39)
6. A Change Is Gonna Come (4:24)
7. If I Could (4:02)
8. King For A Day (5:47)
9. Second Hand Sons (4:43)
10. My Guardian (3:43)
11. What You Leave Behind (4:16)
'Troika' will be available as Ltd. CD Edition / Gatefold 2LP+CD / Digital Album. Each format includes a bonus alternative version of the track 'Julia' and is available for pre-order here: https://dvirgiliomorsejennings.lnk.to/Troika