Nad Sylvan, vocalist with Steve Hackett and Agents Of Mercy, has announced the release of his new solo album 'The Bride Said No' for May 26th, 2017, on digipak CD, gatefold 2LP + CD & digital download. The album sees Nad joined by a myriad of guests including Roine Stolt, Steve Hackett, Guthrie Govan, Tony Levin, Jonas Reingold, Nick D'Virgilio, Doane Perry & more.
Nad comments: "Last year, I was lucky to find a gap from all the hectic touring with Steve Hackett so that I could write and record a new album, all done in only six months. The music came very easily for me this time, which gives the album a slightly more coherent feel than that of my previous releases. Surrounded by top notch musicians, the delivery is more than one could ask for. They truly put their heart and soul into every single note sung and played. And so the Vampirate's journey continues into modern times..  Hope you will enjoy this one as much as I did creating it!"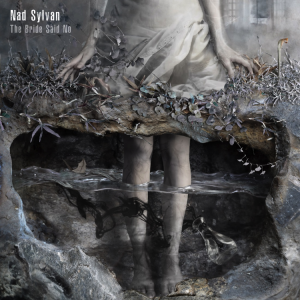 The full track-listing for the album is as follows:
1. Bridesmaids
2. The Quartermaster
3. When The Music Dies
4. The White Crown
5. What Have You Done
6. Crime Of Passion
7. A French Kiss In An Italian Café
8. The Bride Said No
In 2015, Nad Sylan impressed everyone with his fine conceptual solo album 'Courting The Widow'. A vampiric tale wrapped in a 17th century atmosphere, this definitively marked out the talented Swede as a surging star in the progressive rock world.
Now, Sylvan is back with 'The Bride Said No', an album that continues the fascinating plot, albeit with a far more extravagant musical palette. "I didn't originally have the idea of going on with this story on the new album. But what happened was that I revisited a song called 'The Bride Said No', which I began to write in 1989. I kept a few of the early ideas I had for the verses and also that title, but the rest of the song is brand new. However, the title itself got me thinking that it made sense if this were used in relation to the vampirate character from 'Courting The Widow'. And the whole thing developed from there."
On the creative side, what the new album does is to expand Sylvan's horizons, as he explains. "Musically, the previous record was very much located in the 1970s, and you can still hear a little of that here. But this one is a lot more modern sounding and diverse. In fact, I would say it's closer to musical theatre than anything else."
'The Bride Said No' takes what Sylvan has done before and elevates it with a new creative sensibility. He has plans for a final chronicle of this 'vampirate' trilogy. But that's for the future. Right now, we can all revel in the delights of this eight track masterpiece.
"I set out to take things even further than before. I believe I have succeeded."
Nad has most recently been seen performing alongside the legendary Steve Hackett as part of his Genesis Revisited with Classic Hackett tour, which continues across the world during 2017.